« previous post | next post »
Tom Mazanec has been seeing a series of strange ads all over the Shanghai subway.  They're for a company that does one-on-one oral English practice over Skype, called 51talk.com.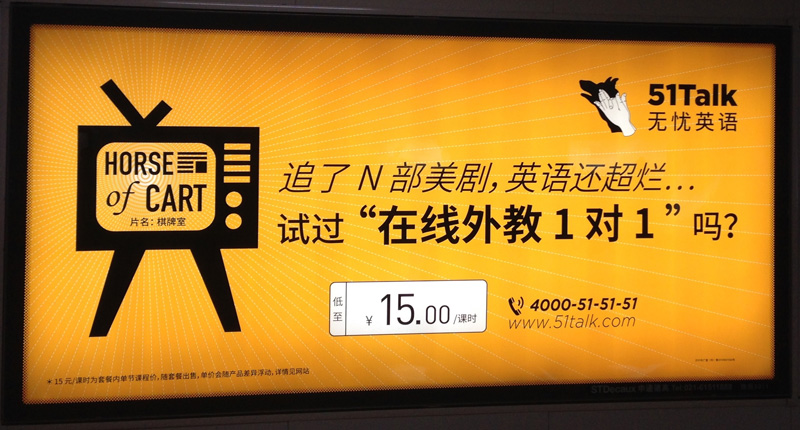 Tom observes:
1. They're making a pretty funny and complicated joke about the ways people study English. The "Horse of Cart" ad, in particular, is great: not only does the bad English learner implicitly mess up the name of "House of Cards," but does so in a way that invokes the idiom "putting the cart before the horse." And I guess watching American TV shows before you learn English well is doing just that!
(Note, too, how the Chinese name for the show Qípái wū 棋牌屋 ["House of Chess and Cards"] is a slightly wrong version of the real show's Chinese name, Zhǐpái wū 纸牌屋.)
2. This also shows just how popular American TV shows have become in China, especially among internet-savvy urban youth. The ad is very well targeted at a specific audience. This is reinforced for me by the use of the slangy term chāolàn 超烂, which I'd translate as "really sucks" or (more literally) "is super sloppy/rotten."
3. The use of N for jǐ 几 ("a few; several; some") is really weird to me. I understand that this comes from algebra, but why? Both are very simple characters. Any ideas on why they would use one over the other?
The sentence in which "N" appears reads thus:
Zhuīle N bù Měijù, Yīngyǔ hái chāolàn… 追了N部美剧,英语还超烂…
("You've chased after N American TV series, but your English still sucks…").
I suppose they chose "N" over "几" to make the ad seem more mathematical / scientific and international.
The next line reads:
Shìguò "zàixiàn wàijiào 1 duì 1" ma? 试过"在线外教1对1"吗
("Have you tried 'online foreign teachers 1 on 1'?")
Here's another ad in the series: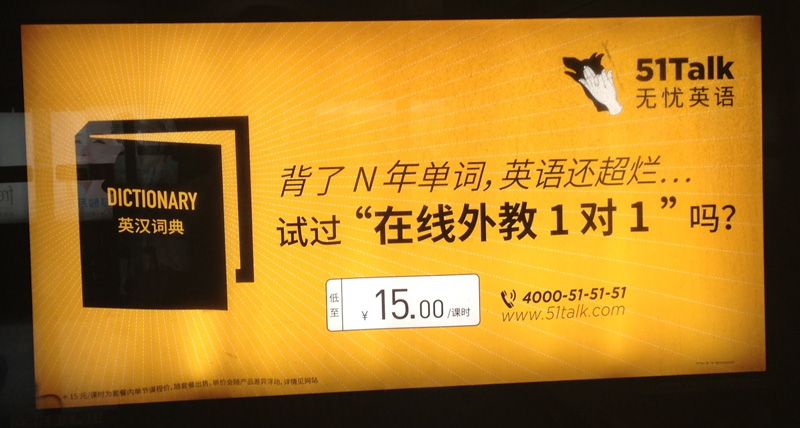 Tom remarks:
The second ad, about the dictionary, speaks to a common misunderstanding of language learning –- one that you've addressed on the blog several times. Learning lists of words in any foreign language doesn't mean you really learn the language. They talk more about their semi-immersive approach on their website, and contrast it with the way English is taught really ineffectively in Chinese schools.
Here the first line to the right of the dictionary says:
Bèile N nián dāncí, yīngyǔ hái chāo làn 背了N年单词,英语还超烂
("You've spent N years memorizing individual words [from a dictionary], but your English still sucks…").
The second line is the same as in the first ad.
Tom further notes:
The company's name in Chinese is Wú yōu Yīngyǔ 无忧英语 ("Worry-free English"), and I wonder if the 51 of the website name is another number pun (wǔyī = wúyōu). It's a bit of a stretch, but so are all the other number puns I hear, such as wǔ èr lǐng 520 = wǒ ài nǐ 我爱你 ("I love you"), or yī sān yī sì 1314 = yīshēng yīshì 一生一世 ("for life"). In any case, it would be yet another clever touch.
See "Mandarin by the numbers" (6/8/13).
---