« previous post | next post »
Brian Hutchinson, "UBC student writes 52,438 word architecture dissertation with no punctuation — not everyone loved it", National Post 5/8/2015:
There was Patrick Stewart, PhD candidate, defending his final dissertation before a handful of hard-nosed examiners at the University of British Columbia late last month. The public was invited to watch; two dozen curious onlookers saw Stewart attempt to persuade five panelists that his 149-page thesis has merit, that it is neither outlandishly "deficient," as some had insisted it was, nor an intellectual affront.
Unusual? It is definitely that. Stewart's dissertation, titled Indigenous Architecture through Indigenous Knowledge, eschews almost all punctuation. There are no periods, no commas, no semi-colons in the 52,438-word piece. Stewart concedes the odd question mark, and resorts to common English spelling, but he ignores most other conventions, including the dreaded upper case. His paper has no standard paragraphs. Its formatting seems all over the map.
The National Post story suggests that the document is a translation from Nisga'a:
He wrote his first draft in the Nisga'a language. That failed to impress at least one senior UBC professor, a powerful figure who would eventually have to sign off on the work, or all would be lost. Stewart was called on the professor's carpet and told his work was not acceptable. He was asked to translate "every word" of his dissertation into English. "So I did that," he recalls. "There was still no guarantee it would be approved."
It turned out well for him in the end:
Stewart's writing style — the lack of punctuation, the gaps and spaces and poetic license — continued to grate certain professors. "I was asked to be a little more sympathetic to the readers," he says. "Some couldn't handle it." To satisfy some of his critics, he began every thesis chapter with a short abstract, written in "standard academic English." He refused to fiddle with the rest.
Stewart submitted his "long run-on sentence" dissertation in late February. His oral exam — his defence — came April 23rd. He was nervous. "There were five examiners present," he recalls. "A bunch of people in the public seats. I had to justify my work. Was it intimidating? Oh, yes."
Stewart spoke for 30 minutes. Then the examiners peppered him with questions. After two solid hours, someone finally called for a five-minute break. The questions resumed. Once that ordeal ended, Stewart and the audience were instructed to leave the room. The examiners had a private discussion. They voted whether to accept the controversial dissertation, or toss it out.
the phd candidate was called back inside the room     he was told the vote was unanimous     punctuation be damned     he had passed
The dissertation is here — "Indigenous Architecture through Indigenous Knowledge : Dim sagalts'apkw nisiṁ [Together we will build a village]" (warning: 7.9 MB .pdf). It tells a different story about the role of Nisga'a in the composition:
There will be challenges that most readers will face in reading this dissertation in terms of writing style, including format and punctuation, or lack thereof. The use of the Nisga'a language may also be a challenge for most readers. There is a Glossary of Nisga'a words provided on pages xxx to xxxiii and I will be laax'algax [translating] every Nisga'a word and phrase used in this dissertation, in the spirit of reciprocity, into English.
I will make a comment about my use of Nisga'a in this dissertation. Though I cannot be considered in any way fluent in Nisga'a, I attempted to use the language in order to acknowledge my heritage and, more importantly, to strengthen the use of Nisga'a in the academy. […] It was never my intention to write the dissertation in Nisga'a, though it may have been interesting to have done so […]
In my initial submission to the Faculty of Graduate and Postdoctoral Studies, I privileged the Nisga'a language as related above, agreed to provide an english translation for each nisga'a word and phrase. This manner of writing is not without precedent. Marker (2009) writes, "The Coast Salish stories of Xa:ls, the creator-transformer…" and not "The Coast Salish stories of the creator-transformer Xa:ls" […] 
In an attempt to be responsive to the request for consistency in the Preliminary page listings/headings, including the Table of Contents and the Appendices headings listings, I will follow the English [Nisga'a] format. In the main body of the dissertation however, I will use a Nisga'a [English translation] format.
Further:
I made concessions during the writing of this dissertation, recognizing the concessions the university is making and the risk the university is taking in supporting this dissertation. As you will have noticed, or if you have not, please note that the Title Page, Abstract and References are all written in standard or conventional academic English. In order to address those persons without the time to invest in reading this dissertation, I have decided to insert a Précis [summary] in standard or conventional academic English at the beginning of each adawaak [story / chapter] that will outline/summarize the main points contained in the adawaak [story / chapter]. This Preface also started out in standard and conventional academic English but it will soon begin to transform.
And it's not quite true that there's no punctuation. Here's his table of the symbols that "will be used as a way to connect and emphasize thoughts and words":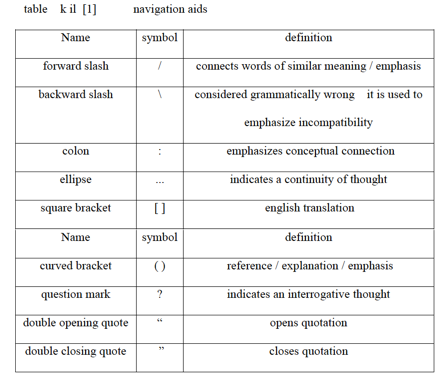 But spaces are the main form of punctuation, and this method works well enough: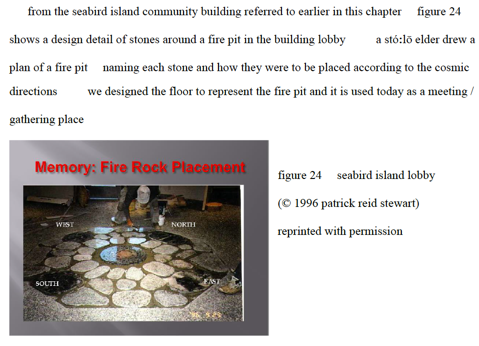 ---