« previous post | next post »
Back in March, Lauren Spradlin gave a wonderful talk at PLC 39, under the title  "OMG the Word-Final Alveopalatals are Cray-Cray Prev: A Morphophonological Account of Totes Constructions in English". It's been on my to-blog list ever since.
Totes, of course, is a clipped form of totally, which can be found is exchanges like this one:
A: Yo, I'm totes starving. I could totes eat a horse right now.  
B: Yeah, totes feel you man. I'm totes hungry too.  
A: I totes know this totes pimp place we could eat.  
B: We should totes hit it up then.  
A: Totes.  
B: Totes.
This (I think simulated) example of "totestalatarianism" comes from a Totes Truncation site that Lauren set up to hold the appendices for a paper of the same name as her PLC talk.
But the point of her analysis is not the totes usage itself, as striking as it sometimes is, but rather the pattern of abbreviation that often spreads to other words in the totes phrase: "totes emosh", "totes adorb", "totes atrosh", "totes apprope", "totes unfortch". Mix in a final /s/ and maybe some expressive palatalization, and you've got "totes arbz" (< arbitrary), "totes inevs" (< inevitable), "totes awesh" (< awesome), "totes impresh" (< impressive).

Of course, the abbreviations happen independent of totes-ing. Some examples from Lauren's appendices:
What a fab thing to say! Makes us feel spesh
So anx to get to the farm mark today! Do they charge admish?
Feelin' nostalj tonight.
these hurricane condishies are treach
She observes that these clippings' "best-­formed codas are as heavy as possible", as attested by examples like presumpsh, scrumpsh, pumpk.
Here's a sketch of the history, from Lauren's presentation: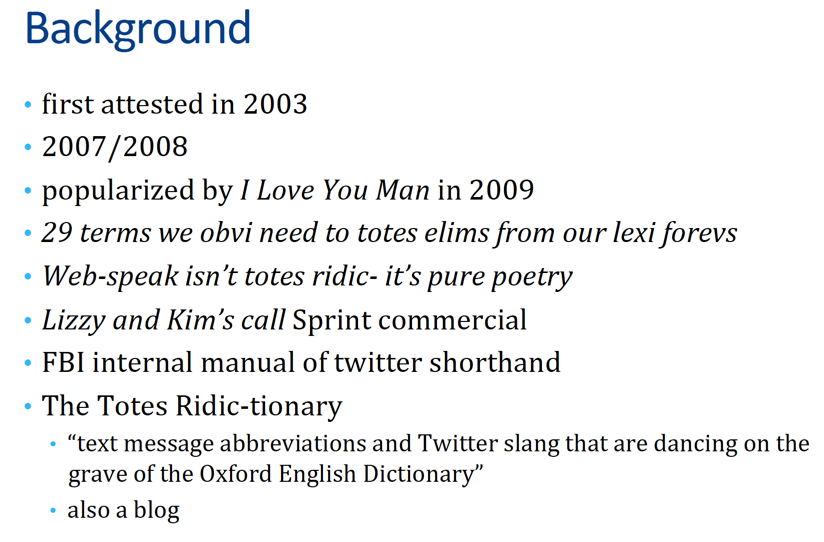 Although the subject matter is topical and often amusing, Lauren's work is a a serious piece of morpho-phonological analysis, and I look forward to seeing a fuller version.
Update — There's an earlier discussion of totes-ology at Taylor Jones' blog: "Obs is phonological and it's totes legit", 5/26/2014.
---