« previous post | next post »
Sign in Guilin, China: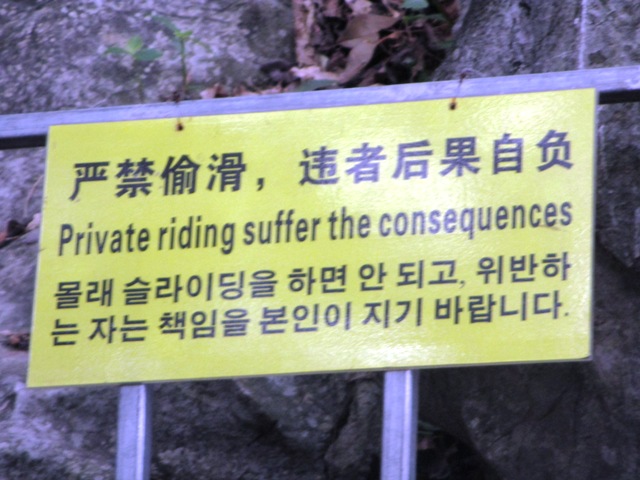 The Chinese and the English are pretty simple.
yánjìn tōu huá, wéi zhě hòuguǒ zìfù 严禁偷滑,违者后果自负
("it is strictly forbidden to slide on the sly; violators will bear the consequences")
Let's see what the Korean adds.
몰래                            슬라이딩을             하면        안      되고
secretly/ behind one's back    sliding-obj         do-if      not    may/okay -and
mol-lae                        seul-la-i-ding-eul  ha-myeon   an     doe-go (RR)
mol-lae                        sŭl-la-i-ding-ŭl    ha-myŏn    an     doe-go (MR)


위반하는         자는          책임을               본인이        지기   바랍니다.
violate-ing    person-topic responsibility-obj oneself-sub carry request-polite
wi-ban-ha-neun ja-neun      chae-gim-eul       bon-in-i    ji-gi ba-ram-ni-da (RR)
wi-ban-ha-nŭn  ja-nŭn       ch'ae-gim-ŭl       bon-in-i    ji-gi ba-ram-ni-da (MR)
Literally it means, "It's not okay to slide secretly / behind our back and we request that violators be responsible (for the consequences)," which can be translated as "Sliding is prohibited and violators are responsible for the consequences."
From Bill Hannas:
It's the English that's the anomaly.  Though it captures the idea, you can see from the Chinese that it leaves a lot out.
By contrast, the Korean translates the Chinese.  Also, bear in mind that the one character 滑 requires 5 syllables in Korean (4 for the transliterated loanword "sliding", 1 for the accusative particle marker).  And the Korean has postpositions after nouns, and verbal affixes, to be "grammatical", lit.
"if (you) do (sliding) (it's) not OK, and …"
which is 5 more syllables.  They could have shortened it by using a Hanmum (汉文 [Sinitic]) inspired style, but it wouldn't be idiomatic by today's standards.
From Bob Ramsey:
That's the tendency these days in South Korea. Someone had the idea that it's better not to write simply "prohibited", and instead to write a longer, softer message. The theory is you get better compliance that way. I wonder if there are any statistics to back that up.
After analyzing the Chinese, the English, and the Korean, we still don't know what it means to "suffer / bear the consequences".  Will you be risking life and limb?  A heavy fine?
Let's look at a photograph of the "ride" in question: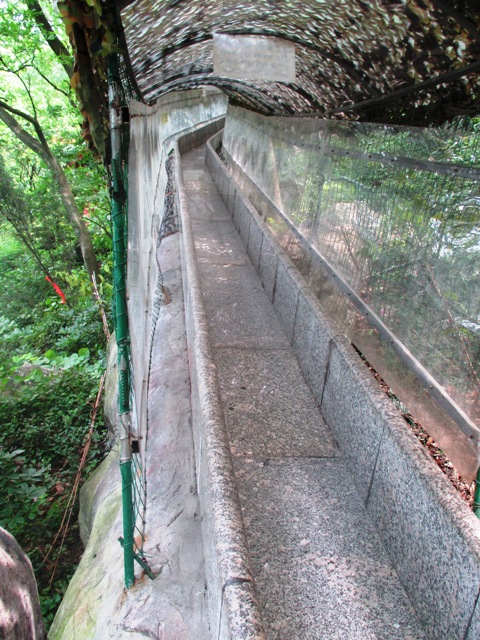 As Dean Barrett, who sent the two photographs, remarks:
This is the ride the sign was warning about; a strange looking ride in Guilin of stone or whatever that no sane parent would send his kid on, but there were painted signs of kids riding.
I wonder how much it cost for a ride not done stealthily. And how many kids get hurt even when they pay for the slide.
[Thanks to Haewon Cho.]
---