« previous post | next post »
People probably imagine that the life of a linguistics professor is moderately dull. Think about language; sit at desk, type stuff; go to classroom, teach stuff; go to lunch, eat stuff; repeat… But no, in actual fact my life as a professor at the University of Edinburgh is one of thrills and excitement. Yesterday, after teaching my undergraduate class on English grammar in the David Hume Tower, I walked to the nearby Chrystal Macmillan building to hear a talk on phonology, and as I entered the building I realized there was something really special going on. Tea had been laid out in the public area of the ground floor; two security men lurked in the shadows; the room seemed tense, but somehow it was in a pleasant way; university people who were extremely smartly dressed were standing around, and all were looking in the same direction. I followed their gaze, and there, a few yards away from me, stood Annie Lennox.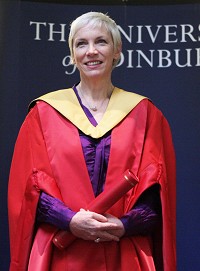 That Annie Lennox. Possibly the most brilliant singer-songwriter and recording genius I could name. She was educated in classical music at the Royal Academy of Music, and I had admired her through the days when she was 50% of Eurhythmics down to the extraordinary accomplishments of her more recent solo career. She is surely one of Scotland's greatest contributions to popular music. My old friend Pete Gage, with whom I worked in the pop music business many years ago, analyzes three different tracks of hers in his course on layering and texturing in record production at a college in Sydney, Australia, and he tells me that her album Bare has been in his CD stacker continuously since 2003.
Annie had been awarded an honorary degree by the University of Edinburgh, conferred at a ceremony earlier yesterday afternoon. She was now about to go into a nearby large classroom to speak at a session of a conference on social-work aspects of AIDS care and launch the publication of a new report on the topic — this being the issue to which she has devoted her most serious public advocacy and humanitarian work (the honorary degree was probably awarded for this rather than for her musical creativity).
For a minute, I stood transfixed, just thrilled to be so near the woman who wrote, produced, and sang the extraordinary album Diva. It was a moment of genuine excitement. Too much excitement for one middle-aged blond woman to bear, apparently: she broke from the crowd of respectfully watchful academics and threw herself into Annie's arms and kissed her repeatedly. Annie coped with the situation very gracefully. Nonetheless, I elected not to risk doing likewise. I absorbed the experience of seeing Annie live in closeup, savoring the pleasure of the moment, and then turned away to slip downstairs and arrive slightly late at a presentation by Tatiana Reid on an undocumented Nilotic language, Thok Reel, spoken in the south of Sudan.
A language with a remarkable system of three vowel lengths, four tones, and three phonation types (laryngealized, murmured, and plain), which means, in non-technical terms, that there are 36 distinguishable ways to say bab. There are nouns for which the difference between the singular and the plural is signalled only by the difference between short and medium vowel length; and there are verbs for which the only difference between 1st person and 3rd person is the difference between medium and long vowel length.
Excitement piled on excitement.
---