« previous post | next post »
Manohla Dargis, "In 'Cinderella,' Disney Polishes Its Glass Slippers", NYT:
You know the rest, bibbidi-bobbidi-boo and all that jazz.
My reaction when I read that was, Gee, interesting re-spelling of Bibbity Bobbity Boo, in line with the standard American flapping and voicing of non-syllable-initial /t/. But it turns out that I'm about 66 years too late.
The Wikipedia entry assumes without discussion that  "Bibbidi-Bobbidi-Boo" is the correct spelling:
"Bibbidi-Bobbidi-Boo" (also called "The Magic Song")[1] is a novelty song, written in 1948 by Al Hoffman, Mack David, and Jerry Livingston. It was introduced in the 1950 film Cinderella, performed by actress Verna Felton.
Ilene Woods and The Woodsmen with Harold Mooney and His Orchestra recorded it in Hollywood on October 26, 1949. It was released by RCA Victor Records as catalog number 31-00138B and by EMI on the His Master's Voice label as catalog numbers B 9970, SG 2371, HM 3755 and JM 2678.
And the label from the RCA 1949 single by Ilene Woods and the Woodsmen confirms this: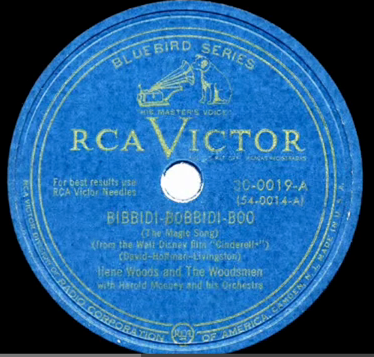 In my defense, I guess that I never saw the song title or lyrics written out, and just assumed that the spelling would follow normal English orthographic conventions, as per the children's counting-out rhyme that the words were probably inspired by:
Ibbity, bibbity, sibbity, sab, Ibbity, bibbity, kanella !
Others over the years have made the same assumption that I did, e.g.
John Rendell, "HIBBERDS TRIUMPH IN JUNIOR REGATTA; Rye Youngsters Finish First in Lightning and Bulldog Classes at Larchmont", NYT 7/15/1953: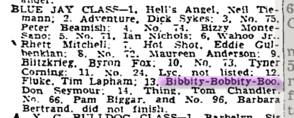 Or Stephen Holden, "Taking pop songs apart", NYT 9/29/1989:
Who exactly are Chris Durang and Dawne? For years, Mr. Durang explains, they have been playing the Ramada Inn circuit, trying to satisfy requests for everything from Guns 'n' Roses to Rodgers and Hammerstein. The selections in their 15-song "Ramada Inn Medley" range from "Dreamgirls" to "La Bamba," from "A Man and a Woman" to ''Bibbity Bobbity Boo,'' from "Marat, We're Poor" (performed with pink fake-fur boas) to "MacArthur Park." Cabaret war horses like "Memory," "Misty" and "My Way" are not overlooked. But at its most adventurous, the trio likes to update vintage show tunes by adding modern touches. Thus "The Surrey With the Fringe on Top" becomes a stuttering hiphop number that features a "fa-fa-fa-fa-fringe."
---