« previous post | next post »
Earlier today, Jianjing Kuang pointed out to me something interesting and unexpected about the sounds in a LLOG post from last month, "Vocal creak and fry, exemplified", 2/7/2015.
To see what she heard, let's start with a 50 Hz buzz:

Some simple Octave code that generates a buzz of this type is here — it creates a series of impulses spaced 1/50 of a second apart: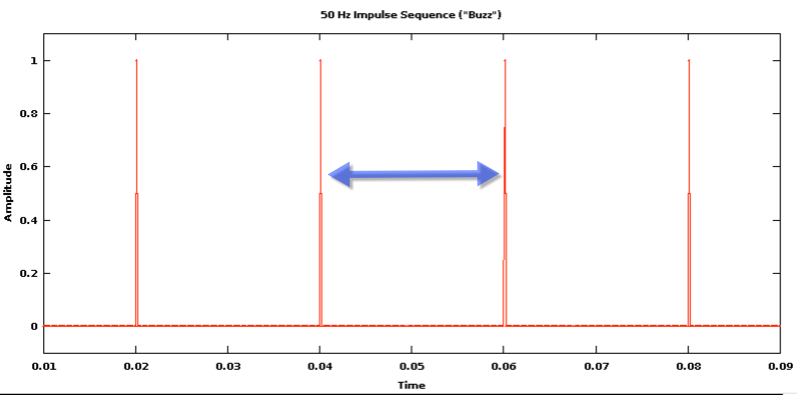 Because the impulses are a bit farther apart than the human ear's "flutter fusion threshold", you can hear not only the low-pitched sound but also, to some extent, the sequence of individual impulses. This effect would be even more pronounced if the impulses were just, say, 1/20 of a second apart — you can experience a range of examples from 120 Hz down to 10 Hz in the earlier post.
Now let's do the same thing, again spacing impulses 1/50 of a second apart, but now offsetting each impulse by a randomly selected value between -35% of a period and +35% of a period: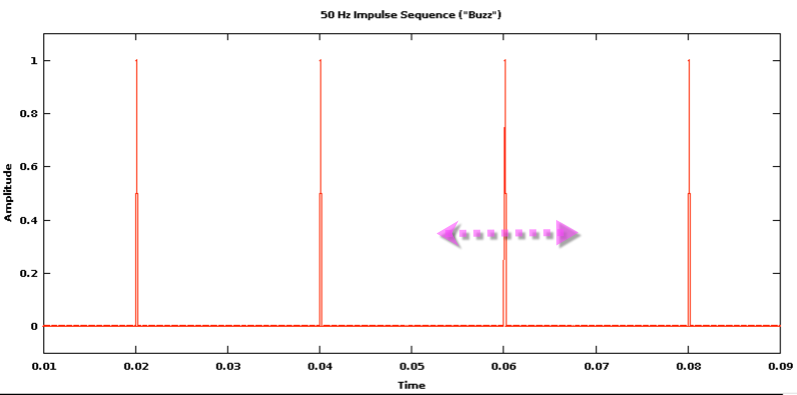 Some simple Octave code that generates a buzz of this type is here, and the result sounds like this:
This "jitter" in the length of adjacent periods is what is traditionally called "vocal fry", because it sounds like moist food frying in boiling oil, where bubbles of water vapor form and pop at random intervals.
What Jianjing noticed is that the buzz with random offsets — the buzz with the "fry" effect — sounds lower in pitch than the plain buzz does. Listen and see if you agree:
| | |
| --- | --- |
| Plain buzz: | Buzz with random offsets |
| Your browser does not support the audio element. | Your browser does not support the audio element. |
My first thought in a case like this is maybe I screwed up and there's a bug in the code.
But I checked. The random number generator seems to be working as instructed — there are about equally many positive and negative offsets, and they're approximately uniformly distributed in the range ±35% of 1/50 of a second, i.e. from -0.35*(1/50) = -0.007 to 0.35*(1/50) = 0.007: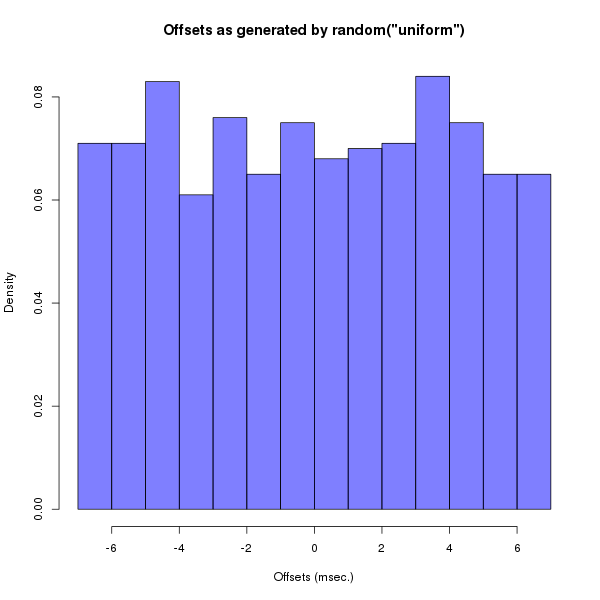 And the resulting distribution of f0 offsets is as we expect: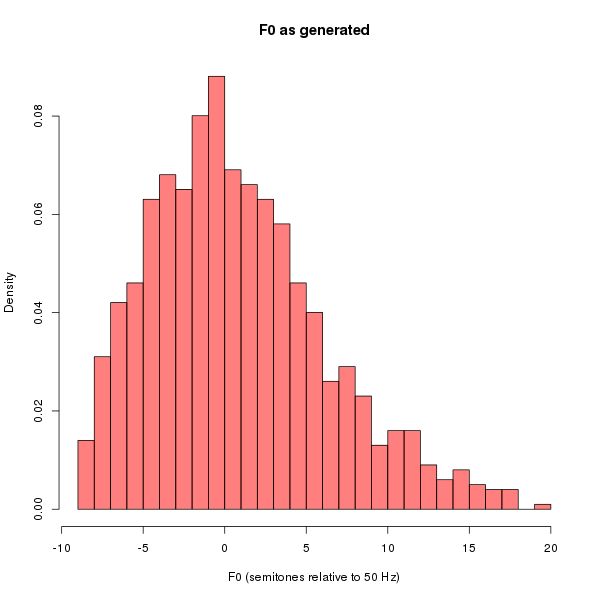 That is, the shortest possible period should be (1/50)-2*(0.35*(1/50)) seconds = 6 msec. = 166.6667 Hz, corresponding to the case where one period occurs 35% too late, and the next one occurs 35% too early.  That's about 12*log2(166.7/50) = 20.8 semitones higher.
And the longer possible period should be (1/50)+2*(0.35*(1/50)) seconds = 34 msec. = 29.4112 Hz, which is about 12*log2(29.4/50) = -9.19 semitones lower.
So we see exactly the distribution of f0 values that we expect. And the result is that the median f0 — as generated in one random run of 1,000 impulses — is 50.114 Hz, which is only about 0.04 semitones different from the 50 Hz we started with. And there are just about as many periods shorter than 1/50 of a second and longer than 1/50 of a second: again, in one run of 1,000 impulses, we have 493 longer periods, 502 shorter periods, and 4 periods exactly equal to (1/50)*22050 = 441 samples.
But REAPER (David Talkin's new pitch tracker) agrees with Jianjing — analyzing the 50-Hz buzz with random offsets, it finds many more longer than shorter periods: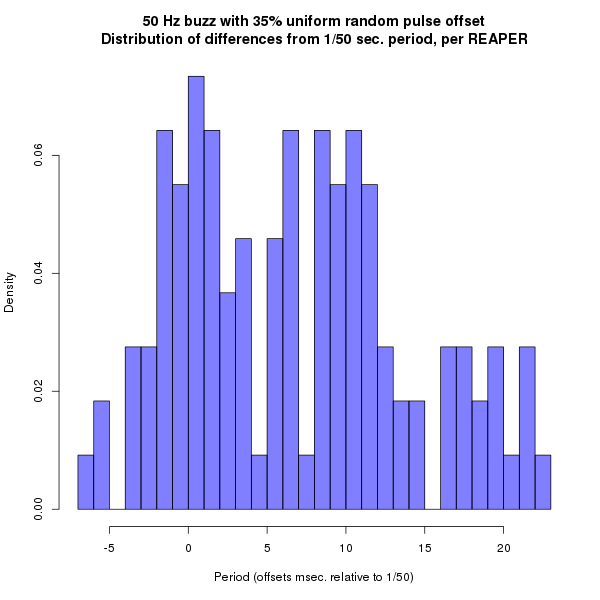 (Note that the largest possible deviation should be 2*0.35*(1/50) = 14 msec., but there are many apparently deviations longer than this…)
And equivalently, many more lower- than higher-pitched inter-pulse intervals: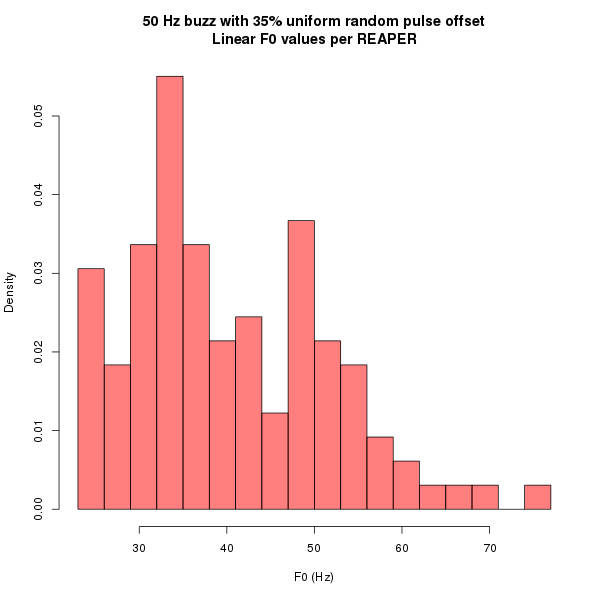 Note the large number of measurements an octave down: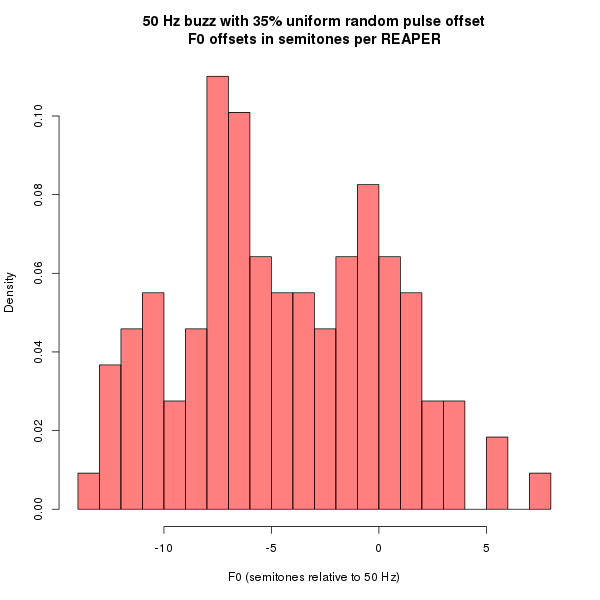 So what's going on in perception and in REAPER's analysis? In both cases, there's a bias towards continuity — a tendency to look (well, to listen) for sequential repetition of nearly-periodic intervals. And  this bias is leading both algorithms to skip some impulses, so that a sequence of two periods (as generated) is treated as a single period in the perceptual (or computational) analysis.
It might be worthwhile to explore this effect in greater detail — how big is the shift in pitch perception, as caused by various amounts of jitter at various basic periods? How much does the wave shape (in time and frequency) matter? Is there a simple computational model that matches the perceptual effects?
But for now, let's just observe that this effect is yet another example of how interesting subjective pitch perception can be. And as Jianjing pointed out to me, it may also provide a perceptual motivation for the fact low tones are often further differentiated by irregular phonation, independent of the articulatory tendency for vocal-fold oscillation to become chaotic at low frequencies.
---