« previous post | next post »
Jan Söhlke sent in this photograph taken in a shop in Vienna: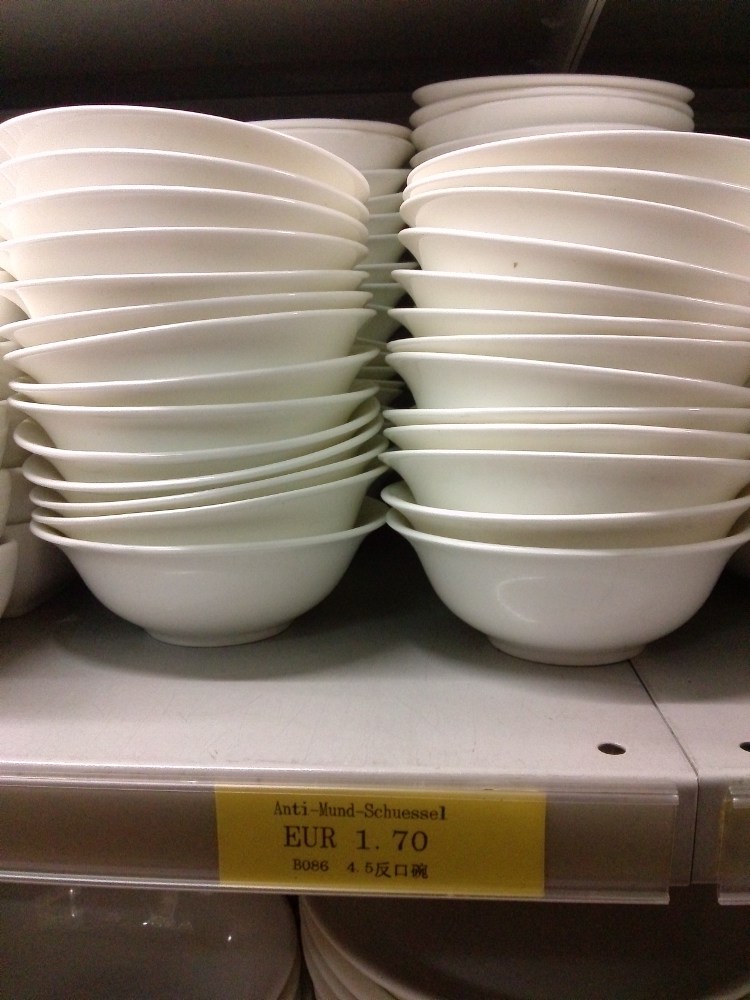 An "Anti-Mund-Schuessel" ("anti-mouth-bowl") is strange enough in German, but we can't blame it entirely on the translator, whether machine or human, because the Chinese is odd too.
fǎnkǒu wǎn 反口碗 does literally mean "anti-mouth-bowl"
N.B.:  fǎn 反 — "anti-; counter-; rebel; revolt; turn over; on the contrary; instead") and kǒu 口 means "mouth; opening; orifice", etc.
People who write fǎnkǒu wǎn 反口碗 (27,200 ghits) may be doing so as a variant of fānkǒu wǎn 翻口碗 (152,000 ghits), meaning "bowl with everted rim", i.e., wǎnkǒu wài fān 碗口外翻.  Note that fānkǒu 翻口 ("opening turned outward") is a common term for describing a particular shape of pottery.
Another way to refer to this type of bowl in Chinese would be chǎngkǒu wǎn 敞口碗 ("flare-rimmed bowl") (27,000 ghits).
Jan notes that the same shop also sells "anti-rim bowls" but the picture isn't as good.  If someone tells us what the Chinese is for that, perhaps we can take it up again later.  For the moment, I think we've had enough of "anti-X-bowls", especially because they make me think of the "three-anti" and "five-anti" campaigns of the early fifties.
[Thanks to Heidi Krohne, Fangyi Cheng, Jing Wen, Gerald Mair, and Wei Shao]
---