« previous post | next post »
Tim Leonard sent in the following photograph of a curious menu item (via Reddit):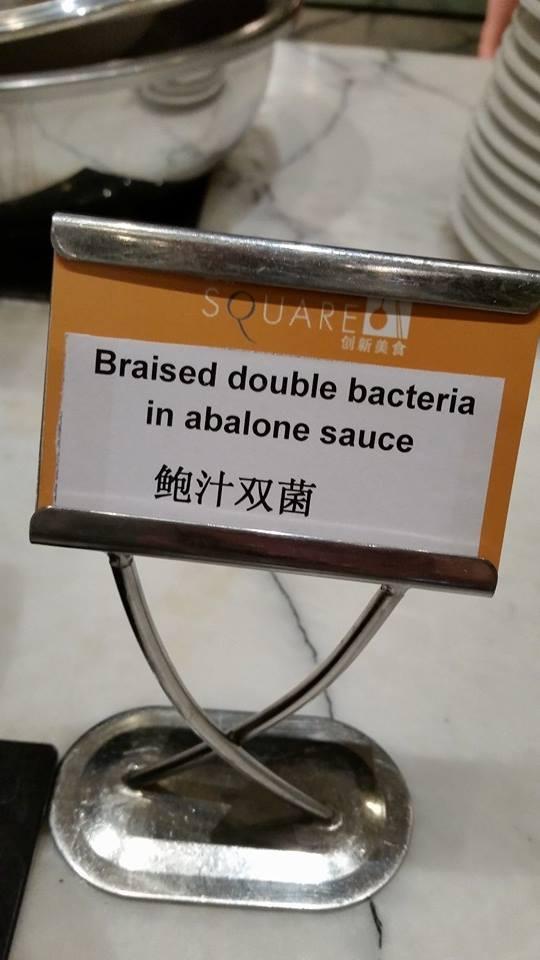 For Chinglish specialists, this one is easy to explain:
bàozhī shuāngjūn 鲍汁双菌 ("two kinds of mushrooms in abalone sauce")
jūn 菌 means "fungus, mushroom, mold"; "bacterium" is translated into Chinese as xìjūn 細菌 (lit., "fine fungus").
The confusion between bacteria and mushroom was earlier explained on Language Log in several posts:
"Bacteria, Arsenic, and Other Potentially Hazardous Delectables" (7/22/08)
"Tape bacteria, risotto cowboy, burning denim, and better to die" (8/21/12)
Cf. "Braised enterovirus, anyone?" (7/16/08)
At least our "braised double bacteria in abalone sauce" is somewhat less fantastical than many other "abalone sauce double bacteria" recipes available online, such as "drunk flame in abalone sauce double bacteria" (zuìyàn bàozhī shuāngjūn 醉焰鲍汁双菌), which I found in this long list of strange dishes.
---