« previous post | next post »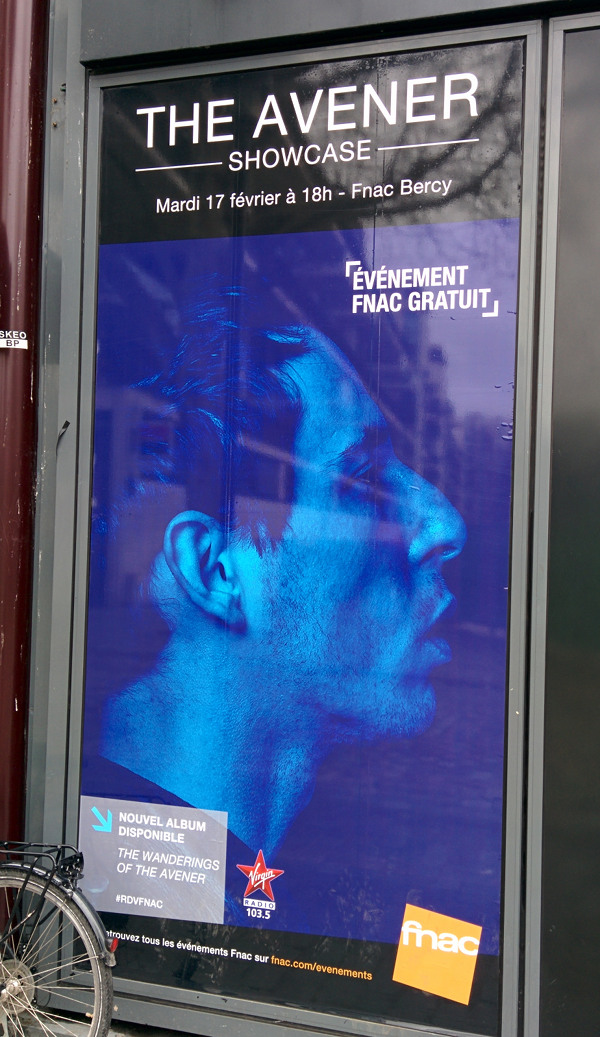 A few days ago, next to a Salon de Thé in Bercy Village in Paris, I saw out of the corner of my eye a large poster showing a seriously blue young man labelled as "THE AVENER".
My first thought was, hmm,  interesting that French yuppies are so seriously into the personification of tea. But then I read the notice in the lower left-hand corner: a new album is available under the name "THE WANDERINGS OF THE AVENER".
I quickly figured out that this is not a new tea promotion, it's a French musician, originally Tristan Casara from Nice, who's adopted an English name for himself and for his first album, which his web site describes as "a sophisticated electro manifesto in the spirit of St Germain and his Boulevard's nu-jazz sampling, reconciling the styles of Moby and Wankelmut, King Britt and Cassius…"
It's interesting to visit a country whose popular culture shares themes and memes with my own, but expresses them in ways that might as well be the background texture of an unpublished novel by William Gibson:
The ghost producer of many club hits, Tristan became The Avener when he decided to re-embrace the pleasure of music for its own sake, his early love of piano and melodies, his rich, eclectic, multilayered musical culture and deep house – an antidote to the mechanical chill that has crept into electro over the last few years.
Tristan shut himself away in the studio for months. "I began to rework old tracks that went unnoticed at the time, giving them a more modern feel…" He was determined to achieve a perfect balance: a mixture of acoustic and electro combining songwriting science with the intuition of a dance-floor specialist. And while The Avener wrote his own music, The Avener also covered Sixto Rodriguez, John Lee Hooker, Mazzy Star, The Be Good Tanyas, Andy Bey and Adam Cohen in a mosaic of seminal blues, underground folk, nocturnal pop, ironic rock and the work of forgotten artists from the 70s and 80s, exploring secret paths of memory. His sampling of Phoebe Killdeer & the Short Straws' The Fade Out Line, a foretaste of the album, was quietly uploaded in summer 2013. It steadily gathered momentum by word of mouth in France before going massive in Germany and then all around the world.  
The Avener's delicate, radiant style has been welcomed as a So French Touch of Elegance and acclaimed as the missing link between harmonic emotion and the urge to dance worldwide.
The Wanderings album includes a song performed by John Lee Hooker, "It serves you right to suffer":
John Lee Hooker's original version of this song featured a different pronoun and a different harmonic emotion — "It serves me right to suffer":
---
Update — back in Philly, the official Avener YouTube version is apparently blocked in the U.S., so courtesy of Ethan here's another that works for now:
---