« previous post | next post »
Following up on this morning's post about phrases that some people find irritating, I thought that I'd take a look at the recent history of one of them, "At the end of the day", which was the Plain English Campaign's 2004 "most irritating phrase in the language". Geoff Pullum ("Irritating cliches? Get a life", 3/25/2004) took this phrase to "have a meaning somewhere in the same region as after all, all in all, the bottom line is, and when the chips are down", and he observes that it "may shock people by its complete bleaching away of temporal meaning", resulting in things like "at the end of the day, you've got to get up in the morning".
A Google News Archive search for "at the end of the day" shows a rapid recent rise in hits from around 1985 onward.  But so do some similar phrases, like  "when all is said and done", which doesn't seem to have incurred the ire of peevers to nearly the same extent. So I thought I'd look at the relative frequency of four phrases with similar meanings: "in the last analysis", "in the final analysis", "when all is said and done", and "at the end of the day".  I queried the Google News archive in 5-year increments from 1951 to 2009.
The raw counts are here, and a plot of proportions shows a striking increase, from about 1975 on, in the frequency of "at the end of the day" relative to the other alternatives: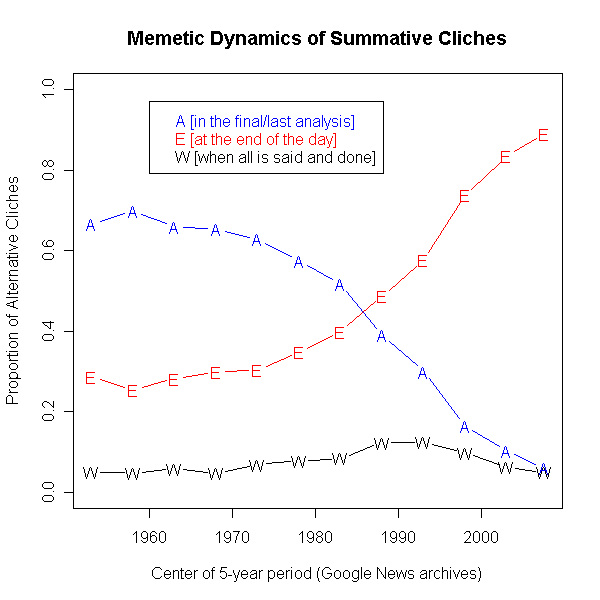 it's nice to see that peevers like the PEC are responding, even if irrationally, to a genuine change in their linguistic environment, rather than amplifying purely internal psychic noise.
[Update — The OED has an entry for the "hackneyed phrase" glossed as "eventually; when all's said and done", with citations only from 1974:
1974 H. MCKEATING God & Future vi. 96 Eschatological language is useful because it is a convenient way of indicating..what at the end of the day we set most store by. 1976 South Notts. Echo 16 Dec. 1/4 'At the end of the day,' he stated, 'this verifies what I have been saying against the cuts in public expenditure.' 1978 Jrnl. R. Soc. Arts CXXVI. 213/2, I want to make a number of points to you, which we believe invalidate..the recommendations they make at the end of the day. 1982 B. BEAUMONT Thanks to Rugby iii. 39 But, at the end of the day, it is an amateur sport and everyone is free to put as much or as little into the game as he chooses. 1986 Independent 17 Nov. 4 At the end of the day businessmen can talk to the city in a way chief executives cannot.
1974 is way late for the first "hackneyed" usage — was this phrase born hackneyed?
It's easy enough to antedate it — W.H. Auden wrote in Passenger Shanty (from Poems 1936-39):
8 The passengers are rather triste ,
9 There's many a fool, and many a beast,
10 Who ought to go west, but is bound for the East.
11 Mr. Jackson buys rubber and sells it again,
12 He paints in oils and he drinks champagne,
13 Says: 'I should have been born in Elizabeth's reign.'
14 His wife learns astrology out of a book,
15 Says: 'Your horoscope's queer and I don't like its look.
16 With the Moon against Virgo you might be a crook.'
17 The planter tells us: 'In Malay
18 We play rugger in March and cricket in May
19 But feel starved for sex at the end of the day.'
20 The journalist Capa plays dicing games,
21 He photographed Teruel Town in flames,
22 He pinches the bottoms of all the dames.
23 The Dominican monks get up with the sun,
24 They're as fond of their dinner as anyone,
25 And they have their own mysterious fun.
Though perhaps Auden's planter meant that literally, I'm not sure.
Another, even earlier, ambiguous antedating — a poem by William Canton with the title "At the end of the day", 1902:
1   Two on a moor befogged I found. One sat,
2      Hunched on a stone, beside a burnt-out fire.
3   One posed with drabbled peacock-feathered hat.
4      And both were old, starved, squalid in attire.
5   "You seem," said I to him upon the stone,
6      "Old friends new met in unexpected woe."
7   "Yes," sighed the man; "my name is Had-I-known ."
8      "And his?" "Oh, his!" he laughed—" I-told-you-so ."
Completely unambiguous is Ella Wheeler Wilcox's 1916 The Things That Count:
1   Now , dear, it isn't the bold things,
2   Great deeds of valour and might,
3   That count the most in the summing up of life at the end of the day.
4   But it is the doing of old things,
5   Small acts that are just and right;
6   And doing them over and over again, no matter what others say;
7   In smiling at fate, when you want to cry, and in keeping at work when you want to play—
8   Dear, those are the things that count.
Maybe this phrase was "born hackneyed" after all?
Even earlier is Benjamin Disraeli's 1847 Tancred:
As for Keferinis, although he was very conversable, the companions observed that he always made it a rule to dilate upon subjects and countries with which he had no acquaintance, and he expressed himself in so affected a manner, and with such an amplification of useless phraseology, that, though he was always talking, they seemed at the end of the day to be little more acquainted with the Ansarey and their sovereign than when Baroni first opened the subject of their visit to Darkush at Damascus.
]
---