« previous post | next post »
Or alternatively, were 50,000 Wikipedia word choices actually errors to start with? Andrew McMillen, "Meet the Ultimate WikiGnome: One Man's Quest to Rid Wikipedia of Exactly One Grammatical Mistake", Medium 2/3/2015:
On a Friday in July 2012, two employees of the Wikimedia Foundation gave a talk at Wikimania, their organization's annual conference. Maryana Pinchuk and Steven Walling addressed a packed room as they answered a question that has likely popped into the minds of even the most casual users of Wikipedia: who the hell edits the site, and why do they do it?  
Pinchuk and Walling conducted hundreds of interviews to find out. They learned that many serious contributors have an independent streak and thrive off the opportunity to work on any topic they like. Other prolific editors highlight the encyclopedia's huge global audience or say they derive satisfaction from feeling that their work is of use to someone, no matter how arcane their interests. Then Walling lands on a slide entitled, 'perfectionism.' The bespectacled young man pauses, frowning.  
"I feel sometimes that this motivation feels a little bit fuzzy, or a little bit negative in some ways… Like, one of my favorite Wikipedians of all time is this user called Giraffedata," he says. "He has, like, 15,000 edits, and he's done almost nothing except fix the incorrect use of 'comprised of' in articles."
Not everyone has accepted Giraffedata's opinion about this usage:
On 15 June, 2009, an editor left a comment on the 'Talk' page of Jimmy Wales, a founder of the encyclopedia. Entitled 'Intercession needed,' the writer began: "Please refer to user Talk:Giraffedata. Even though numerous editors have objected to his obsessive removal of the gramatically [sic] acceptable term 'comprised of' from hundreds of articles, he defiantly continues to do so. Your assistance here is appreciated."  
Wales replied later that day: "I believe that Giraffedata's arguments against our using it are persuasive," though he abstained from passing further judgment.
And McMillen is also a convert:
As a stickler for correct grammar, I am appalled at the thought of incorrect English in my published work. So in March 2014, I thanked Henderson for saving me from further embarrassment by awarding him an 'Original Barnstar.' "You're a legend, Bryan," I wrote on his 'Talk' page. "Thanks for correcting my semi-regular use of 'comprised of.' Never again will I use it!"
It's fitting, I suppose, that this incorrection is a perfect example of what I once called "Counterfeit Cultural Capital" (6/11/2011): the animus against comprise in the sense of  "compose, make up" is an invented shibboleth. (See also "More on the history of comprised of meaning 'composed of'", 6/6/2011.) Both  active and passive forms have been used in this sense for hundreds of years, and continue in widespread use to the present day, thereby given Mr. Henderson plenty of opportunity to exercise his obsession (now apparently approaching 50,000 Wikipedia edits).
It doesn't seem to have occurred to Mr. McMillen to check the issue out in the Oxford English Dictionary or in Merriam-Webster's Dictionary of English Usage, or for that matter in literary history, where he might have appreciated the opportunity to correct Thomas Hardy (The Melancholy Hussar of the German Legion):
The serial makes no mention of 'a mourning coach', shows the condemned men accompanied by 'a clergyman' not 'two priests', and has a firing-party comprised of only twelve men.
And also Charles Dickens (Hard Times), since if the whole cannot be comprised of the parts, neither can the parts comprise the whole:
These observations comprise the whole of the case.
Herman Melville must also be edited (Moby-Dick):
Nor do heroes, saints, demigods, and prophets alone comprise  the whole roll of our order.
And (Mardi and a Voyage Thither):
These here and  there fell into the lagoon, forming many isles, now green  and luxuriant; which, with those sprouting from seeds  dropped by a bird from the moon, comprise all the groups  in the reef.
And there a more difficult task facing Mr. Henderson: The U.S. Code apparently includes some 1,880 instances of "comprised of", and changing them will require many acts of Congress…
And the texts of court decisions contain another few hundred thousand examples — for example, from a 2011 decision of the U.S. Court of Appeals, Eighth Circuit:
A prospective new political party and its slate of candidates secure ballot access by filing with the Arkansas Secretary of State a petition comprised of the signatures of any 10,000 registered Arkansas voters collected in a ninety-day period.
I'm not the first to notice that Henderson's jihad is based on false premises: see David Shariatmadari, "Why Wikipedia's grammar vigilante is wrong", The Guardian 2/5/2015.
Update — Geoff Nunberg writes to inform me that my Thomas Hardy quotation was actually from an editor's footnote, and thus not written by Hardy himself. But he adds:
We can, however, add Lionel Trilling, Christopher Hitchens, Harold Bloom, Bertrand Russell, and Alfred North Whitehead to the list of abusers.
 Update #2: Geoff's Fresh Air piece on the subject suggests, I think correctly, that comprised of is not really a passive, but rather is one of those odd forms like possessed of — but Geoff goes wrong in using the example "She's possessed of a mischievous spirit", which seems like it might be a mistake for "possessed by", which would be a passive. Brian Garner (p. 644 of the 2009 edition of Modern American Usage) gets this one right: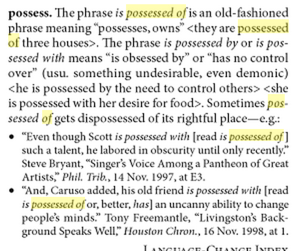 ---