« previous post | next post »
Dave Heller, "Why an actor from Brooklyn can't talk like a Philadelphian", Newsworks Tonight (WHYY), 2/2/2015: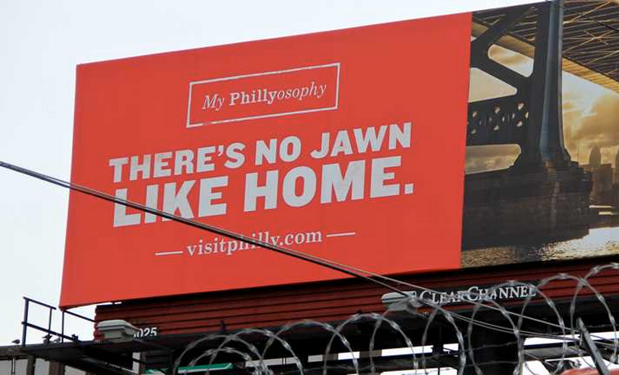 Audio clip: Adobe Flash Player (version 9 or above) is required to play this audio clip. Download the latest version here. You also need to have JavaScript enabled in your browser.
You may have trouble describing it, but you sure know it when you hear it — the unmistakable Philly accent.
Meredith Tamminga, assistant professor of linguistics at the University of Pennsylvania makes it her work to make sense of variations in language. She visited WHYY to tout the tones and words that make Phillyspeak unique.
Listen to the whole thing.
That cute "There's no jawn like home" billboard might not make sense to you if you're not from here — in fact, it seems a bit odd to me to use it on a billboard that's supposed to attract visitors, unless they're trying to lure people who've moved away from Philadelphia back for a sentimental vacation.
So for some local lexicographical color, here's Emily Guendelsberger interviewing Ben Zimmer on "The etymology of 'jawn'" in The City Paper, 3/18/2014:
Jawn's been in the news lately — the Daily News' Bill Bender got the perfect quote from a witness to one of the many worrying building collapses, and "The whole jawn came down" will now live forever. We thought, then, that this was the perfect time to post this interview with linguist, lexicographer, Wall Street Journal columnist and former New York Times On Language columnist, UPenn Language Log-ger and all-around good sport Ben Zimmer, in which he sheds some light on the origins of "jawn," plus "hoagie," "chumpy" and other words from Philly's regional lexicon.
Or see Janis Chakars, "'Jawn' is one Philly thing New York can't lay claim to", Newsworks 6/21/2013.
---