« previous post | next post »
Following up on this morning's "bored" post, I wrote a little script to query the NYT's index for the number of uses of "bored of" vs. "bored with" from 1981 to the present. Although the number are fairly small and thus somewhat unstable (in 1981 there were 72 instances of "bored with" and none of "bored of"; in 2008 there were 48 instances of "bored with" and 12 of "bored of"), the results lend further plausibility to the idea that there's a change in progress, with of gaining ground on with during the past decade: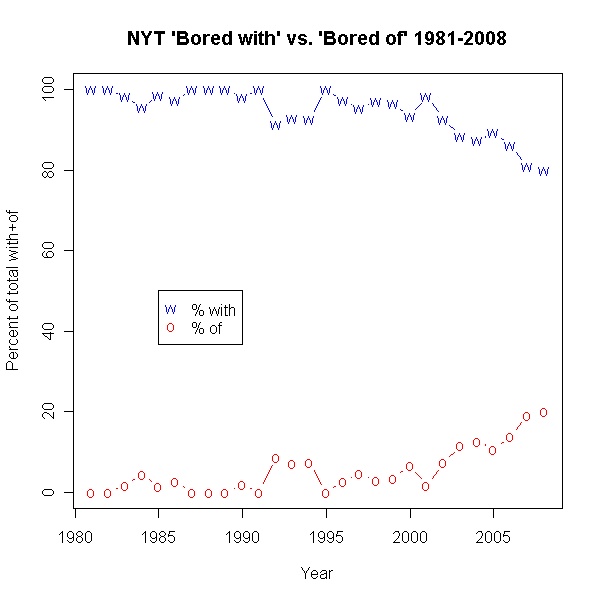 [Update — Ray Girvan has supplied a table of numbers from  NewsBank (UK and Ireland newspaper online archive), which shows much the same pattern as the NYT, but with an apparently faster rate of change. (Or perhaps an earlier onset — the data is noisy enough that it's hard to tell…)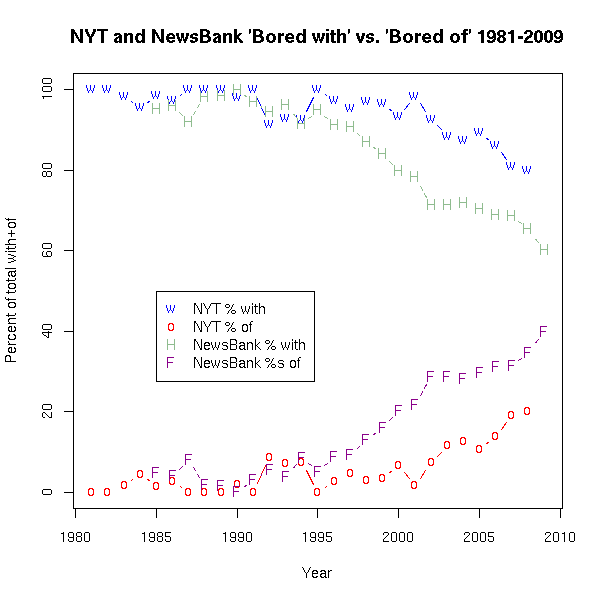 It's not clear whether this reflects a difference in regional varieties of English, with the UK and Ireland in the lead on this change, or a difference in local copyediting practices, with the NYT's copyeditors more conservative or more careful. I'm inclined to think that it's a genuine geographical difference — comparison with another U.S. paper, or a collection of papers, would help.]
Additional evidence for a change in progress comes from an examination of apparent-time effects in the LDC's collection of conversational telephone speech:
| | | |
| --- | --- | --- |
| | "bored of" (count) | "bored with" (count) |
| Young speakers (20-39) | 9 | 16 |
| Middle-aged speakers (40-59) | 12 | 70 |
| Old speakers (60-69) | 0 | 5 |
In this case, males seem to be leading the change (though I haven't verified that the effect is not due to a difference in age distribution in the fairly small subset of speakers who used either of these sequences — maybe younger men and older women are more likely to express boredom…):
| | | |
| --- | --- | --- |
| | "bored of" (count) | "bored with" (count) |
| males | 14 | 36 |
| females | 8 | 55 |
It might be interesting to take a look at some other sources with reliable dating.
[Update — as evidence that the (perception of) change is a both-sides-of-the-Atlantic thing, here's a paragraph from a long "kids these days" groaner in the (London) Times, "A levels: what is behind the falling standards?", July 10, 1976: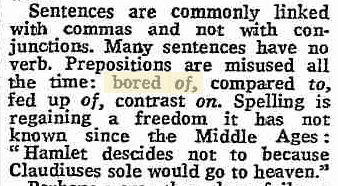 And Literature Online turns up 257 instances of "bored with", compared to only 6 instances of "bored of", three of which are bogus — Henry Howard Brownell's 1866 poem Lines, Kimposed A Bored of a Californy Male-Steemer. By a Parsinger., a mention elsewhere of "the most bored of women", and a 1991 poem containing this passage:
25   You'll fear some stroke has left me dumb,
26   bucolic, inward-looking, glum;
27      irrelevant, to boot.
28   It seems some others think this too;
29   each morning brings some short review,
30      bored, of my selected
31   verses, calls them 'quiet', 'true',
32   a man who woos a rural muse
33      and suitably dejected.
But one of the 3 genuine hits for "bored of" is Ezra Pound ranting about politics, from Redondillas, or something of that sort:
36   I demonstrate the breadth of my vision.
37   I am bored of this talk of the tariff,
38   I too have heard of T. Roosevelt.
39   I have met with the "Common Man,"
40   I admit that he usually bores me,
41   He is usually stupid or smug.
42   I praise God for a few royal fellows
43   like Plarr and Fred Vance and Whiteside,
44   I grant them fullest indulgence
45   each one for his own special queerness.
The date of composition is not clear, but the first cited copyright is 1926. (Pound also used "bored with" 7 times in other poems.)
The other two genuine "bored of" hits are a 1991 poem and 1994 novel.
This evidence, though thin, is consistent with a long-standing low rate of usage, whether by analogy to e.g. "tired of" or by reversion to the unmarked preposition "of", followed by recent vernacular change that started to leak into the written language in the 1990s. ]
---