« previous post | next post »
Ron Fournier, "Is Obama More Interested in Progress or Politics?", National Journal, 1/20/2015:
Count how many times Obama uses the words "I," "me," and "my." Compare that number to how often he says, "You," "we," "our." If the first number is greater than the second, Obama has failed.
This leads naturally to a different question: "Is Ron Fournier More Interested in Analysis or in Bullshit?" (where I mean "bullshit" in the technical philosophical sense, of course).
If Ron Fournier had spent a minute or two looking into the facts of the matter, he would have discovered these plots, presented in "The evolution of SOTU pronouns", 1/28/2014:
They show that
ALL presidents since WWII have used substantially more first-person-plural pronouns than first-person-singular pronouns in the SOTU messages;
Adding second-person pronouns makes the disproportion even larger;
Obama is pretty much in the middle of the pack on all the relevant measures.
He would also have found this table, in a blog post by Eric Ostermeier, "Obama's SOTU: Uniting the Country…through Pronouns?", 1/31/2011: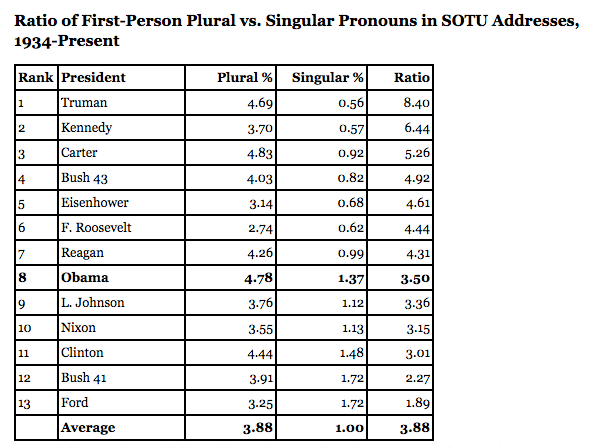 I'm therefore willing to place a substantial wager with Ron Fournier as to the outcome of his pronoun count. But I'm betting that he won't take the bet, because his column exemplifies Harry Frankfurt's analysis of "the bullshitter":
Both he and the liar represent themselves falsely as endeavoring to communicate the truth. The success of each depends upon deceiving us about that. But the fact about himself that the liar hides is that he is attempting to lead us away from a correct apprehension of reality; we are not to know that he wants us to believe something he supposes to be false. The fact about himself that the bullshitter hides, on the other hand, is that the truth-values of his statements are of no central interest to him; what we are not to understand is that his intention is neither to report the truth nor to conceal it. This does not mean that his speech is anarchically impulsive, but that the motive guiding and controlling it is unconcerned with how the things about which he speaks truly are.
By suggesting that tonight's SOTU address might conceivably fail that pronoun-ratio test (because Obama, as Everyone Knows, is the greatest narcissist blah blah), Mr. Fournier is reprising a sub-theme of the Great Obama Pronoun Fantasy, variants of which seem to draw pundits like flies to rotting meat. An earlier version of the we-me sub-meme was promoted a few years ago by Stanley Fish, discussed in "Inaugural pronouns", 6/8/2009, where I offered this table:
For those with a perverse interest in our more distinguished purveyors of Bos taurus feces, here some other posts on similar topics:
"Fact-checking George F. Will", 6/7/2009
"Obama's Imperial 'I': Spreading the meme", 6/8/2009
"Inaugural pronouns", 6/8/2009
"Royal baloney", 6/9/2009
"Another pack member heard from", 6/9/2009
"I again", 7/13/2009
"'I' is a camera", 7/18/2009
"What is 'I' saying?", 8/9/2009
"Open fraud as Op-Ed discourse", 7/10/2010
""A sociopath and narcissist and manipulator"", 8/9/2010
"Fact-checking George F. Will, one more time", 10/6/2009
"Recommended reading", 5/3/2011
"Presidential pronouns, one more time", 5/22/2011
"Two more pundits who don't count", 6/21/2011
"Another pundit who can't (or won't) count", 6/23/2011
"Republican self-referentiality", 6/27/2011
"A meme in hibernation", 3/31/2012
"Another lie from George Will", 5/7/2012
"Obama pronouns again", 10/31/2012
"First Person Singular, Redemption Plea Edition", 1/11/2014
"Another casual lie from Charles Krauthammer", 9/16/2014
"Colbert on Krauthammer", 9/24/2014
"Buzzfeed linguistics, presidential pronouns, and narcissism revisited", 10/21/2014
---
Update — the "remarks as prepared for delivery" version of the speech pretty closely matches the pronoun rates of Obama's previous SOTUs: in 6567 words, there are
97 first-person singular pronouns, for a rate of 1.48%;
34 second-person pronouns, for a rate of 0.52%;
312 first-person plural pronouns, for a rate of 4.75%.
More specifically:
| | |
| --- | --- |
| I | 71 |
| me | 9 |
| my |  16 |
| mine |  1 |
| we |  175 |
| us |  28 |
| our |  108 |
| ours |  1 |
| you |  25 |
|  your |  9 |
So Fournier's bizarrely careless enumeration (I, me, my vs. you, we, our) adds up as
71+9+16 = 96 = 1.46%
25+175+108 = 308 = 4.96%
…and so by Fournier's metric, Obama succeeds by a factor of 308/96 = 3.2 to 1.
---
Update #2 — Applying the same scripts to Senator Joni Ernst's SOTU rebuttal, we get 1245 words with 22 first-person singular pronouns (1.77%), 19 second-person pronouns (1.53%), and 55 first-person plural pronouns (4.42%). In terms of Fourier's careless enumeration, we have
I+me+my = 14+4+4 = 22 = 1.77%
you+we+our = 14+25+14 = 53 = 4.265
So Senator Ernst also "succeeds" by Fournier's (meaningless) metric, though not as strongly as President Obama did:
53/22 = 2.41
308/96 = 3.21
---