« previous post | next post »
… and tell Lady Gregory the news. According to David Adams, writing in the Irish Times,  "Attacks on the language are rising, basically":
IT'S OFTEN the little things in life that can get to you. Take "basically", for instance. I cannot be alone in having grown to detest the very sound of this word. It has become so annoyingly pervasive in the spoken language, you sometimes wonder if we are now incapable of relaying even the most mundane information without employing it. As in, "Basically, I was walking down the road", or, "Basically, he was standing there".
Only good manners and not wanting to be thought a complete lunatic stop some of us from screaming: "There is no 'basically' about it. Either you were walking down the road or you weren't, or he was standing there or he wasn't."
While maintaining this tenuous hold on his sanity, Mr. Adams is also seething because in the "blogosphere" (a word he carefully places in scare quotes), "words are regularly invented, mangled or forced against their will from nouns into verbs, or vice versa".  It's a lucky thing for his peace of mind that he wasn't around in the 16th century.
His penultimate peeve is prosodic (and is thus, by general rule, graced by a missing comma):
Continuing on the theme of annoyances is it only my imagination, or is the high rising terminal (HRT) habit that some of us picked up from watching too many episodes of Neighbours and Home and Away on the wane?
HRT, as you probably know only too well, is where sentences end with an upward intonation, so that every utterance sounds like a question posed by an Australian.
Since the origin of this pattern is apparently in a geographical cluster of English varieties that includes part of Ireland (see here and here), it's interesting to see Mr. Adams identifying it as an import from Australia. Perhaps this means that the Australian version really is phonetically different — though I haven't been able to find any way to measure it that shows this to be true — or perhaps this is like the Pennsylvania student once interviewed on television about uptalk, who said something like "Well, my friends and I don't talk that way? I think that's something that the kids in New Jersey do? But I don't think you'll hear it around here?"
Adams continues:
I certainly hope it is on the way out. I suspect, though, I've only stopped noticing through being distracted by another antipodean import that appears to be gaining ground. I speak of that increasingly common opening to a usually uninvited declaration by mostly self-obsessed people of what they intend doing or saying next: "Do you know what . . . "
This is the most puzzling of Adams' peeves. He's complaining about Ireland recently importing from Australia something that's been a standard rhetorical device since the time of Plautus. Thus Henry Baker's 1739 translation of Molière's The blunderer:
Trufalin: Hark'e, dost thou know what I have just been doing?
Mascaril: No; but certainly, if you think proper, I shan't remain long in Ignorance.
Language must indeed be a sad state among the Irish, if they need to send to Australia and New Zealand for this ancient device.
---
Update — several people have suggested that I add the latest Partially Clips comic to this post: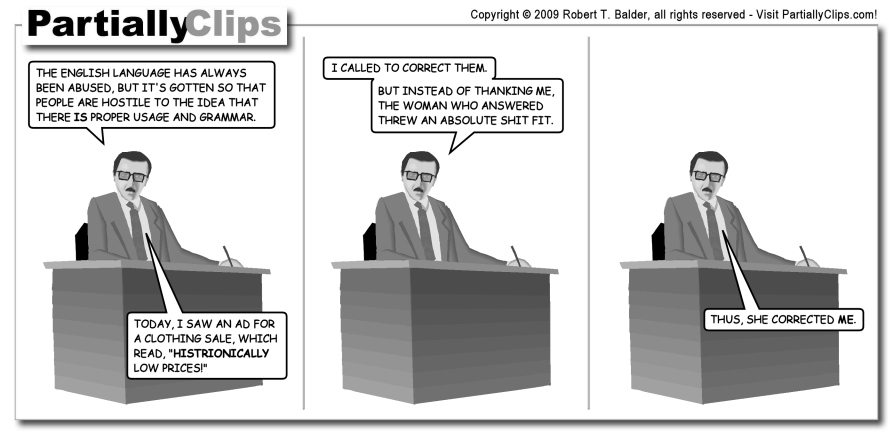 It swaps the histrionics from one side to the other, but still…
I thought I'd also observe that (as a matter of mere fact) use of basically isn't even close to the point where "we are now incapable of relaying even the most mundane information without employing it". Specifically, according to blogpulse.com, the proportion of blog posts containing it is well under 1% (about 0.65%, more exactly):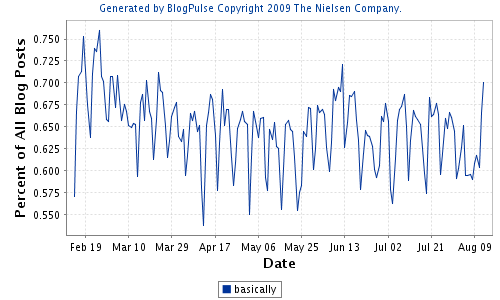 Note the weekly rhythm, by the way — it's easy to see why this applies to beer, but this oscillation is more interesting because less obvious…
And as usual, the discussion in MWDEU is a sensible one:
Several British commentators—Burchfield 1996, Phythian 1979, Longman 1984, and Howard 1978—voice objections to basically used as a sentence adverb. Basically, they think it is overused. […]
"Nineteen sentences out of twenty in which basically appears would be sharpened by its deletion," says Howard. Well, maybe so. But the rigorous pursuit of excising basically does not look like an important path to better prose. Basically is not used in highfalutin prose. In general prose, however, its occasional use will not be harmful.
---