« previous post | next post »
That's what Descartes said to Huygens about Pascal. Another Shoebox cartoon, this one by brian, gives the background: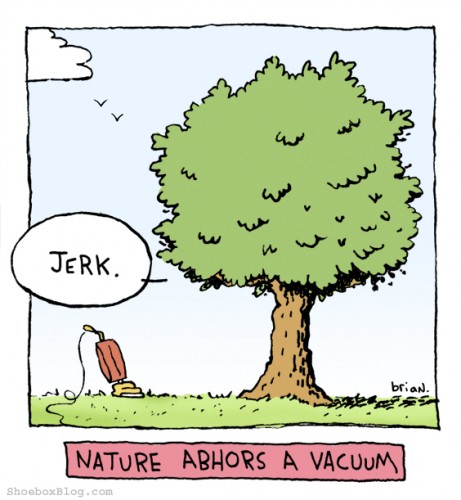 There's some serious history behind this famous but widely misunderstood slogan, coined originally (I think) by Hero of Alexandria. Before Pascal and Descartes (and Boyle and Hobbes and a cast of thousands), there was Hero's footnote to Aristotle's "plenism".
For the background, we turn to the Stanford Encyclopedia of Philosophy's article on Nothingness:
Aristotle denied the void can explain why things move. Movement requires a mover that is pushing or pulling the object. An object in a vacuum is not in contact with anything else. If the object did move, there would be nothing to impede its motion. Therefore, any motion in a vacuum would be at an unlimited speed.
Aristotle's refutation of the void persuaded most commentators for the next 1500 years. There were two limited dissenters to his thesis that vacuums are impossible. The Stoics agreed that terrestrial vacuums are impossible but believed there must be a void surrounding the cosmos. Hero of Alexandria agreed that there are no naturally occurring vacuums but believed that they can be formed artificially. He cites pumps and siphons as evidence that voids can be created. Hero believed that bodies have a natural horror of vacuums and struggle to prevent their formation. You can feel the antipathy by trying to open a bellows that has had its air hole plugged. Try as you might, you cannot separate the sides. However, unlike Aristotle, Hero thought that if you and the bellows were tremendously strong, you could separate the sides and create a vacuum.
Hero's views became more discussed after the Church's anti-Aristotelian condemnation of 1277 which required Christian scholars to allow for the possibility of a vacuum. […]
… scholars writing in the aftermath of the condemnation of 1277 proposed various recipes for creating vacuums. One scheme was to freeze a sphere filled with water. After the water contracted into ice, a vacuum would form at the top.
Aristotelians replied that the sphere would bend at its weakest point. When the vacuists stipulated that the sphere was perfect, the rejoinder was that this would simply prevent the water from turning into ice.
Neither side appears to have tried out the recipe. If either had, then they would have discovered that freezing water expands rather than contracts. […]
Hero was eventually refuted by experiments with barometers conducted by Evangelista Torricelli and Blaise Pascal. Their barometer consisted of a tube partially submerged, upside down in a bowl of mercury. What keeps the mercury suspended in the tube? Is there an unnatural vacuum that causes the surrounding glass to pull the liquid up? Or is there no vacuum at all but rather some rarefied and invisible matter in the "empty space"? Pascal answered that there really was nothing holding up the mercury. The mercury rises and falls due to variations in the weight of the atmosphere. The mercury is being pushed up the tube, not pulled up by anything.
When Pascal offered this explanation to the plenist Descartes, Descartes wrote Christian Huygens that Pascal had too much vacuum in his head. Descartes identified bodies with extension and so had no room for vacuums.
Descartes was not the only 17th-century wit to make this joke. Thus Thomas Pecke, "Upon Marcus", 1659:
Why durst you offer Marcus to aver
Nature abhorr'd a vacuum ? confer
But with your empty skull, then you'll agree
Nature will suffer a vacuitie.
There's a more extended and more effective version of the joke in Roger Boyle, Earl of Orrery, Mr Anthony, A Comedy (which seems to have been a sort of 17th-century Breakfast Club), where Mr. Anthony and his friend Jack Plot gang up on Mr. Pedagog:
Plot: How like you this, Mr. Pedagog , have I not taught your Pupil rarely this Morning?
Anthony:  Prethee let me have my full swinge at him (for he has had his many a dismal time at me:) I say, if thou dost not conform to all the Maxims of Jack Plot, Tom Art , and my own dear self, I will peach thee at such a rate to my Sire, as shall provoke him to uncase thee out of thy Pedagogical Cassock, Condemn to the Flame, Martyrlike all thy Ferula's, Grammars, Dictionaries, Classick Authors, and Common-Place Books; nay, take thy Green Glasses out of thy Spectacles, and leave thee only thy Horn-cases to look through; by which, thou wilt be as able to read Prayers with thy Nose as with thy Eyes.
Plot: Nay, if thou dost not frisk as lustily to a single Kit, whenever thy late Pupil and my present Convert bids thee, as to 24 Violins, I will Convert thy Lictorian Bundles of Birch, which Consul-like thou hast carryed before thee, into Rods for thy own Posteriors, and have no more mercy on thy Hanches, than thou usest to have on my Friend Anthony 's, when he cannot say his Lesson, though he be the greatest Dunce of the two; only his Imbecillity, varnish'd over with a Pythagorean Gravity, passes for profound Knowledge in thy Fathers Shallow Pate; where, if there is a Vacuum in Nature, there it needs must be.
Anthony: By this hand, I long to open it, to try the Experiment.
It's not clear to me whether (or how) Mr. Anthony's author, Roger Boyle,  was related to Robert Boyle, the antagonist of Thomas Hobbes in an important controversy about the existence of vacuums and the proper conduct of scientific investigation. Anyhow, Hobbes hated Descartes, but agreed with him about vacuums.
See Shapin and Schaffer, Leviathan and the Air-Pump, 1985; but also see Noel Malcolm, Aspects of Hobbes (2002), pp. 190-196:
By the time he published De corpora in 1655, Hobbes had actually adopted … a plenist theory, denying the existence of any empty spaces — even at the atomic level — in the universe. Why did he make this change? According to Shapin and Schaffer, the fundamental reasons were political. Hobbes settled on a materialist plenism in order to exclude 'incorporeal substances', such as spirits and the human soul …, because these were the props and devices used by priestcraft to harness people's fears and thereby gain power in the state, subverting lawful authority. The difficulty with this explanation is that his attack on 'incorporeal substance' required only materialism; it did not require plenism too. […]
The real reasons for Hobbes' shift from vacuist to plenist are to be found in experimental physics […] 'It is said that one can see through the empty space […] from which it follows that the action of a light-producing body is being propagated through a vacuum (which I think is impossible).'
Though action at a distance remains unmediated by ethereal vortices, the story continues, and not just in the comics:
Historians of science wonder whether the ether that was loudly pushed out the front door of physics is quietly returning through the back door under the guise of "space". Quantum field theory provides especially fertile area for such speculation. Particles are created with the help of energy present in "vacuums". To say that vacuums have energy and energy is convertible into mass, is to deny that vacuums are empty. Many physicists revel in the discovery that vacuums are far from empty.
[Update — I'm very sorry to say that the remark attributed to Descartes may be a myth, or perhaps an exaggeration (In the Stanford Encyclopedia, too, and many other apparently authoritative places!) At least, according to Daniel Garber, Descartes' Metaphysical Physics, p. 142:
All Descartes ever got from Pascal was the promise of a refutation of his preferred explanation. At the end of the Expériences nouvelles, a preliminary outline of a never completed treatise on the vacuum, Pascal promised to respond to the objection "that a matter imperceptible, extraordinary, and unknown to all of the senses fills the space [above the column]," a position formulated with Descartes in mind, no doubt. Descartes seems to have received the work in good humor. Writing to Huygens on 8 December [1647], shortly after having received the Expériences nouvelles, he noted:
It appears to me that the young man who wrote this booklet has the vacuum a bit too much on his mind, and is somewhat hasty. I wish the volume he promises were already available, so that one could see his reasons, which are, if I am not mistaken, insufficiently solid for what he has undertaken to prove. (AT V 653)
It's not at all clear from this translation that D was really making a joke about P having "too much vacuum in his head" — it would be nice to see the original French (or Latin?).]
---