« previous post | next post »
The biggest news in South Korea these days is the macadamia nut tantrum that occurred on Korean Airlines last week.  Heather Cho, the eldest daughter of Korean Air Lines chairman Cho Yang-ho and herself a high-ranking executive at the airline (though since resigned), threw a monumental hissy fit when she was served macadamia nuts in a manner that she thought was not suitably elegant.  Amongst the usual media accounts of the incident, there was this statement from the UK Guardian:
Bloggers and the Korean press lambasted Cho for her arrogance, and took to social media to mock her for going "nuts".
and reports of this tweet in Korean from an online shopping mall/auction site that makes a sort of punning reference to "that nut."
Jeff Weinberg asks whether "nut" or "nuts" in Korean is used for "crazy person" or "crazy" as it's used in English (and maybe primarily American English).

According to Bob Ramsey:
So far as I know, 'nuts' in the sense of 'crazy' is only an American English term. 'Nuts' is not used that way at all in Korean. What the Korea press does talk about that I found curious,though, is associating her with 'peanuts' (ttangkong) — I think I remember seeing her called the 'peanuts lady' in some headline–when we know from the Western press that the furor was over the serving of macadamia nuts. Not sure why Koreans were talking about peanuts instead, except that those nuts are more familiar to Koreans than macadamia nuts. But none of these words, as far as I know, is associated with going crazy or wild the way 'going nuts' is in America.
Haewon Cho concurs:
"Nuts" does not mean "insane" in Korean. Because of this incident, Korean Air (대한항공, Daehanhanggong , RR; Taehanhanggong, MR) is ridiculed as "땅콩 항공 (Ttangkong hanggong, RR; Ttangk'ong Hanggong, MR; Ttangkong means peanuts, hanggong means airlines). It's because peanuts are so small and not something expensive or important? I am not sure….
Ttangkong also refers to a short person. For example, Mihyun Kim, a professional golf player, is often called "Super Ttangkong" because of her height (5' 1").
Here is the image of "Ttangkong hanggong" that Korean internet users have created: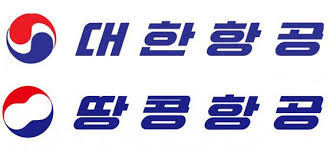 Interestingly, this incident has created a sudden increase in sales of macadamia nuts.
---