« previous post | next post »
Nathan Hopson bought this "rain suit" the other day: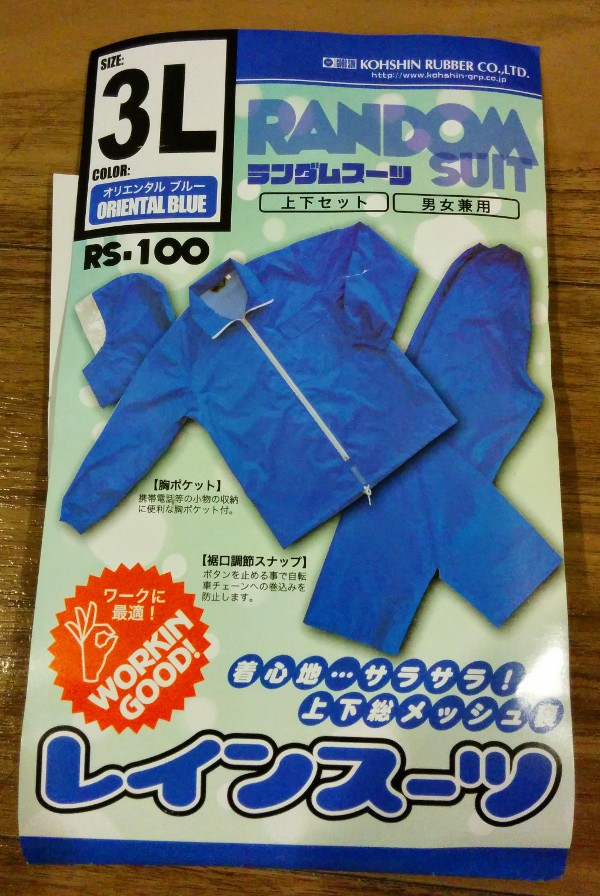 Upon first glance, "random suit" sounded strange, but at the same time somehow familiar.
First of all, here's your "Random Suit Generator". And here's a "Random Suit Man" by Katros on DeviantArt. There are lots of "Random suit ideas" on Pinterest. And there's a "Random suit combo lol" on YouTube.
So there are plenty of "random suit this" and "random suit that" around, but what Nathan purchased is just a plain RANDOM SUIT!
Looking at the Japanese, it says:
randamu sūtsu ランダム スー ツ ("random suit")
Under that it says:
jōge setto 上下セット ("set with top and bottom")
danjo ken'yō 男女兼用 ("for use by men and women")
It would be just as well to say yunisekkusu ユニセックス ("unisex") for this.
Note from Nathan:
BTW, I just typed ユニセックス in Google Japanese Input and the first conversion option was 男女兼用. You have to dig a little deeper for the katakana, FWIW. Here's a screenshot:

Continuing with the Japanese:
orientaru burū オリエンタルブルー ("oriental blue")
wāku ni saiteki ワークに 最適 ("optimal / ideal for work")
kigokochi… sarasara 着心地,,,サラサラ ("comfortable to wear … silky, silky")
jōge sō messhu ura 上下総メッシュ裏 ("top and bottom with complete mesh liner")
rein sūtsu レインスーツ ("rain suit")
And here are the items in brackets:
mune poketto 胸ポケット ("chest pocket")
keitaidenwa-nado no komono no shūnō ni benrina mune poketto-tsuki
携帯電話等の小物の収納に便利な胸ポケット付き
("A chest pocket, suitable for keeping small items such as a cell phone, etc., is attached.")
susoguchi chōsetsu sunappu 裾口調節スナップ ("fastener for adjusting pant cuffs")
botan o tomeru koto de jitensha chēn e no makikomi o bōshi shimasu
ボタンを止める事で自転車チェーンへの巻込みを防止します。
("By buttoning closed the pant cuffs, you can prevent them from getting caught by your bike chain.")
After all that, this rain suit doesn't seem so random any more!
[Thanks to Hiroko Sherry]
---