« previous post | next post »
Neil Dolinger sent in the following banner ad that popped up on his computer screen one day: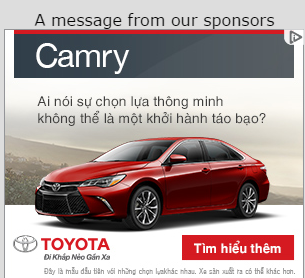 If you're wondering what this is about, I'll leave it to Neil to tell his own story, because he tells it best:
When I visited a website I frequent, the attached banner ad appeared for Toyota. A banner ad from Toyota would not be strange in of itself, except that it was in Vietnamese. I noticed there was a question mark at the top right, and when I clicked on it, the following message appeared:
This ad was provided to you by Conversant, one of the world's largest integrated online advertising companies. Conversant uses anonymous information about your online activity in order to customize advertisements to be more relevant and useful to you. We do not collect any personal information, nor display more ads than you would normally receive. You simply receive ads that are more relevant to you. You may have arrived from an AdChoices icon on one of our banner advertisements. If so, the icon you clicked is utilized by members of the Digital Advertising Alliance (DAA) such as Conversant to provide you with information and the ability to opt out.
As you might remember from previous discussion on Language Log, I was a student in Penn's Oriental Studies department in the early '80's, where I studied Mandarin. I also consider myself an amateur linguist (duh, I visit Language Log daily!), and have maintained an interest in all of the East Asian languages and language families. It would not surprise me if my various Google searches on these topics led to some data crunch algorithm deciding I must be a native speaker of Vietnamese. That decision would not be even close to correct, but it makes me wonder if that is one of the directions where our interests are being tied to our language use by demographic researchers.
Now, what does the ad say?
"Who says an intelligent choice cannot be the start of a bold journey?"
OR
"Who can say that an intelligent choice is not an audacious beginning?"
In terms of meaning and style, it's not very distinguished, but what would one expect of advertising copy?
[Thanks to Bill Hannas and Eric Henry]
---