« previous post | next post »
Nicki Johnson sent in the following photograph taken in the local Carrefour in Haikou, Hainan, along with this comment: "I was rather horrified until I realized they were not what they claimed to be."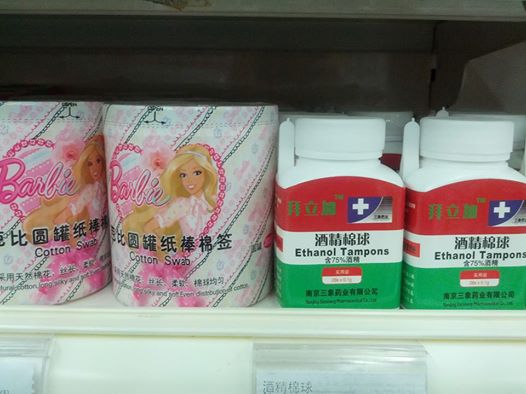 The Chinese on the bottle reads:
jiǔjīng miánqiú 酒精棉球 ("alcohol swab; alcohol cotton ball")
The Chinese word for "ethanol" would be yǐchún 乙醇.
Words for "(sanitary) tampon" include miánsāi 棉塞, (wèishēng) miántiáo (衛生)棉條, zhǐxiě (mián) sāi 止血(棉)塞, etc.
I have to agree with Nicki that the term "ethanol tampons" sounds pretty horrifying — unless you were going to use them to stanch a wound.
---