« previous post | next post »
The photograph below, taken earlier this month in Beijing, shows some of the best English-language bloggers now writing about language and culture in China and Taiwan.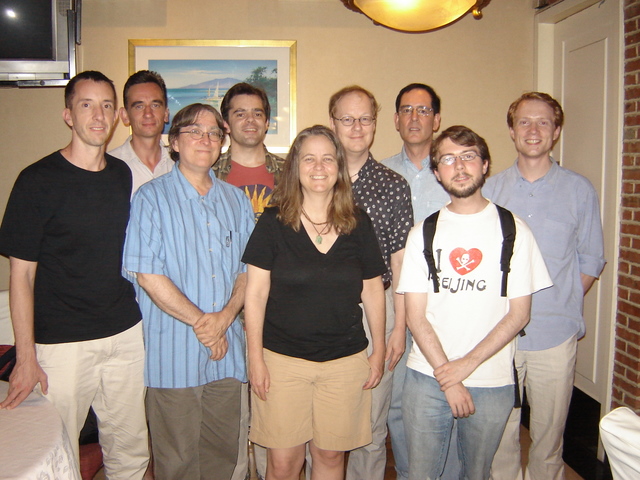 From left to right:
1. syz (Beijing Sounds)
2. Sima (Echoes of Manchu)
3. David Moser (CET; Danwei)
4. Randy Alexander (Echoes of Manchu)
5. Lisa Fredsti (The Peking Duck)
6. Mark Swofford (Pinyin.info)
7. Richard Burger (The Peking Duck)
8. Brendan O'Kane (bokane.org)
9. Joel Martinsen (Danwei)
After admiring their smiling faces (I previously only knew most of them by their blogs and their names or cognomina), my eye lit on the t-shirt worn by Brendan.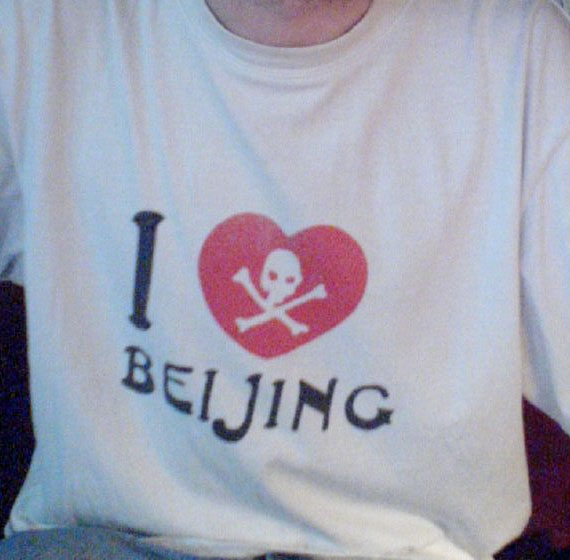 So I asked, "Brendan, is this the correct reading of the sentence on your t-shirt: 'I hate Beijing'? Or is it 'I detest BJ'? Or maybe, 'I'm loved to death by BJ'…?"
To which Brendan replied, "I've been asked that question a number of times, sometimes pointedly, by Chinese friends. The answer I gave on August 8 of last year was that it actually says '我愛死北京'."
Brendan's answer is thus WO3 AI4SI3 BEI3JING1 ("I love Beijing to death"). The English translation may not be immediately apprehensible to someone who doesn't speak Mandarin, but vb.-SI3 ("vb. to death; vb. so much that I could die") is a fairly common construction in that language. Some examples:
RE4SI3 "so hot [I] could die"
LENG3SI3 "so cold [I] could die"
LEI4SI3 "so tired [I] could die"
E4SI3 "so hungry [I] could die"
QI4SI3 "so angry [I] could die"
and so forth, where the final syllable in each case is a verbal complement of degree (vb. to the degree / point of death).
However, AI4SI3 愛死 also occurs in another very widely used expression where it has a different grammatical construction, namely, AI4SI3BING4 愛死病 ("the love-to-die-disease" or "love-death-disease"), an early translation of the English word AIDS (actually an acronym). In this case, AI4SI3 is parsed as a vb.-obj. phrase modifying the head noun BING4. There are other possible interpretations of the grammatical relationship between AI4 and SI3, but I shall refrain from discussing them because all are offensive to individuals suffering from this disease. It is not surprising that a more neutral transcription has since largely displaced AI4SI3BING4, namely, AI4ZI1BING4 艾滋病, which also has the advantage of reflecting the sound of the English acronym more closely. Unfortunately, also circulating is an exact homophone, 愛滋病, which might be construed as having an unsavory meaning, and there are other graphic variations as well: 艾茲病, 愛茲病. All four of these graphic variants sound exactly alike, AI4ZI1BING4, though the first form (艾滋病) is vastly more frequent than the other three, and the second is also far more frequently encountered than the last two forms.
The meanings (listing only the more common definitions) of the constituent graphs are as follows:
AI4 愛 ("love")
AI4 艾 ("mugwort")
ZI1 茲 ("this [one]")
ZI1 滋 ("grow; nourish; multiply; moist; split; burst")
BING4 病 ("sickness; illness; disease")
But the story does not end there. Wits in post-socialist PRC have coined yet another exactly homophonous term: 愛資病 ("love-capital[ism]-disease").
---