« previous post | next post »
According to Peter Bergen, "Winning the good war", Washington Monthly, July/August 2009:
A corollary to the argument that Afghanistan is unconquerable is the argument that it is ungovernable—that the country has never been a functioning nation-state, and that its people, mired in a culture of violence not amenable to Western fixes, have no interest in helping to build a more open and peaceful society. Certainly endemic low-level warfare is embedded in Pashtun society—the words for cousin and enemy in Pashtu, for instance, are the same. [emphasis added]
Ali Soleimani, who sent this link to me, asked:
Naturally, I was somewhat suspicious of the validity of this; and a little looking in online Pashto-English dictionaries indeed failed to turn up any evidence for it. This seems to be fairly comprehensive dictionary, and it contains 8 words whose definitions include "enemy", none of which give "cousin" or anything similar as a meaning. The most common word for 'enemy' (judged by its presence in other dictionaries) seems to be duś̱ẖman (دښمن), glossed as "adversary, enemy, foe." This dictionary does appear to be from the 19th-century, so perhaps the usage has changed since then.
Do you know if the statement is true? And if it isn't, do you have any idea where the author may have gotten the idea?
A version of this claim has been around for a while. The earliest version that I could find is in Sir Denzil Ibbetson, Census Report For the Punjab, 1883, as quoted in H.A. Rose, Glossary of the Tribes and Castes of the Punjab and North West Frontier Province, 1911 (click on the image for a larger version):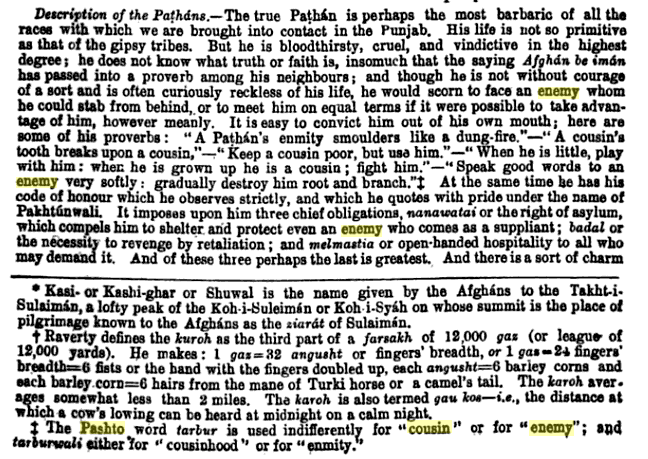 But the same dictionary that Ali used (Henry George Raverty, A dictionary of the Puk'hto, Pus'hto, or language of the Afghāns, 1867) gives only the meaning "A father's brother's son, a cousin", for what must be the same word, turbūr.
And the Pashto word for "enemy" that Ali cites is apparently still in use — thus Niloufer Qasim Mahdi, "Pukhtunwali: Ostacism and Honor Among the Pathan Hill Tribes", Ethology and Sociobiology 7: 295-304 (1986): "If a man seeking badal [revenge] is weak vis-a-vis his "dushman" (enemy), he will pass on his obligation to his sons, and they in turn to their sons." But I can't find any evidence that dushman is ever also used as a kinship term.
Readers who know Pashto are invited to comment. Meanwhile, a clue to the source of Ibbetson's (apparently false) claim can be found in Louis Dupree, "Tribal Warfare in Afghanistan and Pakistan", in Akbar Ahmed and David Hart, Eds., Islam in Tribal Societies, 1984:
Language sometimes reveals unarticulated (or downplayed) conflicts in a society. The term for cousin in Pashto is turbur [and] the word for the worst kind of hatred is turburghanay which could be literally translated 'cousin-hatred'. But the non-literate, rural Pushtun deny this interpretation. They say: 'Turbur is turbur and turburghanay is turburghanay. They are separate words. How can they relate? How could I hate my cousin? I would fight to the death with him. I would never leave his body behind in a fight. I would give him my last crust of bread.'
The overwhelming majority of Afghans and Pakistanis cannot read and write, so showing them that the written turbur is a prefix and -ghanay a suffix, which , when combined create a compound word, fails to impress.
So I tentatively conclude that the cousin/enemy meme is another of those linguistic confusions or exaggerations, like Eskimo snow vocabulary and Chinese crisis/opportunity, that are easy to start and hard to stop.
Certainly the cousin/enemy meme has spread widely, and is often reproduced by people who learned about it in Pakistan or Afghanistan, though the people who spread it usually don't tell us what the allegedly singular cousin/enemy word is:
Isabel Hilton, "Letter from Pakistan: Pashtun Code", New Yorker, 2001: Adam Nayyar, a fifty-two-year-old former nuclear chemical engineer, who abandoned his career when Pakistan began trying to build the bomb, in the mid-seventies, is now an ethnomusicologist and an expert on Pashtun culture. I spoke with him at his apartment in Islamabad. "Pashto is the only language I know in which the word for 'cousin' is the same as the word for 'enemy,' " he said.
Marcela Gaviria, "In search of Al Qaeda", Frontline (2002): And then there is what I read. For instance, today I learn that in Pashto "cousin" is the same word as "enemy."
"Pakistan Diaries: Darra bazaar": Sarah takes the time to read up on the Afridis and their language, Pashto, and explains that the Star Trek phrase, "Revenge is a dish best served cold" is actually an old Pashto saying. Apparently tribal people have gone as far as Los Angeles to avenge an inter-family quarrel with an honor-killing. Being related to another Afridi appears to offer no protection either, as cousins routinely quarrel over women and money with frightening regularity. Sarah continues to cheerily point out that in Pashto, the words for "cousin" and "enemy" are exactly the same.
The cousin/enemy trope is useful because it highlights a stereotypical characteristic of segmentary lineage systems, which I have often heard illustrated by a proverb that goes something like "I against my brother; my brother and I against our cousin; my cousin and I against a stranger". From a Somali language consultant, I heard a version of this that broke things down into five or six concentric layers of potential inter-segment warfare; and I've heard similar sayings attributed to the Bedouin, to highland Scots — and to the Pashtun.
According to Bernt Glatzer, "The Pashtun Tribal System" (2002):
Pashtuns are said to having developed the world's largest tribal society, and in local thinking the tribal system even encompasses all humanity, as Barakhan, one of my informants, an Atsakzay nomad of Badghis, Northwest Afghanistan, has put it:
"When God created the animals and humans he first created one ant and his spouse, then one buck and his goat, one ram and his sheep … finally one man and his wife, and from these ancestors sprang the tribes (qawm) of the ants, of the goats, of the sheep and finally the tribe of Adam. The offspring of the first ant became the grandfathers (nikagan) of the various tribes (qawm) and subtribes (qawm and khel) of ants …, as Adam's sons became the nikaganqawm), and their sons the nikagan of the tribes (qawm) within these peoples. One of Adam's sons or grandsons was Ibrahim, the nika of all nomads."
An equation of animal and human society is what one might expect from a pastoral nomad, but the main structural elements in this statement are shared by pastoral, agricultural and other Pashtuns: the notion that the divine tribal order unifies and divides all human beings or even all creatures. […]
There is a dilemma in tribal societies: the very tool which enables tribal leaders to establish powerful political entities, the charter of segmentary solidarity, is also instrumental for segmentary division. Once a charismatic leader who masters the instrument of segmentary alliance looses influence or dies the divisive character of the segmentary tribal system will gain the upper hand. Tribal systems do not usually develop institutionalised political power which could tolerate fluctuations in the abilities of individual rulers.
The Pashtun ideal of equality is based on the tribal system. The idea is that all Pashtuns are born equal, and are children of one common ancestor; social and economic inequality, which of course exists, is not given by nature or birth but is achieved individually, and is threatened and open to change at any time.
Whereas the tribal order discourages social hierarchy, it defines social nearness and distance. Pashtuns use their tribal order to mark lines of conflict and solidarity. If I see two men fighting I am supposed to side with the one who is "closer" to me, i.e. the one with whom I share the nearest common patrilineal ancestor.
Going back to the Peter Bergen article that started this off, we find that he follows the cousin/enemy meme with a contrary argument:
But the level of violence in Afghanistan is actually far lower than most Americans believe. In 2008 more than 2,000 Afghan civilians died at the hands of the Taliban or coalition forces; this is too many, but it is also less than a quarter of the deaths last year in Iraq, a country that is both more sparsely populated and often assumed to be easier to govern. (At the height of the violence in Iraq, 3,200 civilians were dying every month, making the country around twenty times more violent than Afghanistan is today.) Not only are Afghan civilians much safer under American occupation than Iraqis, they are also statistically less likely to be killed in the war than anyone living in the United States during the early 1990s, when the U.S. murder rate peaked at more than 24,000 killings a year.
It's worth noting that this is less contrary to the norms of Pukhtunwali than Bergen seems to think. Back to Mahdi:
The most commonly practiced form of punishment, and the cornerstone of Pukhtunwali, is badal. The term is particularly applied to "revenge killing." Badal is an action taken to avenge death, or when the honor of a woman has been involved. When it is a matter to be resolved by badal, the right to avenge by death is the prerogative of the individual immediately concerned, but that right also resides in the family, section, clan, or tribe. Further, badal need not be restricted to action against the culprit, but can be taken against any member of his kinship group.
As a tool of social control, badal is an adaptive punishment and an effective deterrent. […]
Since the obligation of badal devolves upon a kinship group and the target of badal also can be any member of a kinship group, there is pressure on the individual by the group to refrain from letting a situation develop to a point at which it becomes a problem for the other members of the group.
For the above-enumerated reasons, badal acts as a powerful curb on wanton killing. Given the Pathan trait of being quick to anger, the ubiquity of weapons and the facility with which they are resorted to in a quarrel, were it not for the principle of badal, tribal life would degenerate into a Hobbesian state of anarchy and war. It is thus interesting to compare Pukhtunwali to the Social Contract theory of Hobbes and Locke, English political theorists who regarded the state as the inevitable outcome of the desire to end a pre-state condition of anarchy and insecurity.
---