« previous post | next post »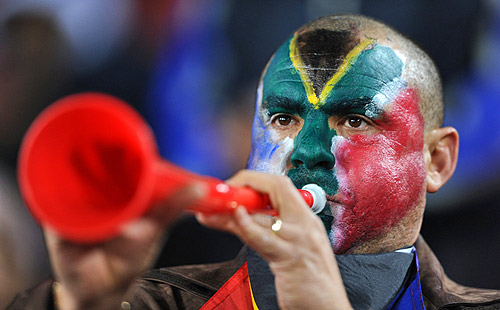 When the U.S. soccer team plays Brazil this afternoon in the Confederations Cup final,  the stadium will be buzzing with the sound of plastic trumpets called vuvuzelas. (See Delia Robertson "Vuvuzela: Popular Symbol of South African Football", VOA News, 6/25/2009).
Here's an example (with simulated crowd noise) of how a vuvuzela sounds:
Audio clip: Adobe Flash Player (version 9 or above) is required to play this audio clip. Download the latest version here. You also need to have JavaScript enabled in your browser.
In normal South African games, there would apparently be hundreds or thousands of them. There's a more realistic-sounding recording at the site of www.boogieblast.co.za:
Audio clip: Adobe Flash Player (version 9 or above) is required to play this audio clip. Download the latest version here. You also need to have JavaScript enabled in your browser.
That site claims that the device originated  with a "women's Chinese basketball team"; reminds us to "REMEMBER… YOU ONLY HATE THEM, IF YOU DON'T HAVE ONE…"; and observes that your vuvuzela can also be used as a cricket bat, hearing aid, petrol funnel, water sprayer, drinking funnel, 4G mobile communication device, walking stick, light saber, and jousting stick.
It seems that outsiders are mostly less enthusiastic (Robyn Dixon, "South Africa abuzz over talk of banning soccer fans' favorite horn", LA Times, 6/28/2009):
Hatred of the vuvuzela, the noisemaker wielded by South African soccer fans, ignited the blogosphere even before the FIFA Confederations Cup, the country's dry run for 2010, which ends today when the U.S. national team plays Brazil for the championship.
During the current tournament, foreign players, coaches and journalists have called for a ban of the vuvuzela. There is debate about whether it's a unique part of South African culture, and therefore untouchable, or just a cheap plastic import that makes a lot of noise, like an electric air horn or a whistle.
One vuvuzela — a loud, tuneless blast — sounds something like a foghorn. But a stadium full of vuvuzelas, all tooting simultaneously, is either a most exhilarating and exciting sound or a noise so irritating that it borders on being painful, depending on the listener.
It's been compared to a deafening swarm of wasps. Or a herd of flatulent elephants.
A SouthAfrica.info page says that
There's uncertainty on the origin of the word "vuvuzela". Some say it comes from the isiZulu for – wait for it – "making noise". Others say it's from township slang related to the word "shower", because it "showers people with music" – or, more prosaically, looks a little like a shower head.
The wikipedia article offers the alternative names lepatata (said to be the term in Setswana), and stadium horn, and quotes some other European vuvuzela hatas:
During the match between United States and Italy, BBC 3 commentator Lee Dixon referred to the sounds as "quite irritating". FIFA received complaints from multiple European broadcasters who want it banned for the 2010 FIFA World Cup because the sound is drowning out the commentators. Netherlands coach Bert van Marwijk and Spanish midfielder Xabi Alonso also called for a ban, the latter saying the horns make it hard for players to communicate and concentrate while adding nothing to the atmosphere
The American players are taking a positive attitude, however:
And the deafening blare of the vuvuzelas that some teams at the Confederation Cup have complained about? The Americans don't mind them one bit.
"I think we've shown a spirit and competitiveness that people love, and that's infectious for people," [Landon] Donovan said. "We expect the same for tomorrow night, too, that people will be out there wanting to see us do well, and we thrive off that."
The OED hasn't added vuvuzela to its online lexicon yet, but the Word Induction Ceremony can't be far off, given the word's prominent role in international sports reporting over the next couple of years. (Note also that vuvuzela is worth 23 scrabble points even before bonuses — or would be, if it were added to the official word list.)
Then there's also the makarapa.
---