« previous post | next post »
From Nicholas Hill: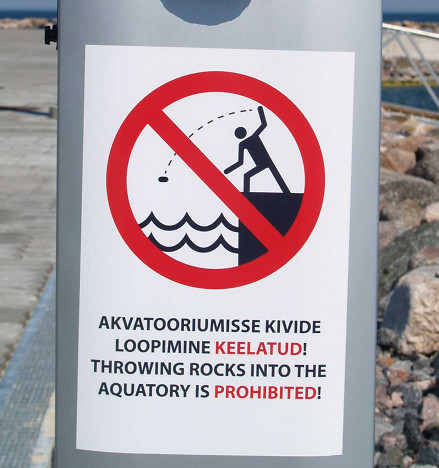 He writes that this photograph
… was taken at a marina in the harbour of Kardla on the island of Hiiumaa, Estonia. I've no idea where they got aquatory from.
There might be a clue in this discussion in the WordReference Forums:
My father said something in Bulgarian and wanted it translated into English. What he said sounded like 'the aquatory of Bulgarian ports'. Aquatory in my language means "water territory". Since I had not seen it used in English, I was looking for a way to rephrase it, at which point I came up with 'territorial waters'.
The Estonian version of the sign has "akvatooriumisse", which is ackvatoorium "aquatic area" plus the illative case -sse. And since "akvatoorium" would correspond in English to "aquatorium", we're most of the way to aquatory.
But it's not clear why Estonian and Bulgarian would share a Latin-derived term that is missing from English — neither "aquatory" nor "aquatorium" is even in the OED. Russian/Soviet influence, maybe? Or German influence?
---