« previous post | next post »
John Templon, "No, Obama's Pronouns Don't Make Him A Narcissist", BuzzFeed News 10/19/2014:
Conservative commentators are fond of pointing to Barack Obama's excessive use of the word "I" as evidence of the president's narcissism. ("For God's sake, he talks like the emperor Napoleon," Charles Krauthammer complained recently.) But there's one tiny problem with this line of reasoning. If you're counting pronouns, Obama is maybe the least narcissistic president since 1945.
BuzzFeed News analyzed more than 2,000 presidential news conferences since 1929, looking for usage of first-person singular pronouns — "I," "me," "my," "mine," and "myself." Just 2.5 percent of Obama's total news-conference words fell into this category. Only Herbert Hoover and Franklin D. Roosevelt used them less often.
MSNBC turned the BuzzFeed FPSP counts into a nice graph (Steve Benen, "Criticism of Obama's pronouns falls apart", MSNBC 10/21/14):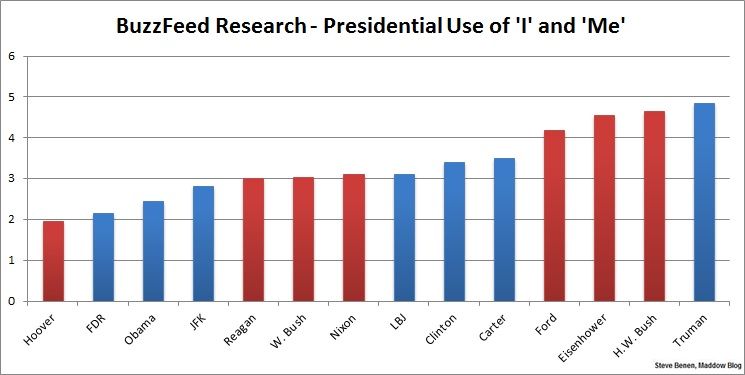 It's great to see some journalists fact-checking this nonsense. But why didn't any of the "serious" journalistic organs commission a report of this kind at any point during the past five years? The Washington Post is especially culpable, in my opinion, since they have featured George Will and Charles Krauthammer repeatedly ringing the Obama-is-a-narcissist-because-pronouns bell. Other guilty publications include the New York Times (Stanley Fish), the Wall Street Journal (Peggy Noonan), U.S. News and World Report (Mary Kate Cary), etc.
There's a long history of LLOG coverage of the "Obama overuse of 'I'" derp, for example:
"Fact-checking George F. Will", 6/7/2009
"Obama's Imperial 'I': Spreading the meme", 6/8/2009
"Inaugural pronouns", 6/8/2009
"Royal baloney", 6/9/2009
"Another pack member heard from", 6/9/2009
"I again", 7/13/2009
"What is 'I' saying?", 8/9/2009
"Open fraud as Op-Ed discourse", 7/10/2010
"Fact-checking George F. Will, one more time", 10/6/2009
"Recommended reading", 5/3/2011
"Presidential pronouns, one more time", 5/22/2011
"Two more pundits who don't count", 6/21/2011
"Another pundit who can't (or won't) count", 6/23/2011
"A meme in hibernation", 3/31/2012
"Another lie from George Will", 5/7/2012
"Obama pronouns again", 10/31/2012
"First Person Singular, Redemption Plea Edition", 1/11/2014
"Another casual lie from Charles Krauthammer", 9/16/2014
And the whole inferring-narcissism-from-I-talk idea turns out to be nonsense anyhow — Angela L. Carey, Melanie Brucks, Albrech C.P. Küfner, Nichlas S. Holtzman, Fenne große Deters, Metija D. Back,  M. Brent Donnellan, James W. Pennbaker, and Matthias R. Mehl, "Narcissism and the Use of Personal Pronouns Revisited", in press, Journal of Personality and Social Psychology:
Among both laypersons and researchers, extensive use of first-person singular pronouns (i.e. I-talk) is considered a face-valid linguistic marker of narcissism. However, the assumed relation between narcissism and I-talk has yet to be subjected to a strong empirical test. Accordingly, we conducted a large-scale (N = 4,811), multi-site (five labs), multi-measure (five narcissism measures) and dual-language (English and German) investigation to quantify how strongly narcissism is related to using more first-person singular pronouns across different theoretically relevant communication contexts (identity-related, personal, impersonal, private, public, and stream-of-consciousness tasks). Overall (r = .02, 95% CI [-.02, .04]) and within the sampled contexts, narcissism was unrelated to use of first-person singular pronouns (total, subjective, objective, and possessive). This consistent near-zero effect has important implications for making inferences about narcissism from pronoun use and prompts questions about why I-talk tends to be strongly perceived as an indicator of narcissism in the absence of an underlying actual association between the two variables.
---