« previous post | next post »
In "Keepin' it real fake, part CCXVII: Not even Obama can sell us on BlockBerry", most of the folks at endgadget seem to think that the following ad is some sort of joke or an invitation to political demagoguery: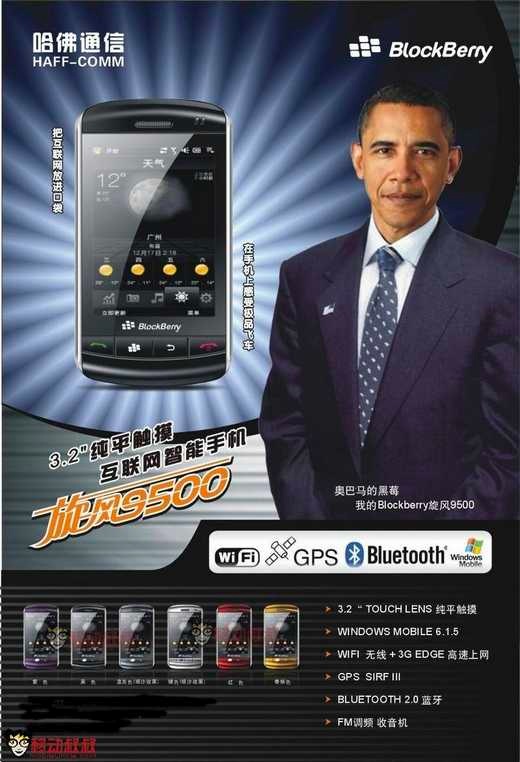 Unfortunately, this is an ad for an actual product that is being sold in China. It is a wireless handheld device made by HA1FO2 TONG1XIN4 哈佛通信. No, that is not "Laughing Buddha Communications." They call themselves HAFF-COMM in English, but in Chinese they are capitalizing on the fact that HA1FO2 is the standard transcription for Harvard. All Chinese who see that ad will think they are "Harvard Communications." Just as the pirates realized that they would have been infringing on BlackBerry's trademark if they used it outright, and so cleverly changed it to BlockBerry (quite an irony in the land of the Great Firewall!), they ingeniously avoided using the name Harvard in their English name. They also brilliantly played the mirror image trick — remember "Massachusetts is red(-faced)" — with the BlackBerry logo. And, by the way, the pirates creatively called their device the XUAN4FENG1 旋風 ("Whirlwind") 9500.
This type of few-holds-barred entrepreneur is called a SHAN1ZHAI4 山寨, which more literally may be translated as "mountain fastness / stronghold / stockade."
[A tip of the hat to Michael Carr.]
---