« previous post | next post »
According to Ross Douthat's latest column for the NYT, "Liberated and Unhappy", 5/25/2009:
[A]ll the achievements of the feminist era may have delivered women to greater unhappiness. In the 1960s, when Betty Friedan diagnosed her fellow wives and daughters as the victims of "the problem with no name," American women reported themselves happier, on average, than did men. Today, that gender gap has reversed. Male happiness has inched up, and female happiness has dropped. In postfeminist America, men are happier than women. [emphasis added]

His warrant for the generic statement that "In postfeminist American, men are happier than women" is Betsey Stevenson and Justin Wolfers, "The paradox of declining female happiness", NBER Working Paper No. 14969, Issued in May 2009. Though this paper was issued by the National Bureau of Economic Research only recently, earlier versions have been around for a while, and were featured in the NYT's Freakonomics column back in the fall of 2007, and discussed here then.
I won't recapitulate that whole discussion; but I will reproduce one of the graphs (click on the image for a larger version):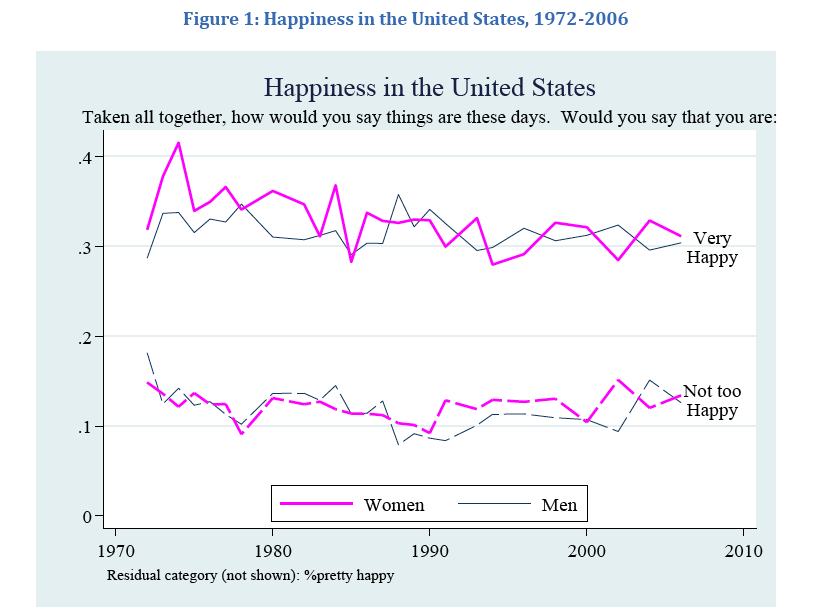 And I'll ask a simple question: What fraction of graphically and statistically literate people think that the right way to describe the data summarized in that graph is "In postfeminist America, men are happier than women"?
[The y-axis is the proportion of the sample (of men or women) who gave a given answer.]
If you want to read the earlier discussion again, here are the links:
"The happiness gap and the rhetoric of statistics", 9/26/2007
"Gender-role resentment and Rorschach-blot news reports", 9/27/2007
"Why are economists so misleading?", 10/1/2007
"The gender happiness gap: statistical, practical and rhetorical significance", 10/4/2007
The second of those posts has a sample of lapidary web-forum comments. Among my favorites were the woman who commented on the Freakonomics column that "Men are dogs. Dogs are happy. Voila.", and the man who opined at digg.com that "Feminists made their bed, now they have to lie in it alone with their cats."
And the last-cited post has a list of other reactions, in both new and old media, to that 2007 orgy of pop Platonism. I guess we're due for another one, thanks to Mr. Douthat, who seems to have decided to follow David Brooks' example in crafting columns that turn small statistical differences into generic statements about groups, accompanied by meditations on the cultural and political implications.
[Update: more here.]
---