« previous post | next post »
A couple of days ago, Geoff Pullum illustrated "The science news cycle" by citing an article that told us "You can develop musical skill comparable to Hendrix and Sinatra — if you learn an East Asian language."  Geoff might have cited some other articles exhibiting a depressingly wide range of other misunderstandings of the same research, like "Find Out If You're Tone Deaf; Plus, Are Asians Naturally Better Musicians"; "The key to perfect pitch lies in tonal languages"; "Chinese languages make you more musical: Study"; etc.
The basis of the news reports was a paper presented at the Acoustical Society of America's 157th Meeting: Diana Deutsch, Kevin Dooley, Trevor Henthorn, and Brian Head, "Absolute pitch among students in an American music conservatory: Association with tone language fluency", Paper 4aMU1, presented on Thursday Morning, May 21, 2009.
The link just presented was to the 200-word abstract in the (now online) conference handbook.  The source of the media connection was probably the "lay language version" also offered on the conference web site: "Perfect Pitch: Language Wins Out Over Genetics".  The route of the media connection was (I believe) via a story by Hazel Muir in the New Scientist, "Tonal languages are the key to perfect pitch", April 6, 2009, along with a press release by Inga Kiderra in the UCSD publication relations office ("Tone language is key to perfect pitch, 5/19/2009).
The provisioning of "Lay Language Papers" is part of the Acoustical Society of America's effort to reach out to the media (the online "press room" is here). I'm a member of the ASA, and I applaud this effort.  One obvious benefit is that the "lay language papers" are written by the researchers themselves, not by PR people. More scientific societies should do this kind of thing.
But I'd like to draw your attention to a couple of points that were left out of yesterday's discussion.
First, we have a somewhat-controlled experiment in media uptake here —  there are 37 Lay Language Papers available from the 157th ASA Meeting (out of hundreds of presentations at the meeting), and it's predictable that Geoff didn't see a story on "Prediction of Noise from the Portland International Raceway", or "Singers' preferences for acoustical characteristics of performing spaces", or "Passive Acoustic Detection of Herring Size". (Though I must note for the record that analysis of herring sounds has previously been covered in Language Log, following the lead of that great popularizer of linguistic research, Dave Barry.)
On the other hand, I'm surprised not to see more uptake (so far) of Suzanne Boyce et al., "Women get more nasal when they're sleepy", or Benjamin Munson et al., "What Makes a Vowel Sound Gay?", or David Baslau, "Can Noise from Race Cars Break Glass?", or Lawrence D. Rosenblum, "Are Hybrid Cars Too Quiet?".
Perhaps the race-language-music connection trumps women who want to go to bed, fast cars, and possibly-unsafe green alternative vehicles? I doubt it. There's no doubt a random factor involved here, but also, many researchers have their own media connections, and Prof. Deutsch is known to be especially well plugged in. (The skills of the UCSD publication relations people, and Prof. Deutsch's good relations with them, probably also played a role.)
I need to warn you that my second point is neither a joke nor a criticism of the media, but a discussion of the the scientific questions raised by Prof. Deutsch's research.
OK, for those of you who are still here: Leaving aside entirely the  question of whether absolute pitch will make you a better musician or not, it's well established that absolute pitch is more common among Chinese music students than among American music students. One source of evidence is an earlier study by Prof. Deutsch and colleagues, whose lay-language version is "Perfect Pitch in Tone Language Speakers Carries Over to Music: Potential for Acquiring the Coveted Musical Ability May be Universal at Birth", 148th ASA Meeting, 2004.
This earlier study found a much higher rate of absolute pitch ability among students at the Central Conservatory of Music in Beijing, compared to students at the Eastman School of Music in Rochester: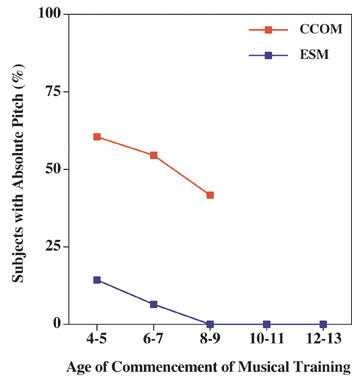 That 2004 paper argues that the striking difference between Chinese and American music students is due to the effects of early experience with a tone language, but grants that
It may alternatively be hypothesized that the differences between the two groups found here are due to dissimilarities in brain structure which might be genetically determined. Indeed, both critical period and genetic factors might be involved.
The 2009 Deutsch et al. paper, so egregiously misreported in the article that Geoff cited, is an attempt to tease apart these hypotheses, by looking at the prevalence of absolute pitch in students of Chinese ancestry with varying degrees of tone-language fluency. And it certainly accomplishes one of its goals, which is to undermine the view that the effect is largely or entirely due to genetic effects.
However, it seems to me to be less convincing in making the argument that experience with a tone language is the critical factor, since an alternative explanation in terms of the process of selecting and training music students in China remains viable.
Because the admirable ASA "lay language versions" are not (necessarily) more popular presentations of more substantial scientific papers — rather, they're popular presentation of research whose only other version may be the 200-word abstract in the meeting handbook — there are lots of things about the 2009 research that we don't know. And if I play the advocatus diaboli role traditionally assigned to the reviewers of scientific papers, it's easy to think of alternative explanations for the data that Prof. Deutsch presents.
She and her colleagues tested 203 students at the USC Thornton School of Music. These were divided into four groups:
nontone (Caucasian, speaking only "a nontone language such as English");
tone very fluent (both parents primarily speaking an East Asian tone language)
tone fairly fluent (both parents primarily speaking an East Asian tone language)
tone nonfluent (both parents primarily speaking an East Asian tone language, but "I can understand the language but don't speak it fluently")
The basic finding was that those in the tone very fluent group were much better at identifying and naming musical pitches than the others, with the tone fairly fluent group somewhat better than the rest: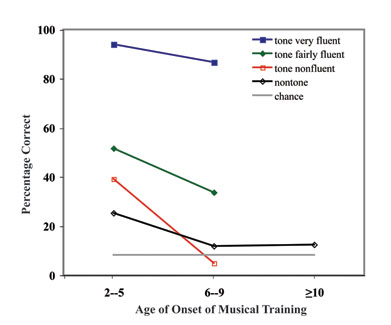 But there's another factor that must be highly correlated with the categorization of music students by tone-language fluency, namely the country where the students were raised and initially educated. Presumably most of the tone very fluent students were raised and initially educated in China; none of the nontone students were; the tone nonfluent students almost certainly weren't; and the tone fairly fluent students probably were mixed in this respect.
And perhaps there's something about early musical training in China that selects students with absolute pitch, and/or develops this ability in students who have the potential to do so.  This might be a set of testing procedures for identifying musical talent in young children, which explicitly or implicitly tests the ability to recognize pitch classes; it might be a way of teaching music that favors or rewards the ability to recognize pitch-classes as well as intervals; it might simply be a wide-spread belief that the ability to identify pitches is an important aspect of musical talent.
Such cultural and educational structures might encourage the development of skill in identifying pitches (which is certainly trainable to a degree), or they might simply select and promote kids who natively possess this skill to a greater extent.
Other factors, such as the type of instrument taught at a young age to the Chinese students who wind up at USC, might also play a role; the point is that it's potentially misleading to identify fluency in Chinese as the key factor in a situation where it's almost perfectly correlated with other perhaps-relevant factors, specifically the extraordinary winnowing process that leads a microscopic proportion of Chinese native speakers to end up in music school in California.
(Note, by the way, that the performance of the tone very fluent group from USC seems to be quite a bit higher than that of the CCOM students cited earlier; this is  consistent with the hypothesis that absolute pitch  confers an advantage on Chinese music students even at the level of selection for study abroad.)
In their lay-language paper, Deutsch et al. do attempt to address the question of early selection and training in China:
In a further analysis we divided the 'tone very fluent' speakers into two groups:  those who had been born in the U.S. or arrived in the U.S. before age 9, and those who had arrived in the U.S. after age 9, and we found that the performance of these two groups did not differ significantly.
But as advocatus diaboli, I don't find this very convincing, for two reasons. First, the key selection process might well take place before age 9. And second, especially in a study this small, the phrase "the two groups did not differ significantly" may not be very meaningful.
We are not told how many subjects were in each of the four categories — but a graph showing the percentage of subjects across scores for the tone very fluent group, suggest that this subset may have had just 20 subjects in it altogether: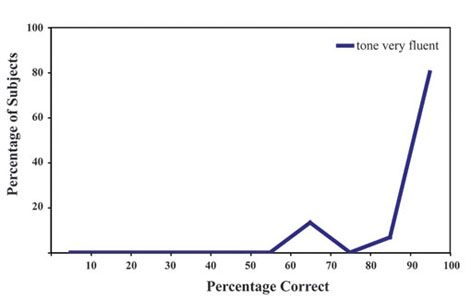 (There are three scores with non-zero numbers of subjects, which appear to correspond to 15% of subjects at 60-70% correct, 5% of subjects at 80-90% correct, and 80% of subjects at 90-100% correct.  This would work out if the number of subjects at the three non-zero scores were 3, 1, and 16, respectively, explaining the quantization. Note that the comparable figure for the nontone group is much less coarsely quantized.)
So it might well be that the number of students in the tone very fluent group who "were born in the U.S. or arrived in the U.S. before age 9" might be very small indeed — and lack of a significant difference might therefore not be very meaningful.
Let me be clear that Deutsch's hypothesis that (tone-language experience leads to perfect pitch) remains viable. There's nothing in any of this discussion to suggest that it's wrong — I've only expressed some (standard scientific) skepticism about the argument that it's right. A more convincing argument, it seems to me, would compare groups in which ancestry and linguistic experience were orthogonally varied. And these should not be music students — or rather, the sample should treat musical affinities as irrelevant — so that we can be sure that we're not looking at the effects of variation in the cultural process that selects would-be professional musicians
---