« previous post | next post »
The following photograph appears in this BBC article: "Why is Sanskrit so controversial?"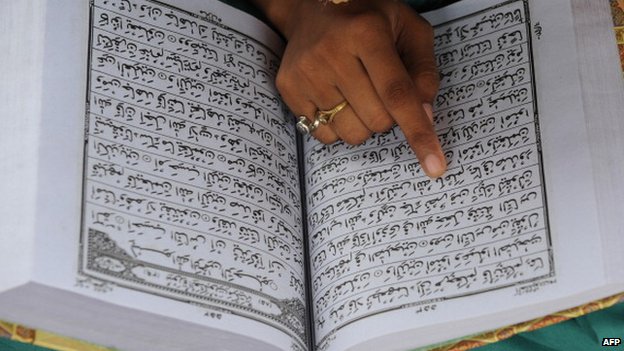 It is accompanied by this caption: "Muslims in India choose to learn Arabic".
This led me to wonder: Do Muslims around the world all really learn Arabic so that they can read the Quran? As Brian Spooner said to me, "No Muslim reads the Qur'an in any language other than Arabic. That's what they say, and I have never seen them use translations."
Jamal Elias makes more precise what is going on in that picture and in what sense Muslim faithful learn to read Arabic:
It's the Qur'an in Arabic. The majority of non-Arab Muslim children from pious backgrounds learn to "read" the Qur'an as a ritual act: scriptural Arabic (like books for kids) is written with full vowelization (normal Arabic doesn't have written short vowels). Once one learns the script it's very easy to read phonetically without knowing what it says. This would hold true in Bangladesh, Turkey, etc. where the normal script is not the Arabic one.
For the sake of clarification, Arabic short vowels are written as diacritical marks which are omitted in normal writing. The exception is when adding them would eliminate ambiguity (e.g., to differentiate active from passive voice, make the object of a verb clear, and so on). They are included in children's books because they are still learning the language. They are also included in copies of the Qur'an (and were in manuscripts from at least the 10th century), most probably because making a mistake in scripture is a serious thing. Meaning, the Qur'an is written as a phonetic text.
Leopold Eisenlohr explains in greater detail the phonological apparatus that may be drawn upon to flesh out the recitation of the Quran:
The Quran there [in the photograph] has full vowelization. The person is reading Surah al-'Ankabūt, the Spider Surah.
All Qurans I have seen have full vowelling, and I think it would be strange to see one without it. The earliest ones didn't even have dots – since they functioned as reminders for something orally memorized, the need for a totally phonetic script did not exist as it does now.
Some special Qurans include extra markings for tajwīd, which could partially be compared to sandhi. Those would be recitation markings, indicating how certain sounds are assimilated or otherwise affected by their surroundings. For example, the sound n is assimilated into the sounds l, r, m, y, w, b, but this is only in very exact recitations. I personally think the degree of exactness in the tajwīd system is suspiciously similar to that of Sanskrit, and was possibly informed by the Sanskritic understanding of points of articulation. But at this point it is just an arrant suspicion without clear evidence. Tajwīd extends to markings for where to pause and other features of how to physically recite. Again, those are mainly for specialists but are probably learned by many.
I think it's very interesting that many books in China include, in addition to a Chinese translation of the Arabic original, a transcription into Chinese characters. It's the farthest thing I can imagine from a phonetic pronunciation of Arabic, but the efficacy of the Arabic utterances is still important. I picked up a Bengali Quran with Bengali phonetic transcription, but I'll have to look at it again to see if it makes an effort to be exact.
To be a little more clear, the rules of tajwīd are learned and are not all marked in the majority of Qurans. In this example below, the assimilation of m to r is marked (with a shadda, or gemination sign): instead of 'īšatin rādiyah, what is pronounced is 'īšatir rādiyah because of the rules for assimilating n, and there is a mark to indicate that. There are other rules about interaction between types of consonants which are not marked, and I also don't know if this n to r assimilation is marked in all Qurans. By "special Qurans" I mean those which are color-coded that some use for learning recitation and those that have all the stopping/pausing markings, though someone more knowledgeable should weigh in.
Yes, it's a very big issue, and I'm sure it's done in unique ways all over the world. I wish I knew more about the history of how the understanding of phonology developed — whether modern knowledge of linguistics has been put to use at all.

The first two definitions for "read" in The American Heritage Dictionary are:
1. To examine and grasp the meaning of (written or printed characters, words, or sentences).
2. To utter or render aloud (written or printed material).
It would appear that, for most Muslims, "reading" the Quran involves the second definition, but not necessarily the first.
---