« previous post | next post »
When it comes to matters of the toilet, translators in China seem to reach for the old and arcane.  Perhaps you may recall our "Closestool Encounters" back in March.  And now witness the sign in the following photograph: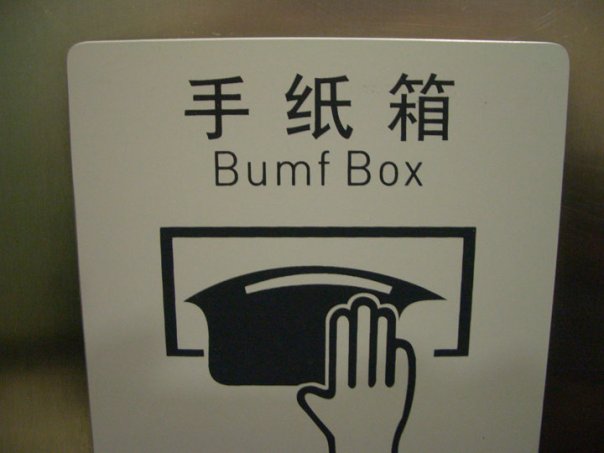 This photo was taken in a toilet at the Shin Kong Center in Beijing on December 15, 2007 by a friend of Ori Tavor, who sent it to me a couple of days ago.  Interestingly enough, it is not really a case of Chinglish since the translation is accurate, but it seems odd that the translator (or software) chose the word "bumf" for toilet paper.  To show that this usage of "bumf" is not just an isolated aberration in China, but is as widespread as "closestool" for "toilet," here is a "bumf case" for tissue paper.
Bumf turns out to be British slang, dating back to the late 19th century — the OED glosses it as "Toilet-paper; hence, paper (esp. with contemptuous implication), documents collectively".  It is short for "bum fodder," a sort of primitive version of our toilet paper, but it can also refer to printed matter, such as pamphlets, forms, or memorandums, especially of an official nature and deemed of little interest or importance. Among the OED's more striking citations are
1912 V. WOOLF Let. 16 Nov. in Woolf & Strachey Lett. (1956) 46 Is this letter written upon Bumf? It looks like it.
1930 WYNDHAM LEWIS Apes of God (1932) v. 161 Low-lid fodder or high-brow bumph!
1938 E. WAUGH Scoop II. iv. 211, I shall get a daily pile of bumf from the Ministry of Mines.
It's sometimes also spelled "bumph", as in this note from the Vancouver Courier ("Ukraine in the membrane, yo", 4/29/2009): "According to the press bumph, Spin and Pitchfork named the group's video for 'Jerk It' one of the year's best".
One wonders where and how the Chinese translators dig up these obsolete terms.  And could their predilection for them stem from squeamishness in using current English terms relating to bodily functions?  I doubt that this could be so in every case, since there are countless examples of gross scatalogical language in public places (e.g., "MANG OUT AFTER SHIT", Genitl Emen, Pubic Toilet, no pissing on the Guangzhou Metro, and so forth).
---