« previous post | next post »
In this morning's mail:
My friend and I are avid Language Log readers. We were recently conversing over IM, and she was telling me about her boyfriend's great-aunt. Among the things she mentioned:
"She worked when women didn't work very much and never got married."
I interpreted her statement as my friend alluding to a time when women both didn't work and did not get married. After a few moments, I realized she was telling me that the great-aunt had a job and never got married; "when women" only modified "didn't work very much." We are unsure which reading is technically correct and therefore decided to ask.   Any insight you could provide would be greatly appreciated.
I'm not a syntactician, but I usually take the morning shift here at Language Log Plaza, so I'll do my best with this one — luckily, it seems pretty straightforward.
You're right that the two readings depend on two alternative structures, but it's probably not helpful to think about what "when women" modifies — the two words "when women" are not a syntactic unit, and their relation to the rest of the sentence doesn't involve what grammarians usually mean by "modification".
Rather, the two readings that you describe depend on a difference in which verb phrases and is taken to conjoin. On both readings, "never got married" is the second conjunct. The first conjunct might be "worked when women didn't work very much" (in which case the subject of both conjuncts is she), or it might be "didn't work very much" (in which case the subject is women). Your friend meant the first of these alternatives, while you (at first) understood the second.
If we put in just the relevant pieces of the trees, and aren't too fussy about node labels — I'm not a syntactician, remember — the difference is something like this:
| | |
| --- | --- |
| (A) | |
| (B) | |
Both structures are perfectly grammatical, and thus both interpretations are "technically correct", though perhaps the paired negatives "didn't" and "never" make your misinterpretation (B) easier than it should be. A simple way to prevent this problem would be to add a comma and another copy of she, thus creating a conjunction of sentences: "She worked when women didn't work very much, and she never got married".
But it's not hard to find plausible examples of both types of structure:
(A) We saved when times were good and used that to tide us over in lean seasons.
(A) I read it when I was in high school and never forgot it
(B) It almost broke my heart when he died and left me there alone.
(B) I started designing costumes when I was in high school and worked at a costume shop.
The conjunctions and and or are often technically ambiguous, but we usually don't notice it because the context or the content makes it clear what was meant.
When a recipe tells us to "Beat ripe bananas and sugar together until smooth", we know that it means "[ripe bananas] and sugar", because ripeness is not a concept that applies to sugar. In contrast, when we read that we should "Store ripe peaches and nectarines in the refrigerator", we interpret the instructions as dealing with "ripe [peaches and nectarines]", because why would you refrigerate unripe fruit?
In the case of the sentence that you asked about, real-world knowledge about the history of sex roles tells you that interpretation (B) doesn't make sense. But by the time you saw the problem, it was too late to avoid a conscious boggle.
[Update — some more complete trees, submitted by Karen Davis: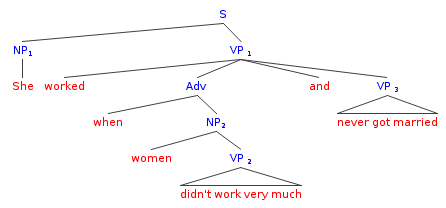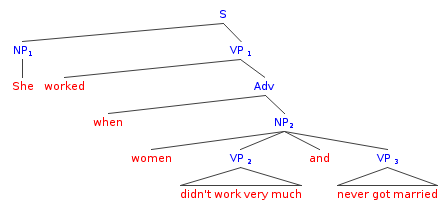 There are a couple of apparent slips of the fingers — the nodes labelled NP2 should be S, for example…]
---