« previous post | next post »
Gianni Wan sent in this photograph of a sign on the front of a popular convenience store at Peking University: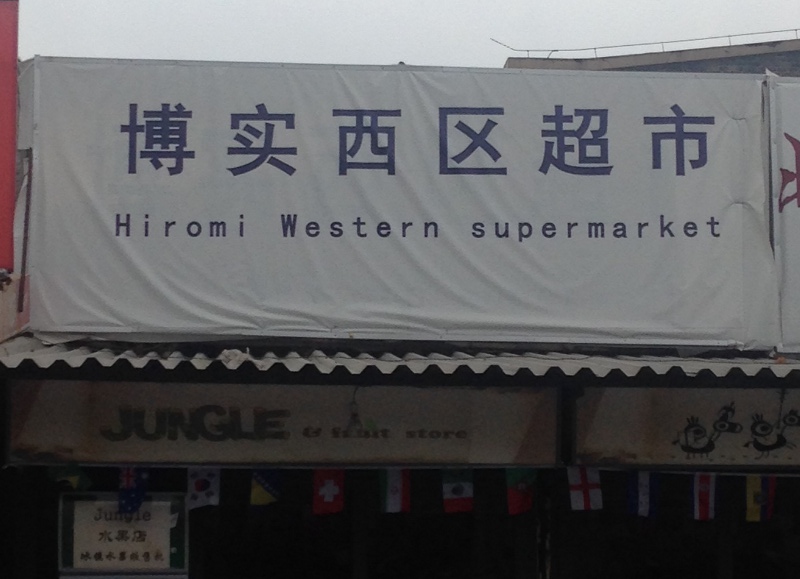 The Chinese reads:
bóshí xīqū chāoshì 博实西区超市
The second set of two characters refers to the western district of the Peking University campus, not to "Western" style food, and the last set of two characters does indeed mean "supermarket", but the first set of two characters causes problems.
Given the present political climate of heightened patriotism and anti-Japanese feelings, which we have mentioned in earlier Language Log posts (and it is worse now, what with Chinese ships colliding with Japanese vessels, Chinese pilots shadowing Japanese planes, and China just generally poised to go to war with their neighbor to the east at any minute [see here, here, here, here, here, and here]), I'm surprised that the present translation of the first two characters (Hiromi, a patently Japanese given name) could remain for long without complaints being lodged against it.
I'm pretty sure that whoever is responsible for the English translation on this sign got "Hiromi" from Google Translate. If you enter bóshí xīqū chāoshì 博实西区超市 into Google Translate, you'll get "Bo is the Western supermarket", but if you put in just bóshí 博实, you get "Hiromi".
Now for some notes on the orthography of "Hiromi".
博实 is the simplified Chinese version; the traditional form is 博實, and the simplified Japanese version is 博実.
In the hiragana syllabary, Hiromi would be ひろみ and in the katakana syllabary it would be ヒロミ. Here is a list of many more kanji (Chinese character) versions:
ひろみ
ヒロミ,ひろみ,ひろ美,ひろ実, 広三,広美,広実,広海,広深,広巳,広己,広洋,広見,広身,広躰,広満,広益,広相,広稔,廣美,廣実,廣海,廣巳,廣見, 拡美, 宏三,宏美,宏実,宏實,宏巳,宏海,宏水,宏見,宏視,宏朱,宏望,宏真, 紘美,紘実,紘未,紘海, 弘三,弘美,弘実,弘巳,弘海,弘巳,弘己,弘見,弘視,弘躬,弘壬,弘潮, 博三,博美,博 実,博未,博巳,博己,博海,博見,博視,博観,博光,博身,博臣,博民,博洋,博臨, 寛三,寛美,寛実,寛己,寛海,寛水,寛深,寛見,寛望, 裕,裕三,裕美,裕実,裕未,裕海,裕巳,裕己,裕視,裕心,裕身,裕躬,裕弥,裕文,裕望,裕洋, 祐美,祐実,祐未,祐巳,祐海, 浩三,浩美,浩実,浩實,浩未,浩味,浩海,浩深,浩巳,浩己,浩視,浩益,浩洋,浩規,浩躬,浩壬,浩望, 皓美,皓水,皓光,皓心,皓珠, 啓美,啓実,啓見,啓真,啓親,啓望, 公美,公巳, 大美,大実,大海,大洋,大心,太美,太海, 洋,洋三,洋美,洋実,洋海,洋水,洋巳,洋己, 尋美,尋海,尋実,宇美,演美,央美,央海,央洋,海美,闊美,完美,緩美,熙美,熙海,煕美,煕珠,煕海,空美,洸美,洸水,洸弥,滉 美,鴻美,洪美, 泓美,渺美,衡美,周美,周現,周望,普三,普美,潤美,仁美,碩美,碩弥,泰美,泰実,泰己,拓海,拓巳,拓味,宙美,伯美,汎美,曼 美,弥美,弥現,優美,優見,容美,容未,容己,藍水,礼美,礼已, 比呂美,比呂未,比呂海,比路美, 日呂美,日呂実,日呂見,日呂巳, 妃呂美,妃呂実,妃呂未,妃呂巳, 姫呂美,姫呂未, 陽呂美,陽露美,
N.B.: As a Sinologist, I would have to say that one of the most grueling aspects of my profession is having to deal with the opacity of Japanese names (there are many good Sinologists in Japan, so I cannot ignore them!).
博实 is definitely not used in Japanese. The traditional version (博實) is, but it is unusual. It would be a masculine name, for example, this very masculine gentleman: 河岡博實
However, the name "Hiromi" can, as they say, swing both ways. Written in hiragana (and, as we have seen, any number of kanji combinations), it is a not uncommon name for women. Case in point: Uehara Hiromi, the well-known jazz pianist.
As a stage name (芸名 geimei), Hiromi has been written in katakana for men like ヒ ロミ.
Hiromi written with 博 would normally be a man's name, although on rare occasions it could also be a woman's name. See the list of names here.
I have noticed that Google Translate returns Japanese names a surprisingly large amount of times when I'm looking up Chinese terms. As I mentioned in a comment to a recent post, when I entered lǐzi 里子 (trad. 裡子) and was expecting to get "lining" as the English translation, Google Translate returned "Yuriko" instead. What in the world?!
里子 is a possible Japanese girl's name, but it would be read "Riko" or "Satoko", not "Yuriko".
Now, 里子 read as Yuriko is quite strange. I suppose that, if some parents wanted a "different" name for their daughter, it would not be forbidden to call her "Riko" and write that as 里子, but I don't know what would happen if they tried to write that in the traditional form as 裡 子. It is legal for Japanese to give their children almost any name made up of characters from the standard set or written in kana. So it is conceivable that Riko 里子 might be a girl's name, but 里子 cannot be read Yuriko.
Yuriko is indeed a woman's name, but 里子 is usually read as Satoko, not Yuriko. If you put another kanji pronounced yu- in front of 里子, such as 裕里子, or 優里子, or 由里子, that would be Yuriko.
里子 is normally pronounced Satoko, a very Japanese sounding name. However, in Chinese fashion, lǐ 里 is pronounced "ri", and you often see three-character names in which 里子 are together pronounced "-riko", such as Mariko (麻裡子, etc.) or Yuriko (由里子, etc.), as noted above.
Here is a list of different ways to write "Satoko":
さとこ
サトコ,サト子,さとこ,さと子,里子,里好,郷子,聡子,聰子,恵子,知 子, 智子,都子,覚子,暁子,啓子,慧子,公子,巧子,悟子,仁子,聖子,惺子,誠子,達子,哲子,敏子,邑子,徳子,諭子,理子,了子,倫子, 怜子, 沙登子,沙都子,沙斗子,沙戸子,紗登子,沙都子,紗斗子,紗都子,左斗子,左度子,左和子,佐斗子,佐登子,佐都子,佐渡子,佐得子,佐東 子,佐及子,砂十子,彩都子,彩冬子,小都子,早登子,早都子,早杜子, 咲登子,咲都子,咲斗子
It's up to the parents which characters to choose. There is often such a bewildering variety of kanji combinations for each name that many people prefer kana, I think.
The last question is what the shopowners intended by bóshí 博实 if they did not mean "Hiromi". The literal meanings of the two characters bóshí 博实 are "ample" and "substantial", which would be a nice enough name for a Chinese store. But I also think that they may have been punning on bóshì 博士 ("Ph.D."), of which species there are quite a few specimens walking around the Peking University campus.
[Thanks to Cecilia Segawa Seigle, Nathan Hopson, and Hiroko Sherry]
---