« previous post | next post »
As usual, xkcd nails it: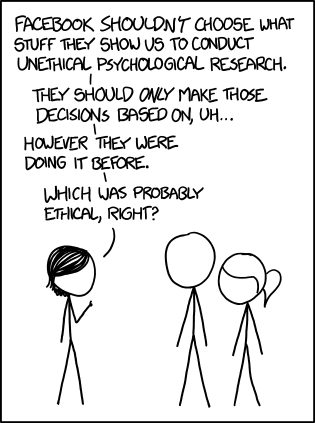 Mouseover title: "I mean, it's not like we could just demand to see the code that's governing our lives. What right do we have to poke around in Facebook's private affairs like that?"

Here's the paper that caused all the fuss: Adam Kramer et al., "Experimental evidence of massive-scale emotional contagion through social networks", PNAS 2014.
Some worthwhile side issues came up. For example, this is probably the smallest effect size (d=0.001, i.e. one one-thousandth of a standard deviation) that got a significant amount of media coverage — John Grohol, "Emotional Contagion on Facebook? More Like Bad Research Methods", PsychCentral 6/23/2014:
Kramer et al. (2014) found a 0.07% — that's not 7 percent, that's 1/15th of one percent!! — decrease in negative words in people's status updates when the number of negative posts on their Facebook news feed decreased. Do you know how many words you'd have to read or write before you've written one less negative word due to this effect? Probably thousands.  
This isn't an "effect" so much as a statistical blip that has no real-world meaning. The researchers themselves acknowledge as much, noting that their effect sizes were "small (as small as d = 0.001)." They go on to suggest it still matters because "small effects can have large aggregated consequences" citing a Facebook study on political voting motivation by one of the same researchers, and a 22 year old argument from a psychological journal.
For the record, here are some links to coverage that I've accumulated (and actually read) over the past few days:
William Hughes "Facebook tinkered with users' feeds for a massive psychology experiment", The A.V. Club 6/27/2014
Robinson Meyer, "Everything We Know About Facebook's Secret Mood Manipulation Experiment" ("It was probably legal. But was it ethical?"), The Atlantic 6/28/2014
Vindu Goel, "Facebook Tinkers With Users' Emotions in News Feed Experiment, Stirring Outcry", NYT 6/29/2014
Adam Kramer, Facebook post 6/29/2014
Brendeno, gisthub comment 6/29/2014
Michelle Meyer, "Everything You Need to Know About Facebook's Controversial Emotion Experiment", Wired 6/30/2014
Dylan Matthews, "Facebook tried to manipulate users' emotions. But we have no idea if it succeeded", Vox 6/30/2014
Mike Isaac, "Facebook Says It's Sorry. We've Heard That Before", NYT 6/30/2014
Kashmir Hill, "Facebook Added 'Research' To User Agreement 4 Months After Emotion Manipulation Study", Forbes 6/30/2014
Matthew Ingram, "Here's what you need to know about that Facebook experiment that manipulated your emotions", GigaOm 6/30/2014
Dan Gillmore, "Being a Facebook 'Lab Rat' Is The Tradeoff We've Made", TPM 7/1/2014
Farhad Manjoo, "The Bright Side of Facebook's Social Experiments on Users", NYT 7/2/2014
Vindu Goel, "Facebook's Secret Manipulation of User Emotions Faces European Inquiries", NYT 7/2/2014
Samuel Gibbs, "Facebook apologises for psychological experiments on users", The Guardian 7/2/2014
Jessica Love, "Ethics Across Borders: On shifting values and Facebook's big misstep", The American Scholar 7/3/2014
Some kind of prize has to go to this one, for so effectively distracting us from the true scandal of extra-terrestrial involvement: Paul Joseph Watson, "COVER UP SURROUNDING PENTAGON FUNDING OF FACEBOOK'S PSYCHOLOGICAL EXPERIMENT?", Infowars.com 7/2/2014.
But when I look at the weird mix of advertisements that infest my Facebook wall (when I occasionally check it), I wonder why the researchers didn't just report on the effects of ad texts. I mean, could anyone sincerely claim to be outraged at an attempt to emotionally manipulate them by means of advertising?
Thus at this moment, Facebook is showing me the following ad texts–
"Death Begins in the Colon": Does everyday life consist of Gas & Bloating, Abdominal Pain, Constipation, Diarrhea, Indigestion, Urinary & Bowel Trouble?
"Get your house cleaned for $38!" Think housecleaning is too expensive? This company is ready to prove you wrong. Book your Homejoy cleaning today! There's no feeling quite like coming home to a clean house.
"Boyfriend wanted": No games. Just women looking for a single man over 60. Click to see Pics.
None of these are things I'm interested in, and none of the advertisers are outfits that I've ever heard of. So Facebook could have substituted fake ads with different words ("Death Life Begins in the Colon"; "There's no feeling quite like coming home to a clean dirty house"; etc.) and I never would have noticed the difference. Wait a minute, maybe they're already doing it?
---