« previous post | next post »
Today's Zits: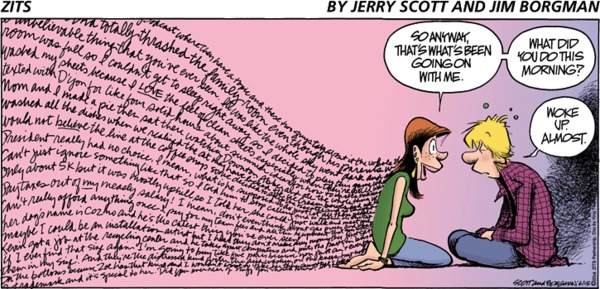 Not at all the first time: "When stereotypes hang out", 11/16/2006; "Zits communication", 8/18/2008; "Clouds of chatter", 9/17/2998; "Teenspeak, genderspeak", 4/18/2010; "Skim listening", 3/14/2014.
Some other relevant posts:
"Sex-linked lexical budgets", 8/6/2006
"Yet another sex-n-wordcount sighting", 8/14/2006
"Stereotypes and facts", 9/4/2006
"Gabby guys: The effect size", 9/23/2006
"Regression to the mean in British journalism", 11/28/2006
"Contagious misinformation", 12/1/2006
"Femail again", 12/2/2006
"Sex differences in 'communication events' per day", 12/11/2006
"A lesson in the sweet science", 1/29/2007
"Offenses and apologies", 10/10/2010
"How powerful is sisterhood?", 10/27/2010
"'Like' youth and sex", 6/28/2011
"Sexual accommodation", 12/30/2011
"An invented statistic returns", 2/22/2013
"Sex and FOXP2: Preservation of endangered stereotypes", 2/28/2013
For some other links, see "David Brooks, Neuroendocrinologist", 9/27/2006.
---