« previous post | next post »
Anne Henochowicz spotted this food package in New York Chinatown: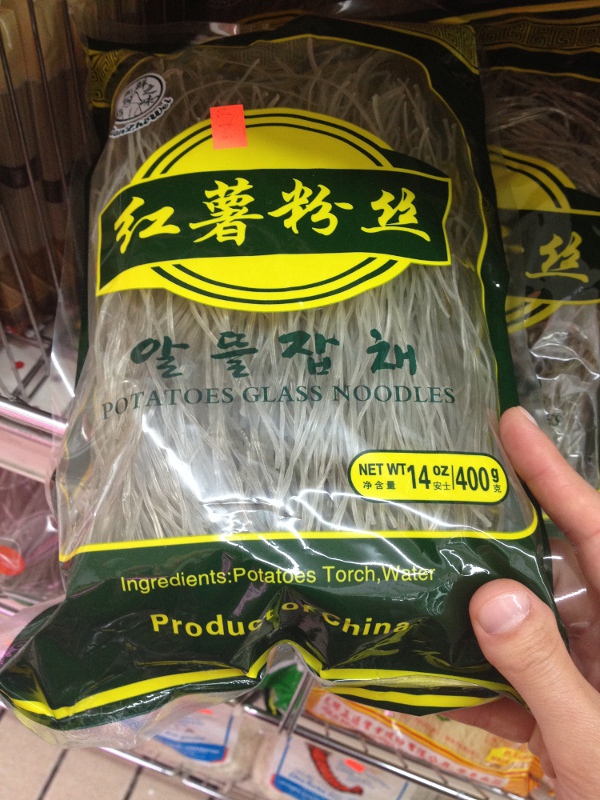 "POTATOES GLASS NOODLES" is mystifying enough, but what do we make of "Potatoes Torch, Water" that comes after "Ingredients"?
The Chinese at the top says:
hóngshǔ fěnsī 红薯粉丝 ("sweet potato vermicelli")
Some potato terms:
shǔ 薯 (generic "tuber")
hóngshǔ 红薯 (lit., "red-tuber" > "sweet potato")
mǎlíngshǔ 马铃薯 (lit., "horse-bell-tuber" > "potato")
tǔdòu 土豆 (lit., "earth-bean" > "potato")
There are many other names for this New World crop in China (which, together with maize and the peanut, substantially accounted for the population explosion that took place in China between the 17th and the19th centuries); some of them are quite colorful, and each has a story behind it, e.g.:
yángfānyù 洋番芋 (lit., "foreign-barbarian-taro")
shānyàodàn 山药蛋 (lit., "mountain-medicine[i.e., yam]-egg")
zhuǎwāshǔ 爪哇薯 (lit., "Java tuber")
For those who are interested in more Chinese terms for "potato", see here. I will not attempt to explain the Chinese terms for yam, taro, and so forth, which are difficult to keep straight in English too.
We have written about Chinese vermicelli made of various types of starch before on Language Log, e.g., "Urine meat balls".
By itself, fěn 粉 means "powder; noodles or vermicelli made from bean, potato, or sweet potato starch", etc.), but the fěn 粉 in these recipes is usually mǐfěn 米粉 ("rice-flour noodles / vermicelli"). Fěnsī 粉丝 ("vermicelli") can also be made of mung bean starch and, as with the hóngshǔ fěnsī 红薯粉丝 that we're discussing here, of sweet potato starch. This is the hint we need to make sense of "Potatoes Torch". If we just move the "s" from the end of "Potatoes" and put it at the beginning of "Torch", presto!, we have "Potatoe Storch" > "potato starch".
Although the person responsible for the translation on this package mangled the English pretty badly, at least they didn't render fěnsī 粉丝 as "fans", which is what you'll usually get when you rely on a machine to translate it. Instead, they gave us "glass noodles", which is an alternative rendering for "(Chinese) vermicelli".
---