« previous post | next post »
From Ajam Media Collective's Facebook page, a surprising buffet sign at Erbil International Hotel in Erbil, the capital of Iraqi Kurdistan: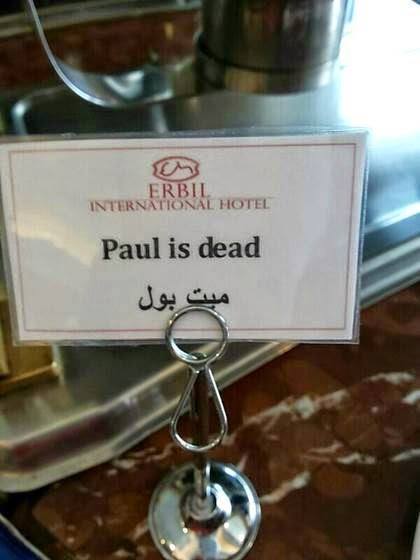 The Facebook post explains:
A buffet sign reads "ميت بول" ("MeatBall") transliterated into Arabic, with its translation as "Paul is Dead" in English, a literal translation of the text! The employees of the Erbil International Hotel seem not to have been aware that "Meat Ball" was not, in fact, an Arabic or Kurdish word!
How did this happen? First, someone had to transliterate meat ball into Arabic, with meat becoming "ميت" and ball becoming "بول". Then another person, unaware that this was a transliteration and not a translation, must have run "ميت بول" through Google Translate (or another online translator) to arrive at "Paul is dead."
The mistranslation is facilitated by a couple of aspects of Arabic orthography. First, Arabic text usually dispenses with the diacritics for short vowels known as ḥarakāt, leaving only long vowels represented. So "ميت" is a fine transliteration for English meat /mi:t/, but it could also represent the Arabic word mayyit 'dead' (derived from the verb māta مات 'die'). Second, since Arabic traditionally lacks the /p/ phoneme, loanwords with /p/ tend to be written with the letter for /b/, namely ب. Thus, "بول" could be a transliteration for either ball or Paul.
Google Translate can be ill-equipped to recognize such distinctions between translation and transliteration. And I suspect that Google's statistical approach to automatic translation is being misled by the frequency of the phrase "Paul is dead" in texts involving the persistent urban legend that Paul McCartney actually died in 1966. But who knows? Maybe the buffet sign is just a sly cross-linguistic wink from an Iraqi Beatles fan.
(Hat tip, Tal Linzen.)
---