« previous post | next post »
A Hong Kong friend of Jeff DeMarco posted this photograph on Facebook (it's probably from Beijing, but he's not sure about that):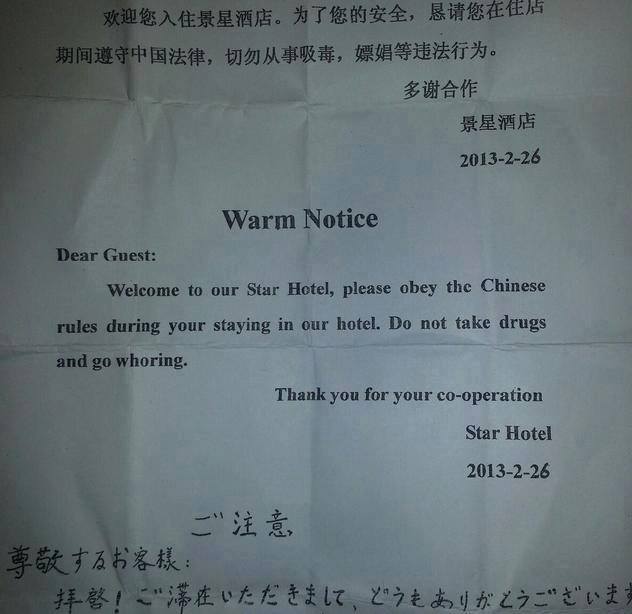 The Chinese text reads:
Huānyíng nín rùzhù Jǐngxīng jiǔdiàn. Wèile nín de ānquán, kěnqǐng nín zàizhù diàn qíjiān zūnshǒu Zhōngguó fǎlǜ, qiè wù cóngshì xīdú, piáochāng děng wéifǎ xíngwéi.
Duōxiè hézuò
Jǐngxīng jiǔdiàn
欢迎您入住景星酒店。 为了您的安全,恳请您在住店期间遵守中国法律, 切勿从事吸毒,嫖娼等违法行为。
多谢合作
景星酒店
Welcome to the Star Hotel. For your safety, while you are staying in our hotel, we earnestly request that you respect Chinese laws and refrain from taking drugs, patronizing prostitutes, and engaging in other such illegal activities.
Thanks very much for your cooperation,
The Star Hotel
The top part of the Chinese has been cut off. Judging from the English, though, it most likely would have been "wēnxīn tíshì 温馨提示" ("kindly notice").
The notice probably would have been addressed to "guìbīn 贵宾" ("distinguished guest").
As one would expect, the Japanese is exceedingly polite, but only the beginning part, which addresses the guest and thanks him / her for staying in the hotel can be seen in this photograph.
I should note that it takes self-discipline on the part of the guests in many Chinese hotels to avoid patronizing ladies of the night, because often, just as one is about to fall asleep, a call (woman's voice) will come and ask whether one is feeling lonely and whether one needs any special services. So far as I know, such calls are usually received only by male guests.
---