« previous post | next post »
David Alpert ("Excessive passive voice, linguistic detachment observed in Culpeper road fatality", 3/23/2009) complains about Martin Weil's lede in the Washington Post:
Four people ranging in age from 19 to 21 were killed early yesterday in Culpeper County, Va., when their car collided with a vehicle that was going the wrong way, Virginia State Police said.
Police said a Chevy Tahoe sport-utility vehicle was driving on the wrong side of a two-lane stretch of Route 3 when it struck the Toyota Corolla about 2:50 a.m.
Alpert's suggestion:
Just based on the facts in the Post article, we can say, "A 29 year old man was driving his Chevy Tahoe SUV on the wrong side of Route 3 early yesterday when he struck and killed four people in a Toyota Corolla." Why can't the printing press at the Washington Post say that?

Close reading of Alpert's post suggests that he may know what passive voice means, unlike most of the contemporary intellectuals who complain about it (e.g. Nancy Franklin in the 3/23/2009 issue of the New Yorker, discussed here, or the bloggers discussed here, here and here).  At least, in two out of three cases where Alpert specifically complains about the passive voice, there is actually a passive-voice construction somewhere in evidence.
Thus in his proposed edit replaces the passive "were killed" by the active "struck and killed". And his complaint about the language of medical reports also correctly identifies two examples:
Many fields use too much passive voice. MRI reports, for example, read like this: "Mild Straightening of the cervical lordosis is demonstrated. Mild mucosal thickening is incidentally noted at the floor of the sphenoid sinuses." The straightening didn't observe itself. The doctor observed it. Why not just say that on the report?
(The answer, of course, is that the report is about the straightening or the thickening, not about the doctor; but I digress.)
However, Alpert also gives us this:
After doctors, journalists writing about car crashes seem to overuse passive voice the most. Though we only seem to do this for cars, not for bicycles. In the excellent book Traffic: Why We Drive the Way We Do (and What It Says About Us), author Tom Vanderbilt (and not any inanimate object) writes,
In a study, [Ian Walker of the University of Bath in England] had subjects look at various photographs of traffic and describe what was going on. When subjects saw a photograph with a car, they were more likely to refer to the photo's subject as a thing. When subjects looked at a picture that showed a pedestrian or a cyclist, they were more likely to use language that described a person.
This is about reference, personification, focus, and many other things, but it has nothing to do with voice, passive or otherwise. So maybe Alpert's correct identification of passive voice in the other two cases was just good luck. And he ends in this grammatically unpromising way:
[O]ur habit of dehumanizing the actions of cars tends to create assumptions that their actions are not actually someone's responsibility. A driver hit and killed some people in another car in Culpeper. It's extremely unlikely his car magically malfunctioned. And even if it did, we don't engage in the same linguistic contortions to say, for example, that a police officer's bullet impacted a suspected robber, who had himself been holding a gun which fired into someone else earlier in the day. That would be silly. So is this.
But choosing whether to say that someone was killed by a driver or a car or a collision — or by a shooter or a gun or a bullet — is not a choice of active or passive voice, it's a choice about how to attribute agency, as well as a choice about how to focus a description.
If these choices tend to be made differently in writing about cars and and about guns, that's probably  because vehicle collisions are typically somewhat more complex events than gunshots are, and the attribution of intent and moral responsibility is typically more difficult. Indeed, especially when the description focuses on the details of the event, or agency and intent are unclear, news stories often do talk about guns and bullets as agents or at least grammatical subjects. Thus a recent news story about a shooting incident includes sentences like these, where a bullet and a gun are the subjects of active verbs:
The .45-caliber bullet entered an adjacent unit, passing within 12 feet of a man eating dinner on his living room couch, then lodged in another wall, Lt. Sean Cooney said. […]
Cooney said Milligan called police at about 7:30 p.m. Thursday to report his gun had discharged. Milligan told investigators that he invited Getting into his apartment to see his gun collection, Cooney said.
During the visit, Milligan handed Getting the gun, which Milligan recently purchased, and it discharged, Cooney said.
Another story, this one about a murder trial, features the passive "was shot", and an active sentence attributing grammatical agency to the bullet:
In his opening argument, assistant attorney general Kevin Zoellner said Sgt. Carl Dewayne Graham Jr. was ambushed in his driveway March 20, 2005, after completing his shift for the day. Graham was shot in the back with a high-powered rifle and suffered a skull fracture when he fell backward from the impact. The bullet severed his spine, Zoellner said.
This is not, I think,  because the prosecutor is dehumanizing the actions of the rifle and the bullet, but because that's how law, or at least legal custom, prescribes that a murder case should be framed. Attributions of moral responsibility follow soon after:
"A coward shot him in the back," Zoellner said, then with a shotgun pumped two shots into his head, peppering Graham's face with shotgun pellets. "His name is Lance Shockley and he's sitting here," Zoellner said, pointing to Shockley, who wore a blue dress shirt and brown slacks, seated between his defense team.
Similarly, in news reports of fatal vehicle collisions, moral responsibility is often flagged separately from the description of the sequence of events in the collision. Thus I'm not convinced that there's even a statistical correlation between indication of apparent human moral responsibility and use of active vs. passive voice.  Attribution of apparent agency to vehicles probably tends to correlate negatively with attribution of agency to humans, at the single-clause level, but I'm not entirely sure about even that much. Some random examples from today's Google News:
A wrong-way driver was killed in a head-on collision in El Sereno Monday night [+responsibility, -personification, +passive], and a 50-year-old woman and her daughter in her 20s suffered minor injuries [-responsibility, -personification, -passive] …
A truck's brakes stopped working at Corredor Norte, near the San Miguelito entrance, colliding with two cars on Saturday [-responsibility, +personification, -passive]. One of the cars was carrying three adults and one child [-responsibility, +personification, -passive]. Both the truck and the car instantly caught fire, killing all of the car's passengers [-responsibility, +personification, -passive].  The truck was driven by Joseph Nataniel Donalson, currently under police investigation [+responsibility, -personification, +passive].
At around 4 p.m. Jacob Ryan White, a resident of Stansbury Park, was driving along state Route 138 when police say he apparently fell asleep, causing his car to cross into oncoming traffic and strike another vehicle head-on, said trooper Clint Sawson with the Tooele County Sheriff's Office [+responsibility, +personification, -passive]
There are even some cases in such reports where grammatical agency is attributed to drivers who may have been dead at the time of the accident, as here:
A 67-year-old visitor from Alaska died Friday [-responsibility, -personification, -passive] after being involved in a two-vehicle collision on Akoni Pule Highway [-responsibility, -personification, +passive]. … officers determined that the victim was operating a 2008 Mercury four-door sedan and traveling north on Akoni Pule Highway when he ran off the right side of the road, struck a guardrail, crossed the centerline and collided into a 2006 Chevrolet bus traveling south [+responsibility, -personification, -passive] … Police are going to wait for the results of the autopsy to see if the victim died from a medical condition or from injuries in the crash before counting this death as a traffic fatality.
Mr. Alpert presumably believes that that civic virtue would be increased if the caption for the picture below, instead of being "Two vehicles collided head-on Saturday afternoon near Stansbury in Tooele County, claiming the lives of three people and injuring a fourth", were — what?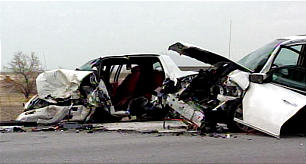 Based on the accompanying story, maybe his prescription would be "By falling asleep at the wheel, Jacob Ryan White was said to have caused this head-on collision, claiming the lives of three other people and injuring himself" — even though the original caption was entirely in the active voice, and the main verb of the proposed substitution is passive.
I'm not sure whether Alpert is right about the value of publicly naming and shaming drivers with various levels of apparent culpability for serious collisions.  But either way, I'm positive that this has nothing whatever to do with the unjustly maligned passive voice.
---