« previous post | next post »
Victor Steinbok sent in this photograph of a dim sum restaurant in Boston: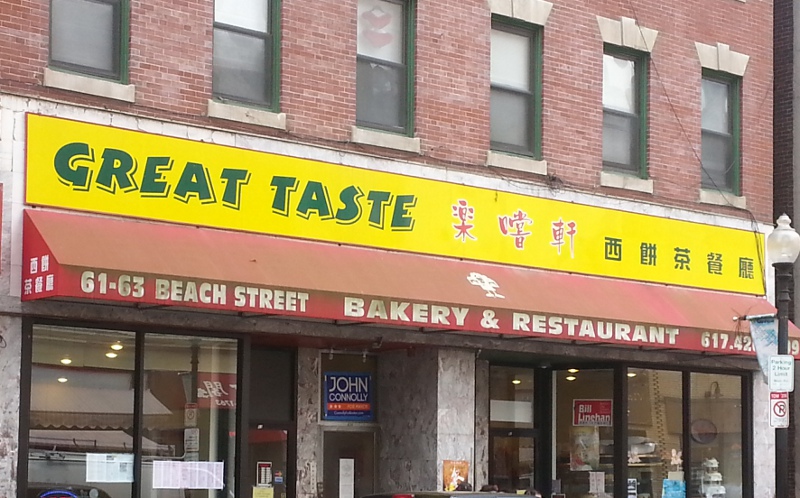 This is a natural follow-up to "Tasty Chinese", where we explored Chinese restaurant names that included the adjective "tasty".
Victor explains:
One of the most popular dim-sum places in Boston Chinatown the last couple of years has been Great Taste. Until recently, however, it didn't even have a marquee, although it was always known as Great Taste. One distinguishing feature of Great Taste (and Winsor Cafe) is that, unlike the classic weekend dim-sum palaces, it not only serves everything the whole time they are open, but does it strictly from the menu, no cart service. They also have a Macao special, Portuguese Sauce Spaghetti.
Unlike many of the restaurant names discussed in the earlier "tasty" post, the Chinese name of the Great Taste does include a word for "taste", though it's by no means a word-for-word equivalent of the English name:
Lè cháng xuān 樂嚐軒 ("happy taste pavilion")
I think that most foreign readers of Chinese, even those who are fairly advanced, would tend to interpret the name directly as "Happy Taste Pavilion", but all native Chinese readers whom I consulted uniformly said that lè cháng 樂嚐 should be understood as meaning "happy / glad to taste [the food served at this restaurant]".
In any event, somebody probably told the proprietors that "Happy to Taste" wouldn't sound right for the name of a restaurant in English.
Incidentally, all of the online translation services that I checked (Google, Bing, Baidu, Iciba) render 樂嚐 as "music taste", but that's only an artifact of misreading 樂 (simplified form 乐) as yuè ("music") instead of as lè ("happy"). The multiple pronunciations and meanings of 樂 lead to much mischief in the reading of Chinese texts, especially Literary Sinitic texts where there is a much higher percentage of monosyllabic words than in modern Sinitic languages.
In fact, another pronunciation of 樂, namely yào ("like; take delight in") seems to have dropped out of circulation on the Mainland altogether (I polled about 40 of my Mainland graduate students, and none of them knew it), though I learned it in Taiwan during the early 70s, and I think it is still alive there. And there's yet another pronunciation for 樂, viz., lào, which is used in place names — e.g., 樂亭 in Hebei and 樂陵 in Shandong — though I have no idea how locals and non-locals in China (and outside of China) actually pronounce those names nowadays.
Such are the delights / pleasures / joys ( lèqù 樂趣 ["happy inclinations"]) of reading Chinese.
---