« previous post | next post »
P.S. cited this sentence (from Vrinda Agarwal,  "Let's run the world, girls", Daily Californian 4/26/2014):
It matters that we have men and women representing women, especially because we still have politicians such as Texas Gov. Rick Perry, who referred to the recent debate over equal pay for women as "nonsense," and Texas Attorney General Greg Abbott, who said he would not support making lawsuits easier on pay for women.
Puzzled, P.S. wondered whether the wording "… making lawsuits easier on pay for women" might be the result of blind application of some grammatical prejudice:
To me, it seems that the more natural construction of the emphasized clause would be "making lawsuits on pay for women easier", and the construction in the article is a result of following (perhaps) some automated grammar advice on keeping adjectives and noun together.  But then, I am not really a native speaker, so maybe this is just a perfectly natural construction I have never seen before.
The logical structure is indeed something like this, with the prepositional phrase "on pay for women" post-modifying "lawsuits":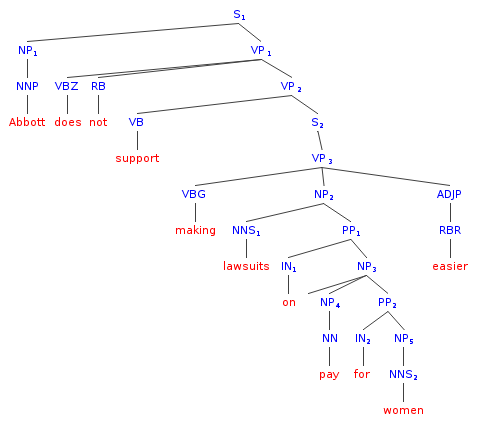 But it's a normal part of English syntax to allow such post-modifiers to be extraposed to the end of the clause, past  other verb-phrase elements such as "easier". This creates a non-local modification relationship, where the (string-wise) syntax is out of joint with the semantics  in a way that is less common in English than it is in morphologically richer languages like Latin or Czech or Finnish.
The results can be confusing, especially if the intervening material itself could be in construction with the extraposed phrase. I discussed a (similar but much more confusing) case  a few years ago ("Articles currently living in the Hamilton area", 12/11/2011), and quoted Peter Fries ("Post nominal modifiers in the English noun phrase", in Peter Collins and David Lee, Eds., The clause in English, 1999):
Extraposition of post-nominal modifiers of noun phrases is in general rare […] In general an element can be extraposed to the end of its sentence only when the extraposed element is sufficiently important to the purposes of the text and the text segment in which it occurs to warrant the prominence it receives as a result of being postponed to the end.
I'd add that it helps when the intervening material is part of a common collocation. Thus the pattern
A [ B C ] D ↔ A B D C
works better if A … D is something like "make X easier" — or "make X happy" or "lend X money" or "put X in jail". There are plenty of examples when the extraposed phrase is a relative clause:
A successful building should make people happy who live and work there.
Lenders ended up violating the basic rule of banking: don't lend people money who can't pay it back.
 But I also don't want to put people in jail who make a mistake.
But similar remarks apply to the extraposed PPs that are also Out There:
There now are ideas on the table for revitalizing South Queen Street in Kinston.
And note that prepositional phrases can be extraposed from adjectives as well as nouns:
How similar is the GRE to the SAT?
---
Warning: We should remain agnostic about the movement metaphor implicit in traditional terms like "extraposition", which presuppose that logical structure is an input, transformed into observed structure as an output. The required relations can be established in principle by generative models, by interpretive models, or by constraint-based models that have no intrinsic directionality.
---