« previous post | next post »
Jason Cox sent in the following photograph of the cover of a Vietnamese religious text and asked what was going on with the "characters" along the left and right sides.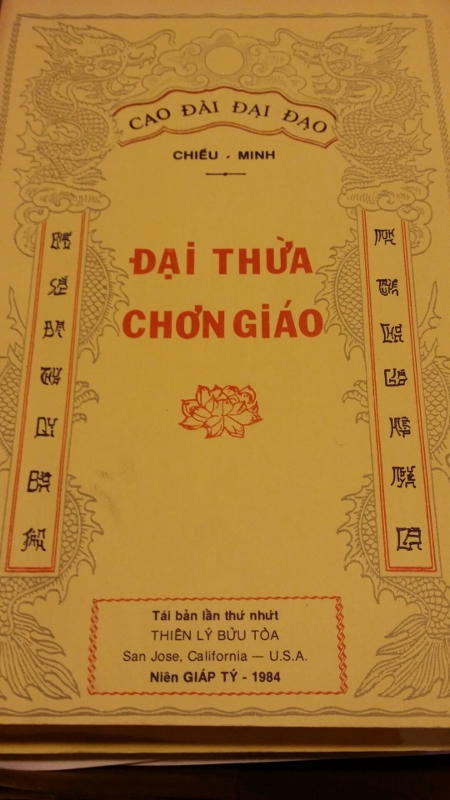 This immediately reminded me of Square Word Calligraphy (writing English words in the shape of a square, like Chinese characters), originally created by Xu Bing in 1994, a new version of which was developed by David B. Kelley in 2012.
Before tackling the "characters" in vertical columns on the left and right, let's see what sort of text this is.
At the top it reads: "Cao Dai Great Way" (Cao Dai is the popular, monotheistic religion in the Mekong delta). The large red letters in the middle say "True Teachings of the Great Vehicle (Mahayana)". For more on the Cao Dai, see Millenarianism and Peasant Politics in Vietnam (1983) by Hue Tam Tai.
Our text is a Vietnamese prayer book. Here is a rendering in Chinese characters and English of the horizontal lines on the cover:
高台大道
照 . 明
—
大乘真教
first republishing
天理宝 (name of publisher)
San Jose, California—USA
Year 甲子 — 1984
Now on to the vertical columns, where the alphabetical Vietnamese is made to look like Chinese; it is a very common ploy to link new texts to ancient (read "Chinese") and thus sacred texts. The blocks on the periphery are formed by squeezing the Vietnamese letters that make up normal written syllables into a square matrix so that they appear to be Chinese characters. If you look carefully, you can even see the tone marks. Most are too stylized to be read with ease, and few people try to read them anyway. They are primarily decorative.
Steve O'Harrow explains:
This is an attempt to write modern Romanized Vietnamese [quốc ngữ] in something that approximates the flavor of what the Vietnamese usually call "chữ nho" or "chữ hán," i.e., Sino-Vietnamese. Given that it is a Cao Đài religious tract and that Cao Đài is highly eclectic, it's not too surprising that they would find it æsthetically pleasing to refer in some way to a long-gone classical past which 99% of their adherents are in no way capable of deciphering (not unlike most modern Vietnamese). I have often seen this kind of faux-Chinese writing in places like restaurant signs and on clothing shops catering to the romantic tourist trade in Hanoi and TPHCM [VHM: Ho Chi Minh City] – It's kind of like "Ye Olde Englishe" on pub signs in London.
Here are a couple of examples of the way the "squaring" of the words works.
C H I Ế U = first word on the left
S Ắ C = second word on the left
Tô Lan deciphered the Vietnamese words (not so easy!) and provided the Chinese characters.
The two columns need to be read from right to left.
MINH TRUYỀN CHƠN GIÁO HIỆP NGUYÊN CĂN
CHIẾU SẮC ĐẠI THỪA QUY BỔN TÁNH
明传真教协原根
照敇大乘归本性
Míng chuán zhēnjiào xié yuángēn
Zhào cè Dàshèng guī běnxìng
English translation by Denis Mair:
Clearly transmit the true teaching to assist the inborn root;
Illuminatingly implement the great vehicle to return to original nature.
English translation by Jiang Wu:
Brighten and transmit the true teaching, contributing to the original root;
Illuminate and promote the Great Vehicle, returning to the authentic nature.
English translation by Tingyu Liu:
Preaching the sutra in a wise way to follow its original root;
Brightening the true color of Mahayana to return to its nature.
The first two translations are based on a sinographic restoration of the second syllable of the second line, SẮC, as cè 敇, whereas the third translation is premised on sinographically restoring that syllable as sè 色 ("color").
All three translators provided detailed justifications for their understanding of the lines, but they are too technical to insert here. I will, however, mention two philological notes that are essential and accessible. First, it is difficult to distinguish cè 敇 ("whip [as a horse]") from chì 敕 ("imperial edict / order"), since they both look alike (the difference being that the rectangular "box" at the middle on the left side of the second character is closed on all four sides, but it is open at the bottom in the first character) and sound somewhat similar.
The first character, 敇, is rare (few modern readers recognize it) = 策 ("whip" –> "urge forward" –> "promote"). Cf. Fó cè dàshèng 佛敇大乘 ("The Buddha promotes Mahayana").
Secondly, until about 25 years ago when I started campaigning against the mispronunciation, most people mistakenly read 大乘 as dàchéng ("greatly mount") instead of as dàshèng 大乘 ("Great Vehicle").
For another example of Square Word Alphabetical Vietnamese writing, see Wm. C. Hannas, Asia's Orthographic Dilemma, p. 93, this one for an ancestral altar.
[Thanks to Nguyen Ngoc Hung, Lan Nguyen To, Cuong Le, Steve O'Harrow, Hue Tam Tai, John Balaban, Jiang Wu, Tingyu Liu, and Denis Mair]
---