« previous post | next post »
Do the well-demonstrated Whorfian effects in color discrimination really reach down to the level of perception?  Some recent research suggests that Whorfian effects may exist at a level that is literally perceptual.

The term "Categorical Perception" (CP) names people's propensity to make finer discriminations at the boundaries between categories than at their interiors. It is well established that differences between languages in the  boundaries of color terms induce corresponding differences in categorical perception in their speakers.  For example, if a language A , like Greek or Russian, makes a simple lexical distinction between light blue and dark blue and language B, like English or Japanese, does not, speakers of A will reliably make finer discriminations at the boundary between light and dark blue than at the interiors of these categories and speakers of language B will not do this. There has been quite a bit of research on this question, some of it discussed in this forum: here, here, and here; all this research points to the conclusion that color naming differences across languages induce predictable differences in categorical perception of color.
A debated issue, however, concerns whether the word "perception" in the expression "categorical perception" is being used with sufficient precision.  Are the observed effects truly perceptual or do they reflect a level of psychological — i.e., neural — processing that is either response-related or otherwise post-perceptual?  Specialists in visual psychophysics and physiology (areas I am not expert in) are careful not to use the word "perception" loosely. However, consensus on a bright line criterion separating perception senso strictu from everything that take place in our brains downstream from perception does not, so far as I can tell, yet exist.
Some interesting new research both proposes a reasonable criterion for marking off perception per se from post-perceptual processing and demonstrates that language-induced (i.e., Whorfian) color CP is, by this strict criterion, perceptual.  According to Thierry, Athanasopulous, Wiggett, Dering, & Kuipers, "Unconscious effects of language-specific terminology on preattentive color perception", PNAS (in press, 2009), neural activity is perceptual if it's both unconscious and pre-attentive. (I think some earlier color CP research can be argued to also meet this criterion, but that's a judgment call and this is a side issue, which doesn't detract in any way from the interest of the new stuff.)
[Note by Mark Liberman:The link is not yet live, although the paper was released from embargo on 2/16/2009, according to a note from editorial staff at PNAS; so until PNAS gets around to putting the paper on their site, a copy is here. A delay of up to ten days between the end of the embargo and "Early Edition" access is a typical pattern for PNAS, though the reason is unclear.]
Thierry et al. use an event-related potential (ERP) procedure, in which the subject is hooked up to an EEG recording device and the reaction of the brain's electrical activity is monitored while he or she is exposed to a series of stimuli.  The series consists of repetitions of a "standard" stimulus, occasionally interrupted by a different, "deviant" stimulus.  The brain has a characteristic way of reacting to a novel stimulus (of any kind), and according to Thierry et al. this reaction pattern is both unconscious and pre-attentive: unconscious because subjects are unaware of it and pre-attentive because in such experiments the subjects are instructed to react to some aspect of the stimulus unrelated to the property being monitored and the brain activity of the trials which elicit a response are not included in the analysis.  For example, in this experiment the subjects were shown mostly colored circles with an occasional colored square and instructed to react when the stimulus was square.  However, the brain wave patterns were analyzed only for constancy or deviance in the color of the circles, not the shape of the stimulus, which was the focus of attention. That part is crucial.
Subjects were speakers of either English, which makes no basic color term distinction between light and dark blue, or of Greek, which does: ghalazio and ble, respectively.  Subjects of both groups were tested in four blocks of trials. The researchers "instructed the participants to press a button when and only when they saw a square shape (target, probability 20%) within a regularly paced stream of circles [of the same hue] (probability 80%). Within one block the most frequent stimulus was a light or dark circle (standard, probability 70%) and the remaining stimuli were circles [of the same hue] with a contrasting luminance (deviant, probability 10%), i.e., dark if the standard was light or vice versa." That is, there were trials of the types <standard: light blue, deviant: dark blue>, <standard: dark blue, deviant: light blue>, <standard: light green, deviant: dark green>, and <standard: dark green, deviant: light green>, as shown in Figure 1 from their paper: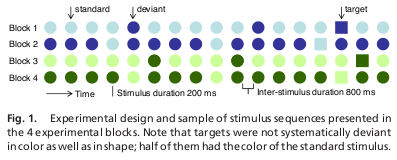 Trial type was cross-categorized with speaker type into four groups of trials, Greek-blue, English-blue, Greek-green, English-green.  The standard novelty reaction ("visual mis-match negativity" or vMMN) occurs in the neighborhood of 200 milliseconds. This decrease in electrical potential was found to be significantly greater in the Greek-blue set of trials than in any of the other three sets, which were among themselves statistically indistinguishable, as shown in their Figure 2: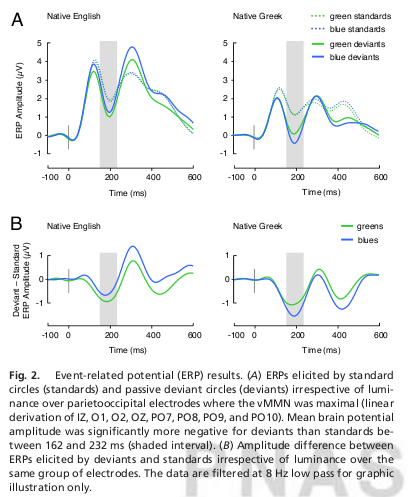 Unfortunately, the interpretation of the figure doesn't immediately leap out at the viewer, so here's part of the authors' statistical explanation:
Cricitally, we found no overall main effect of color (P > 0.1) or participant group (P > 0.1) and no significant color by group interaction on the mean amplitude of the vMMN but, as predicted, a significant, triple interaction between participant group, color, and deviancy (F[1, 38= = 4.8, P < 0.05; Fig. 2B). Post hoc tests confirmed that this interaction was generated by a differential vMMN response pattern in Greek and English participants, such that the vMMN effect was numerically (but not significantly greater for green than blue deviants in the English participants (F[1,38]=0.9, P > 0.1) but significantly greater for blue than green deviants in Greek participants (F[1, 38] = 7.1, P < 0.02), whereas the vMMN effect for green deviants was of similar magnitude in both the participant groups (F[1, 38] = 0.27, P > 0.1).
In less technical terms: Language differences in color categories were associated with differences between their speakers in perception in the strict sense of the word (well, at least in a strict sense of the word). The differences (in reactions to differences between within-category and across-category colors) were not large ones, but they were statisticially significant. And they were apparently too early to be the result of assigning and comparing color names on a given trial: they must have been the result of biases introduced into the color perception system itself.
So, what does this finding mean in the grand scheme of things?  I think, if replicated, it suggests strongly that language difference can in fact influence perception.  But now the question turns to the relative importance of that influence. The broadest Whorfian view espoused by serious contemporary experimentalists, such as Jules Davidoff, Debi Roberson, and (sometimes) Ian Davies, holds (or held until recently) that color terminologies can vary arbitrarily across languages, constrained only by the rule that a named category cannot occupy discontinuous regions of color space.  (See, for example, Roberson, Davies & Davidoff 2000. Actually, their language is a bit vague on this, but here is not the place to sort out fine points of scientific rhetoric.)
However, several independent analyses of the World Color Survey data have shown beyond any reasonable doubt that this is not the case: there are universal tendencies in color naming across all languages (See, for example, Kay & Regier 2003, Regier, Kay & Cook 2005; Lindsey & Brown 2006; Griffin 2006; Kuehni 2007; Webster & Kay 2007; Dowman 2007).  So languages may differ a lot in how they name colors, but these differences are constrained by a seeming master plan, which may have to do with our common internal representation of color space (Jameson & D'Andrade 1997, Regier, Kay & Khertepal 2007). A second constraint on wild Whorfianism is this: the color CP effect in speaking adults has been shown to be restricted (probably entirely, but certainly in major degree) to the right visual field, which projects to the left (language dominant) brain hemisphere (Gilbert et al. 2006, Drivonikou et al. 2007, Roberson, Pak, & Hanley 2008). This suggests that at every moment of perception, half of our visual input is filtered by language, but not the other half. Concurrent verbal interference (e.g., mentally rehearsing a long number name) has been shown in both lateralized and non-lateralized color CP studies to suppress the CP effect, indicating that neural representations of the named color categories are activated online during these experiments.
So it looks as if language may indeed influence color perception in a strict sense, but if that is true — and these results show surprisingly that it seems to be true — it does this in a way that is constrained by the facts that (1) there are cross-language commonalites in the internal representation of color and (2) that only half of our visual inputs are language-filtered.
References:
Cook, R. S., P. Kay, and T. Regier (2005). "The World Color Survey database: History and use".  In Henri Cohen and Claire Lefebvre (Eds.), Handbook of Categorization in Cognitive Science. Elsevier.
Davidoff, J., Davies, I. & Roberson, D. (1999). "Colour categories of a stone-age tribe". Nature 398, 203-204.
Drivonikou G.V., P. Kay, T. Regier, R. B. Ivry, A. L. Gilbert, A. Franklin, & I. R. L. Davies (2007). "Further evidence that Whorfian effects are stronger in the right visual field than the left". Proceedings of the National Academy of Sciences, 104, 1097-1102.
Franklin, A., Drivonikou, G.V., Bevis, L., Davies I. R. L., Kay, P. & Regier, T. (2008a). "Categorical perception of color is lateralized to the right hemisphere in infants, but to the left hemisphere in adults". Proceedings of the National Academy of Sciences, 105, 3221-3225.
Gilbert, A. L., Regier, T., Kay. P. & Ivry R. B. (2006). "Whorf hypothesis is supported in the right visual field but not the left". Proceedings of the National Academy of Sciences 103, 489-494.
Gilbert, A. L., Regier, T., Kay. P & Ivry, R. B. (2008). "Support for lateralization of the Whorf effect beyond the realm of color discrimination". Brain and Language 105, 91-98.
Kay, P. & Regier, T. (2003). "Resolving the question of color naming universals". Proceedings of the National Academy of Sciences, 100, 9085-9089.
Kuehni, Rolf G. (2007). "Nature and culture: An analysis of individual focal color choices in World Color Survey languages". Journal of Cognition and Culture 7, 151-172.
Lindsey, Delwin T. & Angela G. Brown (2006). "Universality of color names". Proceedings of the National Academy of Sciences, 103, 16609-16613.
Regier, T., P. Kay, and R. S. Cook  (2005). "Focal colors are universal after all". Proceedings of the National Academy of Sciences 102:8386-8391.
Regier, T., Kay, P. & Khetarpal, N. (2007). "Color naming reflects optimal partitions of color space". Proceedings of the National Academy of Sciences, 104, 1436-1441.
Roberson, D., Davies I. & Davidoff, J. (2000). "Colour categories are not universal: Replications and new evidence from a Stone-age culture". Journal of Experimental Psychology: General, 129, 369-398
Roberson, D., Pak, H. J. & Hanley, R. (2008). "Categorical perception of colour in the left and right visual field is verbally mediated: Evidence from Korean". Cognition 107, 752-762.
Thierry, D., Athanasopulous, P., Wiggett, A., Dering, B., & Kuipers, J-R (2009) "Unconscious effects of language-specific terminology on pre-attentive color perception". PNAS (as of 2/22/2009, in limbo between embargo and Early Edition).
Webster, Michael A. & Kay. P. (2007). "Individual and population differences in focal colors". In: MacLaury, Robert E., Galina V. Paramei and Don Dedrick (eds.), Anthropology of Color: Interdisciplinary multilevel modeling. pp. 29Ð53.
---