« previous post | next post »
Here is a handwritten note left by a man for his wife: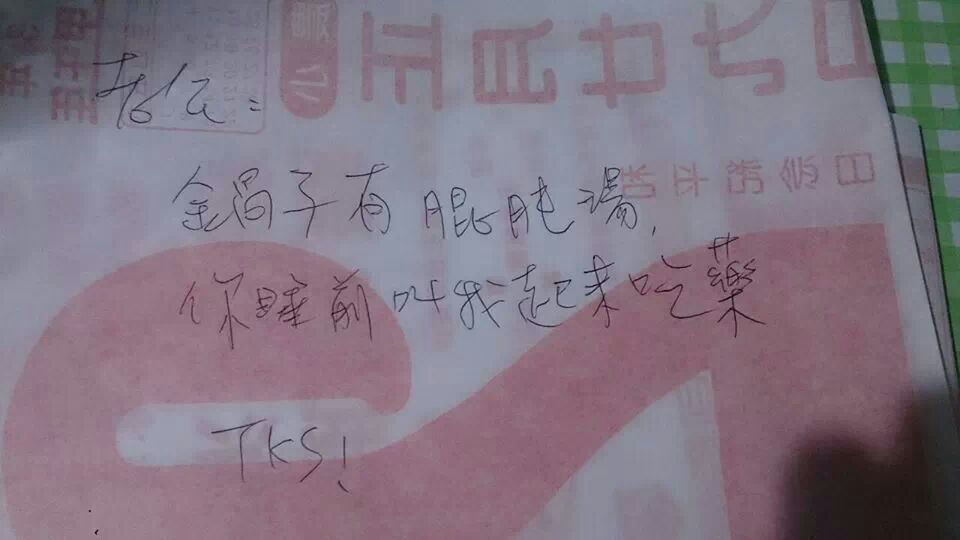 And here is the Facebook post in which the note was embedded (with names blurred, but otherwise intact):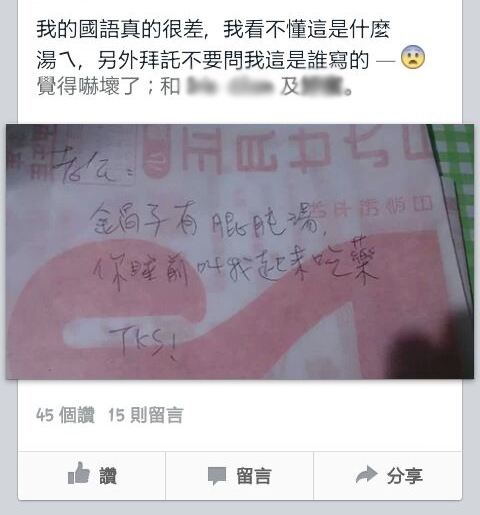 Before I transcribe and translate the note, I should explain how it came into my hands and who the players are.
The addressee (recipient) of the note, who posted it on Facebook, is the ex-colleague of Michael Cannings' wife. Michael's wife showed the note to him, and Michael in turn kindly passed it on to me. I should mention that much of the information in this post comes from Michael.
Although the handwritten note is short, it requires a lot of explanation to unpack all of its peculiarities.
The full note reads:
Lǎogōng:
Guōzi yǒu kūnzhūn tāng,
Nǐ shuì qián jiào wǒ qǐlái chī yào
TKS!
老公:
鍋子有䐊肫湯,
你睡前叫我起來吃藥
TKS!
Hubby:
There's wantan soup in the pot.
Wake me up before you go to sleep and remind me to take my medicine
THANKS!
The first odd thing about the note is that the man calls his wife "lǎogōng" 老公 ("husband" [lit., "old" + "male; duke; etc.]" — gōng 公 also means "public" and has many other relational meanings). The reason the man uses "lǎogōng" 老公 ("husband") as his salutation is apparently because the wife "wears the trousers" in the household. Michael's wife describes this woman as "chāoman" 超man ("überman", i.e., superior to a man), which, although not meant as a pejorative, opens up a gender equality can of worms.
The next salient aspect of the man's note, and what prompted the wife to post it on Facebook, is that he miswrote húntún tāng 餛飩湯 ("wonton soup") as kūnzhūn tāng 䐊肫湯 (which I shall playfully render as "wantan soup"), using the "flesh" radical instead of the "food" radical for both characters.
I recall from when I lived in Taiwan in the early 70s that many people there said húndùn tāng, not húntún tāng.  Apparently this is still the case, though it may no longer be thought of as "standard".
The third line is pretty normal.
The last line, TKS! ("Thanks!"), is very common in Taiwan as a sign-off, even in otherwise Chinese emails.
Here follows the text of the wife's Facebook post:
Wǒ de Guóyǔ zhēn de hěn chà, wǒ kàn bù dǒng zhè shì shénme tāng ei, lìngwài bàituō bùyào wèn wǒ zhè shì shuí xiě de
我的國語真的很差,我看不懂這是什麼湯ㄟ,另外拜託不要問我這是誰寫的
"My Mandarin is really bad; I don't understand what kind of soup this is, eh! Moreover, please don't ask me who wrote this.
juéde xià huàile 覺得嚇壞了 ("I feel frightened", i.e., "it's horrifying"))
hé 和 XXX ("with XXX") jí 及 YYY ("and YYY")
Except for one feature, that's all quite straightforward written Mandarin, the exception being ei ㄟ at the end of the second clause.
The "my Mandarin is really bad" clause is sarcastic, and refers to her not being able to understand the husband's "kūnzhūn soup" (nobody can understand it unless they accept that it is a mistake for "wonton soup").
The "ei" at the end of the next clause written with a Mandarin Phonetic Symbol (MPS) is an expression of surprise or exasperation, perhaps best described as a written sigh. The MPS is almost always used in colloquial writing in preference to the character éi 誒 which has the same meaning. Although I suspected that the ei ㄟ particle might have come from Taiwanese, Michael says that it is definitely Mandarin. Other informants have a variety of opinions about the many possible functions of ei ㄟ in Taiwanese and in Taiwan Mandarin, including that for some of its functions it is also written as yé 耶 (particle indicating interrogation). One of them wrote:
ㄟ is a common end-of-sentence particle used by people in Taiwan to soften the tone. It sounds "cute" and is often used by girls. I think it is originally from Taiwanese, but I am not sure because people often use the character 耶 to represent that sound as well when they speak Mandarin. Actually in Taiwan guys also use this particle a lot, particularly when they are talking to girls. Because it sounds kind of feminine, many people from Mainland China tend to think most Taiwanese guys are feminine when talking.
Facebook allows you to include an emotional state alongside your post. So you type what you want to say, select "feeling confused" from the list, and it adds that statement and a little confused-looking emoticon. Like the "with so-and-so" (see next point) it's really meta-information to the main post. In this case, I think she means her husband's writing is horrifying. Like the kàn bù dǒng 看不懂 ("can't understand") of the main post, it's exaggerated for effect. Every one of her friends reading the man's note understands that he meant to write húntún tāng 餛飩湯 ("wonton soup") — that's part of the joke. They are feigning non-comprehension to make it funny.
As for the hé 和 XXX ("with XXX") jí 及 YYY ("and YYY"), Facebook allows you to tag people in posts. It started off as a way to say "hey, I'm in the park, and Jim and Betty are here too". But once people realized that inserting friends' names in this way also notified those friends that you had done so, it started to be used to attract the attention of certain friends. So it's a way of saying "hey, Jim and Betty, take a look at this dumb thing my husband did". It doesn't mean she's literally with Jim and Betty while she's writing the message.
Michael adds:
A (perhaps) interesting tangent about "man". My wife's English is heavily influenced by mine, and my accent is quite close to Received Pronunciation. When she uses "man" or "party" or another word that has been imported into Mandarin, her pronunciation follows the American-influenced standard here. Flapped t in "party", and "man" pronounced as mæn or maybe men. But when she's speaking full English sentences, the t in party returns, and the "a" in "man" flattens. I take this as evidence that those words have been nearly completely absorbed by Taiwanese Mandarin, to the extent where they don't really register as "foreign". When I asked her about this, she thought that pronouncing the words "in an English English way" not only would sound odd in a Mandarin sentence, but would impair comprehension.
Before wrapping things up, I'd like to return to the miswriting of húntún tāng 餛飩湯 ("wonton soup") as kūnzhūn tāng 䐊肫湯, which was what occasioned this Facebook post in the first place. All literate readers whom I asked about kūnzhūn 䐊肫 simply had no idea what it meant. They knew that zhūn 肫 means "a part of an animal" (more specifically, the gizzard of a fowl), but they weren't at all sure about the meaning of kūn 䐊. It is indeed a rare character, so I had to check in an unabridged dictionary of Chinese characters, specifically Hànyǔ dà zìdiǎn 漢語大字典. Lo and behold, here is what we find on p. 2087a of vol. 3:
kūn "insects"
hún = 餛, as in húntún 餛飩; 䐊肫 = 餛飩, citing dictionaries of the early 3rd c. A.D. and 1037 A.D., but meaning "flatcake", not "wonton"
hùn "long and round"
The husband, "hubby", all their friends, and everybody I asked about 䐊肫 were totally oblivious of all this scholarly minutiae. The man just wanted to tell his wife that he was leaving some wonton soup for her, but he forgot how to write húntún 餛飩 ("wonton"), and what came out instead was kūnzhūn 䐊肫 ("wantan").
[Thanks to Grace Wu, Melvin Lee, Sophie Wei, and Chia-hui Lu.]
---