« previous post | next post »
Facebook Diversity 2/13/2014:
When you come to Facebook to connect with the people, causes, and organizations you care about, we want you to feel comfortable being your true, authentic self. An important part of this is the expression of gender, especially when it extends beyond the definitions of just "male" or female." So today, we're proud to offer a new custom gender option to help you better express your own identity on Facebook.  
We collaborated with our Network of Support, a group of leading LGBT advocacy organizations, to offer an extensive list of gender identities that many people use to describe themselves. Moreover, people who select a custom gender will now have the ability to choose the pronoun they'd like to be referred to publicly — male (he/his), female (she/her) or neutral (they/their).  
We also have added the ability for people to control the audience with whom they want to share their custom gender. We recognize that some people face challenges sharing their true gender identity with others, and this setting gives people the ability to express themselves in an authentic way.
Here's the current list of 56 custom options, from which you get to choose up to 10:
Agender, Androgyne, Androgynous, Bigender, Cis, Cis Female, Cis Male, Cis Man, Cis Woman, Cisgender, Cisgender Female, Cisgender Male, Cisgender Man, Cisgender Woman, Female to Male, FTM, Gender Fluid, Gender Nonconforming, Gender Questioning, Gender Variant, Genderqueer, Intersex, Male to Female, MTF, Neither, Neutrois, Non-binary, Other, Pangender, Trans, Trans Female, Trans Male, Trans Man, Trans Person, Trans Woman, Trans*, Trans* Female, Trans* Male, Trans* Man, Trans* Person, Trans* Woman, Transfeminine, Transgender, Transgender Female, Transgender Male, Transgender Man, Transgender Person, Transgender Woman, Transmasculine, Transsexual, Transsexual Female, Transsexual Male, Transsexual Man, Transsexual Person, Transsexual Woman, Two-spirit
When you go to edit your gender description, the top-level menu is Male/Female/Custom. If you choose Custom, Facebook doesn't show you a menu of 56 checkboxes or whatever. Instead, you're shown a blank field: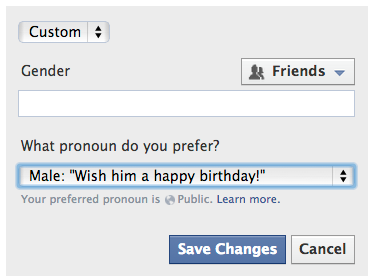 However, when you start to enter a description, you're immediately presented with a list of all the available options containing the letters you've entered: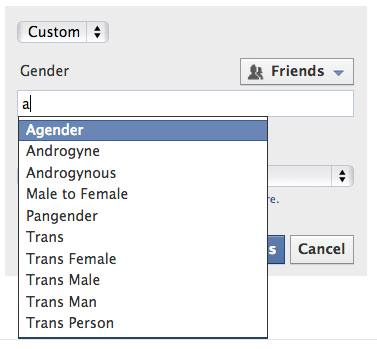 Some other examples:
My favorite gender identity is missing. It was the brilliant invention of a four-year-old of my acquaintance, some years ago, as a way of protesting traditional gender-role options (or at least resisting the attempt of a somewhat bossy six-year-old to assign him one):
Child

_

#1:
Let's play house! I'll be the mommy, you'll be the daddy, and Thor will be the baby.
Child

_

#2:
OK, but I have a better idea: You be the mommy, Thor can be the daddy, and I'll be the squirrel.
"Squirrel" is not one of Facebook's new gender options, alas — when I enter it and try to save the result, I'm told that


But the impulse to re-define the game seems to be similar, even if the options are still limited.
---