« previous post | next post »
For a couple of days before the inaugural, the most emailed article on the NYT website was Stanley Fish's column "The Last Professor" (1/18/2009), which returns to a favorite theme of his:
In previous columns and in a recent book I have argued that higher education, properly understood, is distinguished by the absence of a direct and designed relationship between its activities and measurable effects in the world.
See "Après Fish, le déluge?", 1/15/2008, for some discussion of his earlier discussions. His reason for revisting the allegedly endangered purity of higher education, this time, is to review a book:
This view of higher education as an enterprise characterized by a determined inutility has often been challenged, and the debates between its proponents and those who argue for a more engaged university experience are lively and apparently perennial. The question such debates avoid is whether the Oakeshottian ideal (celebrated before him by Aristotle, Kant and Max Weber, among others) can really flourish in today's educational landscape. It may be fun to argue its merits (as I have done), but that argument may be merely academic – in the pejorative sense of the word – if it has no support in the real world from which it rhetorically distances itself. In today's climate, does it have a chance?
In a new book, "The Last Professors: The Corporate University and the Fate of the University," Frank Donoghue (as it happens, a former student of mine) asks that question and answers "No."
Determined inutility is one thing — Prof. Fish is free to choose that path if he wants to — but determined ignorance of history is something else again.
It's odd for a scholar to throw around phrases like "today's educational landscape" as if contemporary economic and cultural forces were laying siege to institutions that were founded and managed as ivory towers committed to impractical scholarship. But the truth is that American higher education has always explicitly aimed to mix practical training with pure intellectual and moral formation, and to pursue research with practical consequences as well as understanding abstracted from applications.
Stanley Fish himself was an undergraduate at my own institution, the University of Pennsylvania, which was founded by Benjamin Franklin on this educational premise ("Proposals Relating to the Education of Youth in Pensilvania", 1749):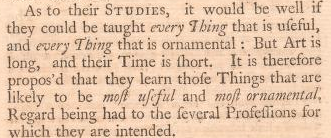 As to their STUDIES, it would be well if they could be taught every Thing that is useful, and every Thing that is ornamental : But Art is long, and their Time is short. It is therefore propos'd that they learn those Things that are likely to be most useful and most ornamental. Regard being had to the several Professions for which they are intended.
And Stanley Fish got his start as a professor at Berkeley, part of a system of public higher education funded by the the Morrill Act of 1862, which established the land grant system:
And be it further enacted, That all moneys derived from the sale of the lands aforesaid by the States to which the lands are apportioned, and from the sales of land scrip hereinbefore provided for, shall be invested in stocks of the United States, or of the States, or some other safe stocks, yielding not less than five per centum upon the par value of said stocks; and that the moneys so invested shall constitute a perpetual fund, the capital of which shall remain forever undiminished, (except so far as may be provided in section fifth of this act,) and the interest of which shall be inviolably appropriated, by each State which may take and claim the benefit of this act, to the endowment, support, and maintenance of at least one college where the leading object shall be, without excluding other scientific and classical studies, and including military tactics, to teach such branches of learning as are related to agriculture and the mechanic arts, in such manner as the legislatures of the States may respectively prescribe, in order to promote the liberal and practical education of the industrial classes in the several pursuits and professions in life.
American higher education has from the beginning included and endorsed the full spectrum from pure to applied, in teaching as well as in research. And most academics, in my own experience, would reject not only Prof. Fish's commitment to inutility, but also his presupposition that a sharp distinction between useful and useless is a useful one.
He quotes Michael Oakeshott: "There is an important difference between learning which is concerned with the degree of understanding necessary to practice a skill, and learning which is expressly focused upon an enterprise of understanding and explaining." This is true enough — and the distinction between skills and principles is important — but Fish goes on to equate "understanding and explaining" with with "the absence of a direct and designed relationship" to "measurable activities in the world". This is logically false and historically preposterous.
Researchers in the natural sciences and mathematics have always been motivated to a significant extent by the desire to affect as well as to understand "measurable activities in the world". This has also been true, traditionally, of social scientists, historians, and even philosophers. And in the humanities, many of the most famous and influential scholars of earlier centuries and decades have applied their scholarship to practical ends, and have thereby gained knowledge and skills that made their "pure" research better. Indeed, the whole point of Edward Said's Orientalism thesis, flawed as it was conceptually and factually, was that the humanities scholars of past centuries, whatever their ideology, were useful servants of empire.
It may be true that Prof. Fish is "the last professor" of his type, in a certain sense. He represents a breed of humanities scholars that "caught the wave", flourishing in the margins of a system expanding rapidly to accomodate the baby boomers as students and the incredible success of post-WW-II research as the foundation of a new technological civilization. But it's inaccurate to present his own license to self-indulgence as the invariant pattern of the past, and unrealistic to project it as a plausible plan for the future.
This is not, in my opinion, just because his attitudes are the fruit of a specific and atypical historical situation. It's because a more balanced and integrated perspective on the relationship between useful and ornamental knowledge produces better education and better scholarship as well.
Prof. Fish may be right in predicting a dire future for the humanities:
Except in a few private wealthy universities (functioning almost as museums), the splendid and supported irrelevance of humanist inquiry for its own sake is already a thing of the past. In " two or three generations," Donoghue predicts, "humanists . . . will become an insignificant percentage of the country's university instructional workforce."
But if this is true — and in my last discussion of Fish on inutility I suggested that zero-based allotment of faculty slots would reduce tenured humanists by a factor of 10 — it's not mainly because 21st-century society and the 21st-century university are so different from their counterparts in the 19th century (though of course enormous differences do exist). A more important reason is that the leading humanists of the past 50 years are so different, in their attitudes and practices, from the leading humanists of the past.
---