« previous post | next post »
An anonymous correspondent sent in this photograph of a food package from New Taipei City, Taiwan: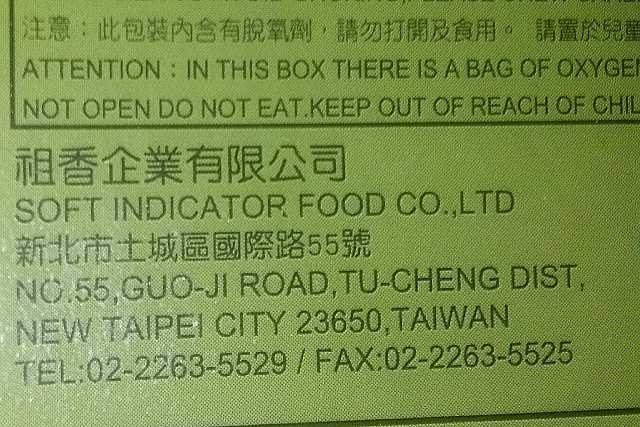 Since the photograph is cropped on the right side, part of the notice has been cut off, but enough remains to make a few pertinent remarks.
First of all, despite what the English notice might have said, there was not a "bag of oxygen…" in the box, but rather a packet of tuōyǎngjì 脫氧劑 ("deoxidizer").
Boxes of certain foods and other products from Taiwan also often come with packets of gānzàojì 干燥剂 ("desiccant"), usually silica gel, in them.
The quirkiest part of the label, though, is the English name of the company: SOFT INDICATOR FOOD CO., LTD. I'm not sure what "soft indicator" means here, but the company does make soft desserts like Japanese mochi (in fact, I suspect that some such sweet might have been in this package). The intelligence community also seems to be fond of the term "soft indicator". See, for example, Jan Goldman's Words of Intelligence: An Intelligence Professional's Lexicon for Domestic and Foreign Threats, 2nd ed. (Lanham, Maryland: Scarecrow, 2011), p. 147, where it is defined thus: "A generalized, theoretical action that focuses on capabilities and may be linked to possible intentions of an aggressor." (Naturally, this contrasts with "hard indicator", and you can guess what sort of thing that might be.) But this type of "soft indicator" is hardly what the company had in mind when they chose this term for their name.
"Soft indicator" is also a technical term in ultrasound diagnosis for Down syndrome, and it may refer to a device on Oral-B toothbrushes, scales, and other medical appliances. Since many of these are manufactured in Taiwan and China, perhaps this is how the Taipei food producer heard about the term. In any event, inasmuch as the mochi produced by the company are indeed extraordinarily SOFT, the name was probably chosen with this quality in mind.
If you were hoping that the Chinese name of the company might help to elucidate the full meaning of "soft indicator", you will be disappointed. It is Zǔxiāng qǐyè yǒuxiàn gōngsī 祖香企業有限公司 ("Ancestral Incense Enterprises Ltd.").
---