« previous post | next post »
Name on a ship that docked in Yancheng (in Jiangsu province) harbor last Thursday: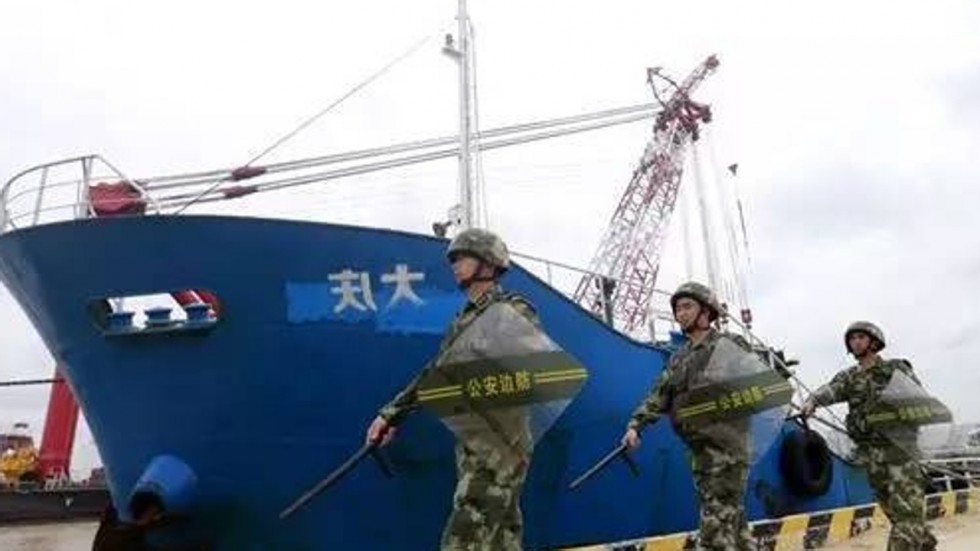 The reason there are armed public security forces patrolling near the ship is because it was full of smuggled cargo.  The story is reported here:
"Smugglers caught because they got their Chinese characters the wrong way round:  Language blunder gives sugar carriers a bitter lesson after it attracts coastguards' suspicions" (SCMP, 9/5/17)
The name the smugglers wanted to affix to the ship was Dàqìng 大庆 (the "Oil Capital" of China, located in Heilongjiang Province).  However, after they hastily painted over the old name of the ship with the wrong shade of blue, they reversed the direction of the stencil to apply the new, false name, so that Dàqìng 大庆 came out with the order doubly wrong:  the name read Qìngdà 庆大 instead of Dàqìng 大庆 and the orientation of the individual characters was inverted.  Interestingly, the transposition of dà 大 doesn't really matter, because it looks the same whether viewed directly or in a mirror.  As it appears on the ship, inverted, 庆 cannot really be read (without mental transposition), but if you look at it in a mirror, it has the correct orientation.
Similar transpositions are described in these posts:
[h.t. Dean Barrett]
---