« previous post | next post »
Here's another example of Chinese writing frustration: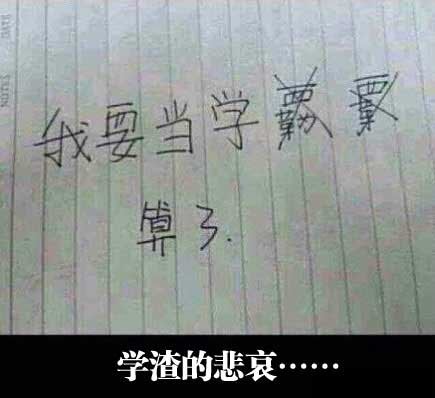 The character they are trying to write is bà 霸 ("hegemon; tyrant; autocrat; lord; ruler; oppressor; despot").  Here it joins with xué 学 ("study; learn; imitate; mimic") to form the term xuébà 学霸 ("study hegemon / overlord / master; super scholar; curve wrecker").
This is an interesting expression that I only started to hear being spoken among students from mainland China a few years ago.  Usually, even if there are twenty, thirty, or more students from the PRC in our department, they will only single out one as the xuébà 学霸 (study hegemon / overlord / master; super scholar; curve wrecker").  (For the last two years, it is very clear whom they consider to be THE study hegemon — no contest).  When I was at Dartmouth in the early 60s, we called such people "bookers".
What's really funny about this particular specimen of writing frustration is that the would-be xuébà 学霸 ("study hegemon") can't even write the title to which he / she aspires.  Admittedly, it is a relatively difficult character to write — I'm sure that many college students cannot produce it accurately; moreover, although it "officially" is supposed to have 21 strokes, many people count / write it as having 20 strokes.
The whole sentence in which it occurs is this:
Wǒ yào dàng xuébà 我要当学霸 ("I want to be the study hegemon")
That is followed by:
Suànle 算了 ("Forget it")
The caption at the bottom reads:
Xuézhā de bēi'āi 学渣的悲哀 ("The sorrow of the study dregs")
There are undoubtedly countless instances of such failures to produce intended characters.  Some of them become instant classics.
[h.t. Jinyin Cai]
---