« previous post | next post »
Cullen Schaffer sent me the following scan (click to embiggen):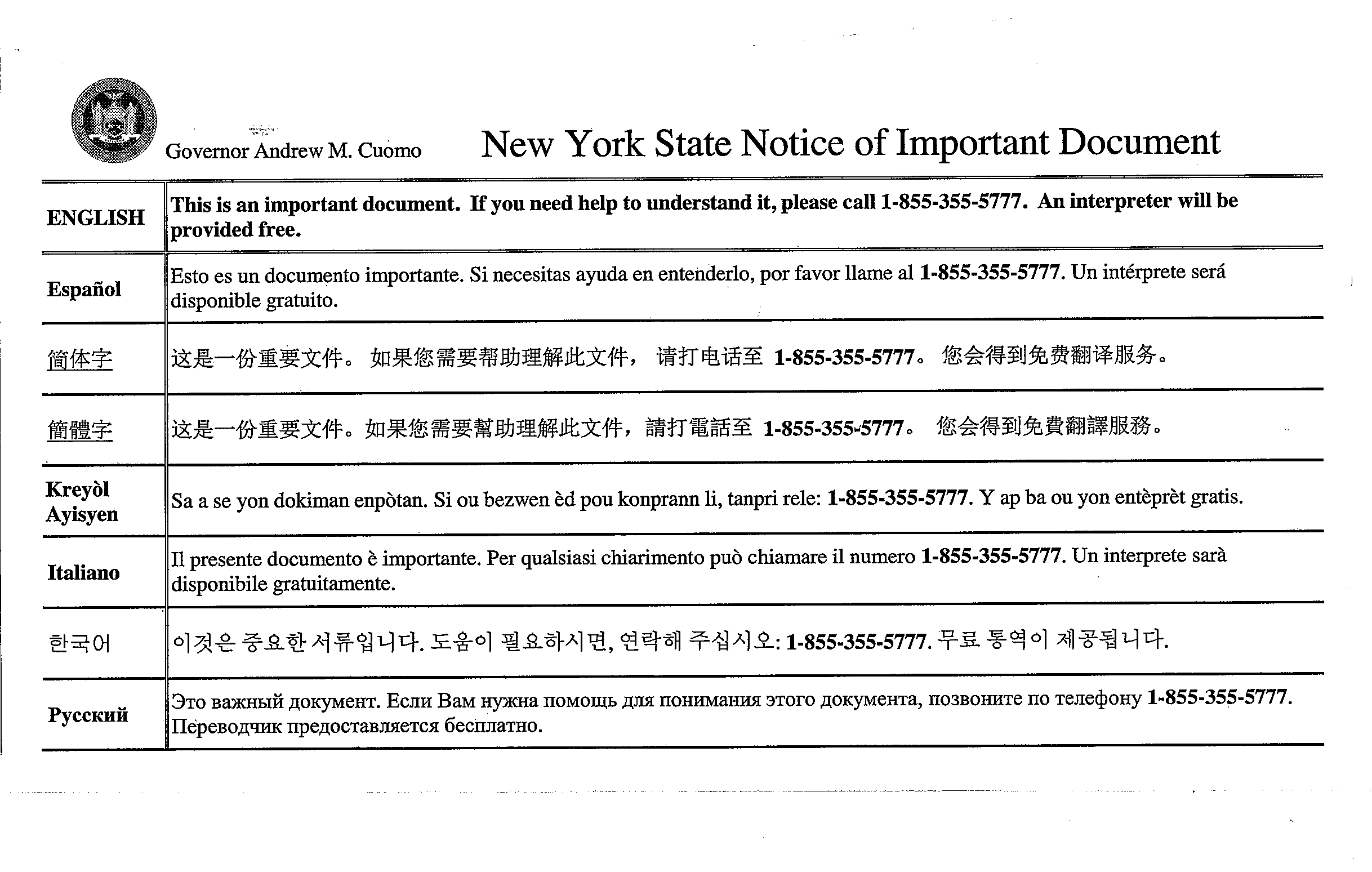 It was accompanied by this note:
A couple of years back I sent you the attached scan of the back of an envelope sent out by the New York State health insurance exchange, drawing your attention to the headings for the two Chinese entries in the list of languages.  I wonder if you got a chance to look at it.  I still get exactly the same envelope in the mail from them every month.
I am a little bit embarrassed because, upon looking in my back e-mail, I see that I did indeed receive this scan on 9/6/14, and that, on the very same day I replied, "I'll turn to it before long".  Ahem!  I usually don't neglect things this way, but sometimes I do get snowed under.
Better late than never!
Now that I contemplate the multilingual notice on the back of the envelope, I think I understand why I was stymied the first time and didn't feel like I had anything useful to say.  Namely:
1. If they only had room for eight languages, I can't understand why they'd make two of them the same language, viz., bastardized Mandarin, and one of them Haitian Creole.
2. The bànwén bànbái 半文半白 ("semiliterary-semivernacular" — that's what I was referring to as "bastardized" in the previous item) quality of the Chinese in a notice that is intended for the general Chinese-speaking population, which includes cooks, waiters, mechanics, carpenters, garment workers, and so forth, put me off a bit.
Still harboring the same reservations and doubts, I asked several colleagues and students their opinion about the two Chinese versions.  The broad variety of their views underscores my own uncertainty about the wisdom of including these two lines of Chinese on the back of the envelope that goes out to so many people in the state of New York every month.  Here are the questions I asked:
1. Do you think it's necessary to have both the simplified and the traditional versions of the characters in an official announcement from the New York state government?
2. What do you think of the language of the notice?  It seems like a somewhat odd mixture of báihuà 白话 ("vernacular [Mandarin]") and wényán 文言 ("literary [Sinitic]").
Here are the replies I received:
1. A mainland graduate student in Chinese history:
I think I am not qualified to answer the first question since I can read both simplified and traditional Chinese. As for the second one, it is not odd to me. I think it is written by a person who has learned Chinese very well.
2. A mainlander who received their Ph.D. in Chinese literature in America and has been teaching Mandarin here for more than twenty years:
I read the notice and did find the Chinese translation awkward. Classical Chinese is very much alive in the written or formal vernacular language, but this translation is not a good representation of it. Unfortunately I noticed that many people even expect this type of awkward wording in translation.
To answer your other question, personally I don't think it's necessary to use both simplified and traditional characters, especially for this notice, since there are few characters that are different. But for people who are only familiar with one form of the characters, the need to provide both might be there.
3. An M.A. candidate in Chinese Studies who is from the mainland:
In terms of the grammar per se, it's more like a word for word translation from English, intelligible but not 100% idiomatic for sure. Wenyan style is considered formal and suitable for governmental documents in mainland China today, to say nothing of Taiwan, whose wording and phrasing seem more ancient style (or, let's say traditional "正统"). The choice of language is very well a representation of how the user images itself.
As for the case of characters, young people from both sides of the straits today have no problem reading simplified or traditional versions. But I believe there might be certain elder immigrants who might prefer the traditional one. Beyond practical concerns, the usage of characters also concerns identity issue, which is sensitive and rather complicated. Therefore, I am uncertain of the intentions behind the New York State Department.
4. An instructor of Mandarin from Taiwan who has been teaching in the United States for more than twenty years:
Yes, I think it is necessary to have both simplified and traditional characters as most of the old immigrants from China or any immigrants from Taiwan still read traditional characters and there are plenty of them in the New York State. As for the language, it is quite baihua to me. I would say it's a mixture of colloquial and formal wording. For example, "lijie" and "ci" sound a bit too formal here, though the other words sound ok. Also, the sentences sound a bit odd because of the way they were translated. The grammar sounds more English than Chinese to me.
Regarding the quality of the language, I realize that some people do write like this (mix vernacular and literary) when they want to seem learned or official, but it's a practice that pure Mandarin stylists from Hu Shih up through the present time have decried.
For the record, here are the two versions of the Chinese:
Jiǎntǐ zì || Zhè shì yī fèn zhòngyào wénjiàn. Rúguǒ nín xūyào bāngzhù lǐjiě cǐ wénjiàn, qǐng dǎ diànhuà zhì 1-855-355-5777. Nín huì dédào miǎnfèi fānyì fúwù.
简体字 || 这是一份重要文件。如 果您需要帮助理解此文件,请打电话至1-855-355-5777。您会得到免费翻译服务。
簡體字 || 這是一份重要文件。如果您需要幫助理解此文件,請打電話至1-855-355-5777。您會 得到免費翻譯服務。
It's strange that, in the years since this envelope has been circulating, no one (including all of my informants) has corrected a flagrant error right at the beginning of the Chinese notice.  In the second version, jiǎntǐ zì 簡體字 ("simplified characters") should be fántǐ zì 繁體字, but therein lies the rub.  People are reluctant to call the full / original / traditional forms of the Chinese characters fántǐ zì 繁體字 because that means "complex / complicated characters", and can even connote "cumbersome" or "difficult".  On the other hand, I don't know of any other common way to refer to the full / original / traditional forms of the characters in Chinese than as fántǐ zì 繁體字.
[Thanks to Maiheng Dietrich, Melvin Lee, Yixue Yang, and Fangyi Cheng]
---